If you're an off-road motorcycle enthusiast like me, having a good GPS can be a game-changer. As someone who likes exploring trails in the middle of nowhere, I rely on my GPS to keep me on track and get me home safely.
After testing out different devices over the years, the two that stand out for off-road use are the Trail Tech Voyager Pro and the Garmin Montana series. But which one is better suited for the needs of off-road riders?
Let's take a closer look at how they compare.
| | | |
| --- | --- | --- |
| Feature | Trail Tech Voyager Pro | Garmin Montana 700i |
| Screen Size | 3.5″ | 4″ |
| Display Quality | Sunlight readable, high contrast | Sunlight readable, high resolution |
| Maps | North America basemaps, 64GB storage for custom maps | Preloaded TopoActive mapping, 8GB storage |
| Navigation | Excellent trail navigation features | Good point-to-point navigation |
| Software | Compatible with Map Manager for custom maps | Uses BaseCamp for maps |
| Interface | Motorcycle-specific, highly customizable | General outdoor interface |
| Ruggedness | Water resistant | Waterproof up to 1m |
| Battery Life | 10-15 hours | Up to 22 hours |
| Extra Features | Diagnostic capabilities, lap timer | More sensors like altimeter, compass |
| Price | $300-$350 | $450-$500 |
Key Takeaways:
The Voyager Pro has a motorcycle-specific interface and excellent trail navigation features that make it best for off-road riding.
The Montana 700i is a rugged general outdoor GPS better suited for backcountry exploration than powersports use.
The Voyager Pro has a larger screen and better sunlight readability along with a highly customizable layout.
The Montana has longer battery life, is fully waterproof, and comes with preloaded topographic maps.
For advanced mapping capabilities, the Voyager Pro pairs with Trail Tech's Map Manager software while the Montana uses Garmin's BaseCamp.
The Voyager Pro provides more value for the price for hardcore off-road enthusiasts.
Overall the Voyager Pro is the top choice if you mainly ride off-road and want a motorcycle-friendly GPS with excellent navigational capabilities.
Overview of the Trail Tech Voyager Pro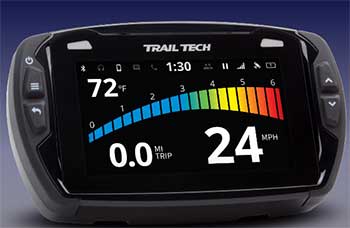 The Voyager Pro is Trail Tech's flagship GPS computer designed specifically for motorcycles.
It packs a high-resolution 3.5" glove-friendly touchscreen with vibrant colors that are easy to see in sunlight.
The interface is intuitive with large icons and a customizable layout.
You can have up to 10 data fields on each screen to show information like speed, rpm, altitude, power modes, and more. There are also dedicated screens for navigation, engine diagnostics, and trip data.
The Voyager Pro comes preloaded with North American basemaps and has 64GB of expandable memory for uploading more detailed trail maps. It's compatible with Trail Tech's Map Manager software for creating and managing your own GPS maps.
Key features:
3.5" glove-friendly touchscreen
Sunlight readable display
Preloaded basemaps
64GB memory for additional maps
Robust navigation features
Motorcycle-specific interface
Compatible with Trail Tech's map manager software
Overview of the Garmin Montana Series
The Garmin Montana is Garmin's flagship outdoor handheld GPS that's designed to be rugged enough for off-road use. There are several models in the Montana series, with the Montana 700i being the latest.
It has a 4" glove-friendly touchscreen and a simple user interface. The display uses high contrast colors and is readable in sunlight.
The Montana comes preloaded with TopoActive maps for turn-by-turn navigation. It has 8GB of internal memory and a micro SD card slot for additional map storage.
Key features:
4" sunlight-readable touchscreen
Preloaded TopoActive mapping
8GB internal memory, microSD card slot
Rugged and waterproof
Built-in sensors like altimeter, compass, accelerometer
Long battery life up to 22 hours
Key Differences Between Trail Tech Voyager Pro And Garmin GPS For Off-Road Motorcycles
Comparing Navigation & Mapping
Having good maps and navigation is probably my top priority for an off-road GPS. Both the Voyager Pro and Montana allow you to load additional maps like trail networks and topographic maps.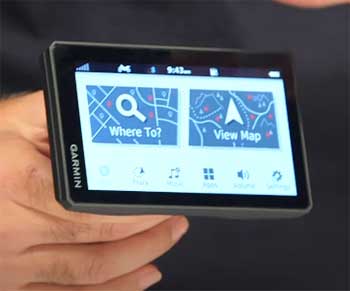 The Voyager Pro is compatible with Trail Tech's Map Manager software which provides more options for creating and managing custom maps compared to Garmin's BaseCamp software.
With Map Manager you can import GPS files, add custom markers, and edit maps.
The Montana comes preloaded with TopoActive mapping from Garmin which provides detailed topographic info.
I like how easy it is to search for locations and navigate point-to-point right out of the box.
Both devices allow you to set waypoints and navigate back to them. Overall I've found the Voyager Pro's navigation features better suited for navigating trails while the Montana is great for exploring backcountry areas.
The Voyager Pro has a larger 3.5" display compared to the Montana's 3" screen. But the Montana 700i has a higher resolution and pixel density, so images and maps look a bit sharper.
I like the Voyager Pro's motorcycle-specific interface, with data fields and information tailored towards riding. It's really easy to customize the layout and view the info you need for trail riding.
The Montana has a more general outdoor interface. It's easy enough to navigate but doesn't have quite the level of customization for motorcycle use. The touch responsiveness could also be improved over bumpy terrain.
Both displays work well in sunlight thanks to the high brightness levels and glare reduction. I'd say the Voyager Pro has the edge here though, especially with the option to flip the screen upside down for better visibility when mounted.
Ruggedness & Water Resistance
Ruggedness is really important for off-road use where your GPS will take some abuse from weather, dust, and drops.
The Voyager Pro has a plastic body but feels pretty solid. It's water resistant but not fully waterproof. I wouldn't submerge it but it can handle getting rained on just fine.
Meanwhile, the Montana 700i has a rugged rubber armor housing that makes it waterproof up to 1 meter for 30 minutes. It just feels more durable than the Voyager Pro. The Montana is the clear winner when it comes to ruggedness.
With long rides far from any outlets, battery life is a big consideration. You want a GPS that can last all day and beyond.
The Voyager Pro is decent with a battery life of 10-15 hours depending on use. It has a built-in rechargeable lithium-ion battery.
The Montana really shines when it comes to battery life, getting up to 22 hours on a single charge. It uses two AA batteries so you can easily swap them out for spares. Overall, the Montana takes the cake for battery life.
Both GPS units cover the basics like tracking speed, distance, altitude, and location.
A few of the Voyager Pro's unique features include being able to monitor diagnostic data from your bike's ECU. You can get custom gauges for things like lean angle, suspension travel, and G-forces. There's even a lap timer to record your ride times.
The Montana packs in more sensors like an altimeter, barometer, accelerometer, and electronic compass. These can be handy for traversing the backcountry. It also has built-in connectivity via Bluetooth and ANT+ accessories.
The Voyager Pro definitely has more motorcycle-specific capabilities. But the Montana has benefits for all-around outdoor use beyond just off-road riding.
In general, I've found both GPS units easy to use, especially after the initial learning curve.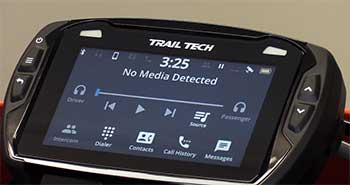 The Voyager Pro's interface is really intuitive once you customize the screens for your needs.
It's designed by riders for riders, so everything is laid out in a logical way.
The Montana takes a bit more getting used to.
But it provides just enough customization options for motorcycle use, like adding a dashboard for speed, engine data, etc.
For basic navigation and tracking your rides, both GPS devices work very well. The Voyager Pro pulls ahead when you want to take full advantage of advanced features and customization.
No GPS is perfect, but both the Voyager Pro and Montana deliver solid accuracy for off-road riding.
The Voyager Pro seems to pick up satellites a bit quicker and holds a signal better under tree cover. But there are times where the Montana has been slightly more accurate in pinpointing a location.
They are both about equal when it comes to tracking speeds and distance. I've been happy with the overall accuracy from both models. Adding additional maps can improve navigation and waypoint marking.
Also Read: Comparison of Alpinestar Tech 5 And Tech 7 Boots.
When it comes to price, the Voyager Pro is the more expensive option at around $300-$350.
The Garmin Montana 700i costs less, usually between $450-$500. Though keep in mind you have to factor in the cost of additional map packages if you want more detailed trail maps.
Overall the Voyager Pro offers better value, packing in lots of great features for hardcore off-road enthusiasts at a reasonable price point. The Montana covers the basics well but charges extra for advanced mapping capabilities.
The Verdict
At the end of the day, the Trail Tech Voyager Pro stands out as the winner for dedicated off-road use thanks to its excellent display, intuitive interface, and plethora of motorcycle-specific features.
The Garmin Montana is also capable for off-road riding. It really shines more as a rugged, general outdoor GPS. It just can't match the Voyager Pro's specialized capabilities for trails.
For the best blend of navigation, mapping, and motorcycle-friendly details, the Voyager Pro is my top pick. It's built by riders for riders and does an amazing job keeping you on track no matter how remote the trails.