It would help if you had a vast and flexible boat to make your fishing experience comfortable and enjoyable every time you go into the water. I've been fishing for the past 15 years and have never had such a level of comfort since I bought the new Vexus DVX19.
The boat has made my dream to go fishing with the family a reality. Therefore, I thought, if you are on a hunt for this boat, why not share my own experience with you?
Features of Vexus DVX19 The Ultimate Multi-Purpose Boat

You can call it a multi-purpose or multi-feature boat designed for your streamlined fishing purposes. Vexus has proved even in 2022 that they build quality, durability, and meet the customer's needs no matter what.
The DVX19 comes with a plethora of features that I have experienced so far. The brand also claims this boat is the best family fun fishing rig built for every occasion and outing plan. So, let's dig for its fantastic features.
Build And DVX19 Performance
Stating its features, I would love to start with how it is engineered, designed, and built. If you consider buying this boat, you are just one step away from something exceptional.
This one is built for family fishing needs and to enjoy as much as possible on any outing plan. You might have seen something like this: a vast open interior constructed with a  101 beam and a keel forward elegant design.
In my experience, the boat is the smoothest, biggest, fastest, and highly recommended fishable 19-footer you can find on the water.
Blessed with the countless advantages of a minimalistic infused composite construction, this one is based on multiple things. I found its multiple spray rails safer; the 40-gallon fuel capacity is never-ending.
Its extremely enhanced bow flare is designed to efficiently perform on the go with outboards ranging from 150 to 200.
Extensive Electronic Installation
In the DVX19, you will find multiple electronic features that any other boat with the same price tag and size might not be offering.
It is equipped with powerful electric motors like tinned wire/182 and Minn Kota PowerDrive that harness your speed in the water.
Have an easy way of charging your mobile and laptops with its onboard charging facility. The boat also offers a 12v USB power outlet to charge and plug anything.
Besides, I was pleased with its integrated bow lights that light up at night and spread cool brightness on the water. You will fall in love when you discover that there is always more in DVX19.
Comfort And Smoothness Are On The Go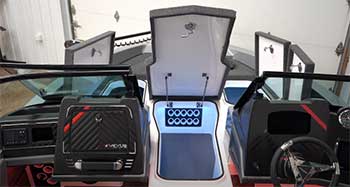 The boat is designed by keeping in mind that even if 3 to 4 family members go fishing together on it, there shall be no compromise on comfort.
Here, the seats designed for drivers and passengers are highly comfortable. I still remember not feeling the pain in my back while driving it.
It gives you an excellent feeling of EVA rubber installed on its floor. Everything in there is durable, easy to clean, dries very quickly, and is a rigid material designed for outdoor experiences.
Moreover, it would help if you did not forget to check the reversible rod rack near the passenger seating.
With stainless steel compression lid stretches and a decent level of floatation, this is the boat you have been looking for so far.
Vast And Offering More Space For Additional In Water
Even from the picture, the boat can give you a clear view that you can always keep more inside it before going into the water. There is a vast LiveWell positioned at the center of the boat.
It does have recirculating aeration with an additional cull view lid. You can also find an apartment for the coolers and storage in the boat with more storage facilities.
In the cockpit side walls, one can see a complete transformation that can help you have a different kicker engine yourself. Also, those shallow water anchors can take that space if you want to keep them in the water.
Besides the highly important features for surviving in the water, the boat gives you an aesthetic look. You can; as the Vexus boat, builders build yours in your specific color contraction provided on their website.
I cannot tell how much I am impressed with the view it gives in the water at night time. Because there a fully functional and interiorly working floodlight system is installed.
This system adds to the beauty of those storage boxes, LiveWell, cockpit, and other exterior and interior parts of the boat.
Since Vexus launched this extraordinary boat, one thing is for sure. You will never go disappointed when this comes to your house for that next trip to the water.
What Could Have Been Better With The Vexus DVX19 Boat?
Even though my experience with the boat has been quite good until now, I think if Vexus had paid a little more attention, the following things could have been improved. And it is essential for their new customers.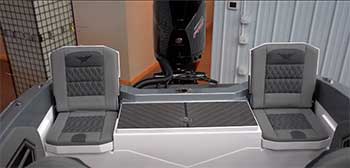 I found my DVX 19 model a little heavy weight as it was difficult for me to import it into the water.
But I think that was the collective weight of the boat and motor.
However, Vexus claim that their 19 model is easily transportable from one place to another as it has its wheels.
Just in case, your experience with this one could be slightly different.
To buy this boat, you must have a budget of almost 51k dollars. And for an average person, it's not an easy task to arrange such a considerable amount of money.
Vexus should consider this, and there shall be a significant decrease in the price to make the boat accessible for most people.
However, that might not be a problem if you are a man with more money.
Frequently Asked Questions (FAQ)
Does Vexus Make Good Boats?
Using Good words for Vexus boats will be something less because Vexus makes extraordinary boats with all the high-quality materials. The finishes, designs, features, comfort level, durability, and value for money don't meet anywhere except Vexus.
Is Vexus Made By Ranger?
Vexus Boats have a history with the people using ranger boats as they were the one who kicked off this brand. It was early in 2018 when they started making aluminum boats. Soon, Vexus was also selling the fiberglass versions.
How Fast Do Vexus Boats Go?
Vexus claims to go with the speed of 50.0 mph with a 6000rpm mother. That's huge.
How Much Does A Vexus DVX19 Weigh?
Even without having an engine, a Vexus DVX 19 weighs 2550lbs. It is indeed a heavyweight.
Final Thoughts
Conclusively, you can invest your money in a boat like this, and there will be no disappointments in the long run. Despite not so many Vexus DVX19 Reviews, I hope the information I've shared might be helpful.
Consider visiting the official Vexus store if this inspires you and learn more about this boat. It will help you make your decision about it! So, thanks for reading. Have a nice day!