Last Updated: October 26, 2023
Welcome to GlennSaid.com, owned and operated by Glenn C. Ranson. The following terms and conditions, together with any documents they expressly incorporate by reference govern your access to and use of the Website, including any content, functionality, products, and services offered on our Website.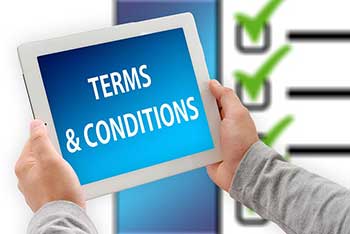 Please read these Terms of Use carefully before you start to use the Website.
By using the Website or by clicking to accept these Terms of Use when this option is made available to you, you accept and agree to be bound and abide by these Terms of Use.
If you do not want to agree to these Terms of Use or the Privacy Policy, you must not access or use this Website.
Changes to the Terms of Use We may revise and update these Terms of Use from time to time at our sole discretion.
All changes are effective immediately when we post them, and apply to all access to and use of the Website thereafter. Your continued use of our Website following the posting of revised Terms of Use means that you accept and agree to the changes. You are expected to check this page from time to time so you are aware of any changes, as they are binding on you.
Accessing Our Website
We reserve the right to withdraw or amend this Website, and any service or material we provide on the Website, in our sole discretion without notice. We will not be liable if for any reason all or any part of the Website is unavailable at any time or for any period. From time to time, we may restrict access to some parts of the Website, or the entire Website, to users.
Intellectual Property Rights
The Website and its entire contents, features and functionality, including but not limited to all information, text, displays, images, video and audio, and the design, selection and arrangement thereof ("Website Content"), are owned by the Company, its licensors, or other providers of such material and are protected by United States and international copyright, trademark, patent, trade secret and other intellectual property or proprietary rights laws.
You must not reproduce, distribute, modify, create derivative works of, publicly display, publicly perform, republish, download, store or transmit any of the material on the Website, except that your computer may temporarily store copies of such materials in RAM incidental to your accessing those materials, for your personal and non-commercial use only. You must not by pass any measures used to prevent or restrict access to our Website.
No right, title or interest in or to the Website or any content on the Website is transferred to you, and all rights not expressly granted herein are reserved. Any use of the Website not expressly permitted by these Terms of Use is a breach of these Terms of Use and may violate copyright, trademark and other laws.
Trademarks
The Company name, logo and all related names, logos, product and service names, designs and slogans are trademarks of the Company or its affiliates or licensors. You must not use such marks without the prior written permission of the Company. All other names, logos, product and service names, designs and slogans on the Website are the trademarks of the respective owner.
User Contributions
The Website may contain blogs, message boards, comment areas, and other interactive features that allow users to post, submit, publish, display or transmit content or materials, including commentary and feedback related to the Website ("User Contributions").
By posting User Contributions to our Website, you grant the Company and its affiliates a nonexclusive, royalty-free, perpetual, irrevocable and fully sublicensable right to use, reproduce, modify, adapt, publish, translate, create derivative works from, distribute and display such User Contributions throughout the world in any media. You represent and warrant that:
You own or control all rights in and to the User Contributions and have the right to grant the license granted above.
All of your User Contributions comply with these Terms of Use.
You understand and acknowledge that you are responsible for any User Contributions you submit, and you, not the Company, have full responsibility for such content, including its legality, reliability and appropriateness. We are not responsible or liable to any third party for the content or accuracy of any User Contributions posted by you or any other user. We have the right to refuse or remove any User Contribution for any reason at our sole discretion.
User Conduct You agree not to use our Website or services to:
Violate any local, state, national or international laws.
Intentionally distribute viruses or other harmful computer code.
Harass, threaten, intimidate, impersonate, mislead, or defraud other users.
Post falsehoods, misrepresentations, or impersonations.
Post content that is unlawful, offensive, threatening, abusive, libelous, defamatory, invasive of privacy, vulgar, obscene, profane, racist, or otherwise objectionable.
Post content containing adult content or promoting adult services or products.
Attempt to, or harass, threaten or intimidate other users, members of our staff, or other individuals.
Attempt to impersonate Company staff or the staff of our partners or affiliates.
Post the same content repeatedly or content irrelevant to the Blog ("spam").
Advertise any product or service except as expressly permitted by these Terms of Use.
Post links to viruses, trojans, worms or other malicious content or code.
You alone are responsible for the content of your postings and you agree to indemnify, defend and hold harmless the Company, its agents, licensors and affiliates from and against any losses, expenses, damages and costs, including reasonable attorneys' fees, arising from or related in any way to your User Contributions and/or your violation of these Terms of Use. We reserve the right to moderate User Contributions and, without limitation, we have the right (but not the obligation) to monitor, edit or remove any activity or content.
Blog Content
The Website features blogs covering topics related to automotive, fishing, hunting, hiking, etc. The blogs are written and curated by our staff writers as well as occasional guest contributors. All blog posts, content, and related media on our Website is the property of the Company and is protected under copyright laws.
You do not have permissions to reproduce, distribute, republish or otherwise reuse any blog posts, images or other Website Content without our express written consent. User-submitted suggestions for topics or posts may be used for future content on the discretion of our staff.
Removal of Content
We reserve the right to moderate all User Contributions and postings to our Website. We have no obligation to screen, edit or monitor User Contributions, but we reserve the right, and have absolute discretion, to remove, screen or edit User Contributions without notice or liability.
User Contributions and any other content will be removed if, under appropriate circumstances, they are deemed in our sole judgment to be unacceptable, undesirable, unsuitable, or in violation of these Terms of Use.
Third Party Websites and Content
Our Website may contain links and pointers to third party websites maintained by others over which the Company has no control, including but not limited to links located in advertisements. Such links do not constitute an endorsement by us of those other websites, the content displayed therein, or the persons or entities associated therewith. You understand that you access any third party links at your own risk. We are not responsible for the content or practices of third party websites.
US DMCA Copyright Infringement Notice We respect the intellectual property rights of others. If you believe that any material available on or through our Website infringes upon any copyright you own or control, please immediately notify us using our contact form with the following information:
Identification of the material being infringed.
Identification of the material that is claimed to be infringing, including its location, with sufficient detail so that we are capable of finding it and verifying its existence.
Contact information for the notifying party (your name, email, phone number, and physical address).
A statement that the notifying party has a good faith belief that the material is not authorized by the copyright owner, agent or law.
A statement made under penalty of perjury that the information provided in the notice is accurate and that the notifying party is authorized to make the complaint on behalf of the copyright owner.
Disclaimer of Warranties
 You expressly understand and agree that your use of our website and related services is at your sole risk. Our website and related services are provided on an 'As Is' and 'As Available' basis without warranties of any kind, whether express or implied.
To the maximum extent permitted under applicable law, the Company expressly disclaims all warranties, whether express or implied, including but not limited to implied warranties of merchantability, fitness for a particular purpose and non-infringement with respect to the website and services. The Company makes no warranty that (i) the services will meet your requirements; (ii) the services will be uninterrupted, secure, timely or error-free; (iii) the results that may be obtained from use of the services will be accurate or reliable; or (iv) any errors in the services or technology will be corrected. No advice or information obtained by you from the Company or through the services shall create or expand any warranty not expressly stated in these terms.
Limitations on Liability
The Company and its affiliates or licensors will not be liable for any direct, indirect, incidental, consequential, punitive, special, or other damages arising out of or relating to your access or use of, or inability to access or use, or errors or omissions in the content of the Website and related services. Certain jurisdictions do not allow limitations on implied warranties or the exclusion or limitation of liability for consequential or incidental damages. In such states, our liability is limited to the greatest extent permitted by law.
Indemnification
You agree to defend, indemnify and hold harmless the Company, its affiliates, licensors and service providers, and its and their respective directors, officers, employees, contractors, agents, licensors, suppliers, successors and assigns from and against any and all claims, liabilities, damages, judgments, awards, losses, costs, expenses or fees (including reasonable attorneys' fees) arising out of or relating to your use of our Website and services, your User Contributions, your violation of these Terms of Use or your violation of any third party rights.
Governing Law
These Terms of Use shall be governed by and construed in accordance with the laws of the State of [Your State], excluding conflicts of law provisions. You agree that any dispute arising from or relating to the subject matter of these Terms of Use shall be resolved in state or federal court in [County, State].
Changes to Terms of Use
The Company reserves the right, in our sole discretion, to change these Terms of Use at any time. Updated versions of these Terms of Use will be posted on our Website. You should check these Terms of Use periodically for changes. Your continued access or use of our Website or services following the posting of changes to these Terms of Use will signify your assent to and acceptance of those changes.
Contact Information If you have any questions or concerns regarding these Terms of Use, please contact us at:
Kobial8@gmail.com