Riding a motorcycle is an exhilarating experience. The feel of the open road, the rush of acceleration, and the freedom of being on two wheels makes every ride an adventure. But while the engine provides the power, the seat is what supports you mile after mile.
Choosing the right motorcycle seat can make the difference between a smooth enjoyable ride and arriving at your destination sore and fatigued.
Two of the most popular brands for upgrading your bike's seat are Sargent and Corbin. But with both companies offering a wide selection of shapes, styles and features, how do you choose between them?
In this comprehensive guide, we'll compare Sargent and Corbin seats side-by-side, looking at key factors like comfort, quality, customization, cost, and more. Read on to see which seat is the best fit for your motorcycle.
A Brief Comparison Table
| | | |
| --- | --- | --- |
| Feature | Sargent Seats | Corbin Seats |
| Construction | Split twin-pan modular design | One-piece molded bucket seats |
| Customization | Interchangeable pads allow flexibility to modify comfort | Many sizing, shaping and accessory options available for custom order |
| Comfort | Immediate comfort from design and materials | Require break-in period but mold to your shape |
| Weatherproofing | Marine-grade vinyl resists water but not fully waterproof | Hydrophobic polymer coating causes water beading |
| Installation | Quick install using stock mount points | Slightly more complex due to one-piece design |
| Cost | $349 – $899 | $329 – $1600 |
| Style | More focus on function over flair | Wide range of styles from subdued to flashy |
| Customer Service | Excellent support and warranty service | Top-notch guidance through ordering and construction |
Overview of Sargent and Corbin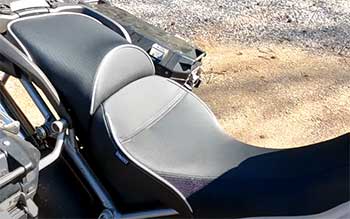 Founded in 1989, Sargent Cycle Products is based in San Jose, California and has become one of the leading manufacturers of aftermarket seats for motorcycles.
Known for their patented "twin-pan" split seat design, Sargent seats feature interchangeable pads that allow you to customize the thickness and firmness.
This modular system makes it easy to achieve your ideal comfort level.
Corbin Motorcycle Seats was established in Hollister, California in 1971. As the originator of the one-piece molded motorcycle seat, Corbin has set the standard for replacement seats ever since.
They offer a wide range of pre-designed and custom seat options for all types of bikes. Corbin is also famous for its saddlebag line.
While both companies produce high-quality seats, there are some key differences between them:
Sargent focuses on modular split seat designs while Corbin specializes in one-piece molded seats.
Corbin offers a wider range of pre-made seats for specific bike models while Sargent has more universal seats that fit multiple bikes.
Sargent gives you mix-and-match flexibility with interchangeable pads while Corbin seats require ordering a whole new seat for comfort adjustments.
Corbin offers more accessories like backrests, rain covers, and luggage while Sargent focuses more on the seats themselves.
Now let's take a more detailed look at how these seats compare when it comes to comfort, quality, customization, cost, and other important factors.
Comfort
Comfort should be the number one consideration when choosing any motorcycle seat. You want something that feels great whether you're going for a quick ride across town or touring cross-country for days on end.
Sargent seats live up to their reputation for comfort. The split twin-pan design isolates your tailbone and sits bones to reduce pressure points. Interchangeable pads of varying densities let you fine-tune the firmness and shape of both the rider and passenger areas.
All Sargent seats feature dense foam and gel inserts for excellent shock absorption. Riders report their Sargent seats being comfortable even on 8+ hour rides.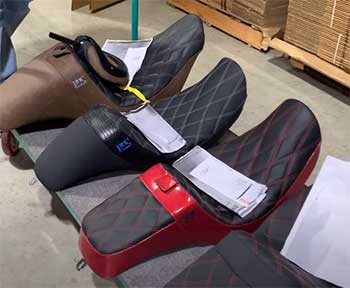 Corbin seats also excel when it comes to comfort.
Their molded one-piece design contours to your body for superior support and weight distribution.
The deep seating cradles you in the seat rather than perching you on top.
Corbin uses closed-cell foam, gel coats, and dual-density construction to reduce vibrations and increase stability.
While some riders find them overly firm when new, Corbin seats break-in over time for a perfectly personalized fit.
Both brands offer excellent comfort through thoughtful designs, premium materials, and options to customize your support. Most riders agree Sargent seats provide comfort right off the bat, while Corbin seats require some break-in time but are worth the wait.
Quality
You don't want a motorcycle seat that starts sagging, cracking or showing wear after a short time. Top-notch construction and durable materials are must-haves.
Sargent uses high quality components in their seat construction:
Marine-grade vinyl resistant to sun, rain, and extreme temps
Steel base plates and tubing for structure and stability
Labor-intensive hand-stitching and hand-shaping
Dense polyurethane foam for shape retention
Gel inserts that won't break down or flatten
Each Sargent seat is individually inspected before shipping. Owners report that these seats truly last, with some using them daily for over 10 years without failure.
Corbin also sets the bar high when it comes to seat quality:
Aircraft-grade vinyl exterior that won't fade, crack, or brittle
Proprietary Comfort CellTM foam retains shape and cushioning
Supportive base pan coated with vibration-dampening material
Components secured with aircraft locknuts and washers
Reinforced wear patches in high abrasion areas
Made in the USA with meticulous construction
Both Sargent and Corbin build seats to withstand years of riding while providing optimal support and comfort. Owners praise the durability of seats from both brands.
Customization
Stock motorcycle seats are made to fit the "average rider" but everyone's body is different. The ability to customize the seat to your proportions, riding style, and preferences is important.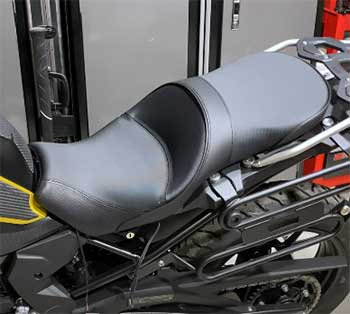 Sargent seats are designed for customization.
Their split seat pads allow you to choose gel or foam layers to tailor the thickness, firmness and shape independently for the rider and passenger areas.
Swap pads anytime to adjust comfort as needed.
Sargent dealers can further modify their stock seats with accessories like lumbar support, deeper bucketing, or lowered seating positions.
Corbin also provides outstanding customization abilities.
Their website makes it easy to select a model-specific or universal seat in the size, shape, and style you want. Add gel or memory foam for increased comfort. Choose smooth leather or textured vinyl.
Opt for accessories like backrests, concealable storage, and more. Corbin's in-house craftsmen can sculpt seats to your body specifications for the ultimate personal fit.
Both brands allow excellent fine-tuning but Sargent's mix-and-match pads provide unique flexibility, while Corbin lets you customize in more ways during initial ordering.
Cost
Price is a consideration for any motorcycle gear purchase. Let's look at what you can expect to pay for Sargent and Corbin seats:
Sargent seats range from $349 to $899 depending on the model. Some popular examples:
Sportster Seat – $599
Road King Seat – $429
Universal Sport Touring Seat – $349
Corbin seats range from $329 to $1600. Some example prices:
Dual Tour for Harley – $469
Gunfighter for Indian – $329
Custom Solo for Honda Shadow – $1600
Both brands offer seats across a wide price spectrum. Entry-level and universal seats start around $350. Seats for touring bikes and customized models climb over $1000. Materials make a difference too – leather and gel pads add cost.
For the extra comfort and durability they provide, most riders agree Sargent and Corbin seats are worthwhile investments that can transform your riding experience.
Weather Protection
If you ride rain or shine, weatherproofing is a nice feature to have. Does water bead up and roll off or get soaked up?
Sargent uses marine-grade vinyl but their seats are not inherently waterproof. They recommend using a seat cover if riding frequently in the rain. Exposed foam areas tend to absorb water.
However, with proper care Sargent seats stand up well to occasional wet rides.
Corbin seats are made with a hydrophobic polymer resin that causes water to bead up and run off without soaking in. Their rain covers provide additional weather protection.
While no seat is 100% impervious to water, Corbin's construction means you don't have to stress about getting caught in a storm.
For all-weather riding, Corbin is the winner when it comes to water protection. But an optional cover helps keep your Sargent seat protected too.
Ease of Installation
Who wants to spend hours sweating over getting a new motorcycle seat installed? The process should be simple and straightforward.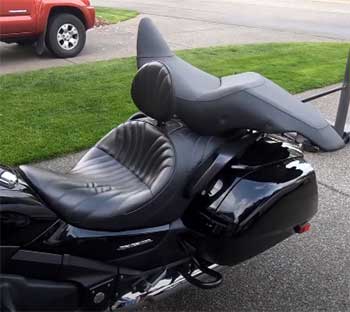 Sargent seats are designed for quick DIY installation.
Their videos walk you through the process step-by-step.
All necessary hardware and wiring extensions are included.
The split twin-pan with front and rear mounting points ensures stability.
Owners report swapping out their stock seat for a Sargent in well under an hour, using just basic tools.
Corbin seats also aim for simple installation.
Their seats utilize the stock mount points in most cases. Clear instructions are provided. Install time averages 1-2 hours for solo seats. The one-piece design weighs more than split seats so maneuvering takes some extra care.
Many owners are comfortable with self-install but Corbin also has dealers who offer professional installation if desired.
For the easiest hassle-free installation, Sargent just edges out Corbin thanks to lighter weight and fewer components to maneuver.
Customer Service
Any time you order a custom seat, stellar customer service is a must. Supporting riders throughout the process separates the best companies from the rest.
Sargent gets very high marks when it comes to service. Their staff is friendly, knowledgeable and quick to respond. They provide guidance on selecting the ideal seat for your bike and riding style.
Sargent stands behind their seats with a 5-year warranty against defects. In the rare case of a failure or fit issue, they'll promptly repair or replace your seat. Owners say the staff goes the extra mile to make sure you're completely satisfied.
Corbin also has an excellent reputation for taking care of customers. Their seating experts help you build your perfect seat from the ground up. Multiple rounds of adjustments are made during construction to get your seat "just right."
Lifetime support is provided along with a 5-year warranty on most materials and workmanship. Riders mention the stellar treatment they've received from Corbin's stellar staff.
Both brands provide top-notch customer service critical for custom motorcycle seats. You'll be in good hands for the long haul with Sargent and Corbin supporting your comfort and satisfaction.
Also Read: Differences Between Russell Day-Long And Corbin Motorcycle Seats.
Style & Design
Beyond comfort and quality, the aesthetics of your new seat are important too. You want a stylish look that matches your bike and personality.
Sargent offers their signature split seat design in a range of profiles from sleek Sportster contouring to wide touring saddles. Find styles to complement Cruisers, Sports Bikes, Standards, Retro, and more.
Their seats come in classic black or brown but can be ordered in colorful marine-grade vinyl. Custom stitching adds flair. Sargent seats integrate seamlessly with most bikes for an OEM look.
Corbin produces one-piece and two-piece seats styled for Cruisers, Sports, Standards, and Touring bikes. Smooth classic braided stitching and baseball-style cross-stitching options.
Choose from subdued textures and smooth leather to two-tone styles, colored piping, and vivid flames or graphics. Corbin offers a range of looks from OEM-style to head-turning custom.
Both brands can provide the ideal balance of form and function tailored for your motorcycle. It comes down to your style preferences – single-piece vs. two-piece, understated vs. eye-catching accents.
Sargent Or Corbin Seats: Which Is Best For You?
After comparing these leading brands across all the key factors, which comes out on top – Sargent or Corbin?
The truth is that both companies produce extremely high-quality seats that will improve your riding comfort and experience. They have slightly different strengths and advantages:
Sargent seats shine when it comes to:
Split seat modularity and interchangeable pads
Quick DIY installation
Immediate out-of-the-box comfort
Corbin seats stand out for:
One-piece molded construction
Unparalleled customization options
Rain protection
Wide range of accessories
The brand that's ultimately best for you depends on:
Your bike make and model
Riding style and needs
Budget
Preferred aesthetics
Many riders choose Sargent for cruisers and Corbin for sports bikes. Some opt for Sargent for short rides and Corbin for all-day touring comfort.
If you can only choose one, Corbin seats may provide slightly more customization from the start while Sargent's swap-able pads allow you to re-customize down the road. Both deliver outstanding comfort, quality and durability backed by great customer service.
Also Read: Is Gaerne SG-12 Better Than SG-12 Enduro Motorcycle Boots?
Frequently Asked Questions (FAQ)
Where are Corbin motorcycle seats made?
Corbin motorcycle seats are proudly made in the USA at their manufacturing facility in Hollister, California. All their seats are handcrafted by skilled American craftsmen using domestically-sourced components.
How long does it take for Corbin seats to be delivered?
For standard production seats ordered from their catalog, Corbin usually delivers seats within 2-3 weeks. Custom seats built to your specifications take longer, typically 4-6 weeks from order to delivery depending on current demand. Rush orders can sometimes be accommodated for an additional fee.
Are Corbin seats waterproof?
Corbin uses a hydrophobic polymer resin in their seat construction that causes water to bead up and run off without soaking in. This makes their seats extremely water-resistant. They are not 100% impervious to water but are among the most weatherproof seats available. Using a Corbin rain cover provides additional water protection.
The Bottom Line
When comparing Sargent vs Corbin motorcycle seats, there's no simple answer to which is better. Both companies make excellent seats that offer comfort and support for long days on the open road.
Sargent's modular split seat design provides unique flexibility while Corbin gives you unparalleled customization options. Set your budget, review styles, and dial in the features you want.
With the stellar reputations Sargent and Corbin seats enjoy, you can be confident investing in either brand will take your riding comfort to the next level.