For many riders, nothing beats the feeling of freedom that comes from cruising the open road on two wheels. But while motorcycle trips can be exhilarating, spending hours in the saddle can also lead to discomfort and pain, especially in the lower back.
Choosing the right motorcycle seat is crucial for minimizing aches and pains during long rides.
Two of the most popular brands of aftermarket motorcycle seats designed specifically for comfort on extended tours are Russell Day-Long and Corbin. But with different shapes, materials, and features, how do you know which is the best option for your needs?
This comprehensive guide will compare Russell Day-Long and Corbin motorcycle seats to help you find the most comfortable seat for your long distance adventures.
A Brief Comparison Table
| | | |
| --- | --- | --- |
| Feature | Russell Day-Long | Corbin |
| Shape | Low profile, flat | Rounded "saddle" shape |
| Cushioning | Multi-layer foam with varying densities | Open cell "Comfort Cell" foam |
| Tailbone Relief | Deep center recess | Shallow channel |
| Lumbar Support | Firm foam in lower back region | Removable backrest option |
| Size Options | Standard, Wide, Super Wide | Standard size with customizations |
| Special Features | Anatomical contours | Backrest, heat option |
| Passenger Comfort | Lower bolsters | Deep bucket seat with high bolsters |
| Cover Material | Marine grade vinyl | Weatherproof vinyl |
| Price Range | $400 – $800 | $500 – $1200 |
Overview of Russell Day-Long Motorcycle Seats
Russell Cycle Products is a family-owned company based in Massachusetts that has specialized in designing anatomical motorcycle seats since 1983. Their Day-Long touring line uses a unique layered foam technology intended to eliminate the typical pressure points caused by stock motorcycle seats.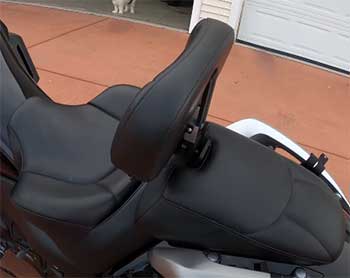 Some key features of Russell Day-Long motorcycle seats include:
Proprietary 3-layer foam technology with varying density and firmness levels to match anatomy
Front section has softer foam to eliminate numbing
Rear section has firmer foam for support and to allow movement
Center recess relieves tailbone pressure
Low profile shape for comfort and control
Handcrafted in the USA using specialized molds for many makes/models
Covers feature double stitched seams and marine-grade vinyl
Russell offers the Day-Long seat in several versions including their signature Standard model as well as Wide and Super models with extra width options.
They also have a Day-Long Performer 2-up model designed for two riders.
Overview of Corbin Motorcycle Seats
Corbin Manufacturing based in California has been designing motorcycle seats since the 1970s. They patent their own unique saddle-style shape intended to provide an ergonomic riding position.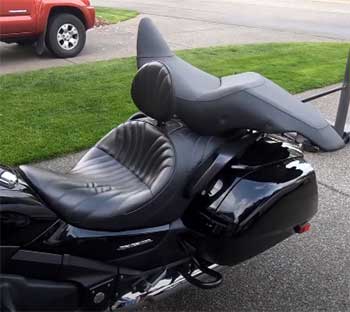 Some of the key features of Corbin motorcycle seats include:
Rounded saddle shape with raised back and sides
Proprietary Comfort Cell foam technology
Variable density foam layers provide cushioning and support
Center channel helps relieve coccyx pressure
Available with or without a removable backrest
Optional heating element for adjustable warmth
Handcrafted in the USA using specialized molds
Custom stitching and baseplate options
Corbin offers solo seats as well as rider/passenger combos.
Some of their most popular models are the Corbin Gunfighter, Corbin Dual Tour, and Corbin Saddle for Harleys. Custom seats are also available.
Comparing Shape and Design
One of the biggest differences between Russell Day-Long and Corbin seats is their shape and overall silhouette.
Russell Day-Long seats maintain a low-profile, flat shape similar to most stock motorcycle seats. The seat height stays comparable to the OEM seat. This can be ideal for shorter riders who don't want a tall seat or for those who like a seat tucked in closer to the tank. The minimalist shape is also sleek and sporty.
In contrast, Corbin seats have a distinct rounded, saddle-like shape with raised padding on the sides. This can give the bike a more classic retro look popular with cruisers. The additional padding also provides more support and takes pressure off the tailbone area.
However, the added height and bulk isn't ideal for shorter riders who struggle to reach the ground.
Ultimately seat shape comes down to personal preference and what style best matches your bike and riding style. The Russell Day-Long has a streamlined low-profile design while the Corbin has a higher back and sides.
Cushioning and Padding Materials
Both Russell and Corbin utilize specialized multi-layer cushioning systems designed to eliminate pressure points and discomfort. However, the materials they use differ.
Russell Day-Long seats feature a proprietary 3-layer technology with foam of varying densities. The firm, dense foam at the rear provides support and stability. Softer, less dense foam at the front increases comfort and absorbs vibration.
The middle layer matches the contours of your bottom for even weight distribution.
Corbin seats use their patented Comfort Cell structure composed of different sized foam cells of varying firmness. The cells flex independently to match the shape of your body. Larger cells offer softness for cushion while smaller cells provide firmer support. Additional dense foam is added in the tailbone area.
The result of both cushioning technologies is reduced pressure on sensitive areas for a comfortable long distance ride. It comes down to personal preference on the feel. Some may prefer the very soft open cell foam of the Corbin while others like the firmer multi-layer Russell foam.
Customization and Special Features
Both Russell and Corbin seats are designed and molded to specifically fit your motorcycle make and model. This provides a personalized fit with no looseness or slipping during riding.
When ordering, you can also choose custom stitching colors and patterns to personalize the look of your seat. Corbin even offers custom engraved baseplates.
For additional features, Corbin seats offer the option of a removable backrest for added lumbar support. They also have seat models equipped with a heating system to keep you warm on cold weather rides.
Russell Day-Long seats include special anatomical contours in the foam to match the curves of your backside. The Super and Wide versions add extra padding for shorter or larger riders needing more surface area.
So while you get a tailored fit either way, Corbin offers more possibilities for personal custom touches and technological upgrades.
Rider Comfort and Support
Ultimately the most important factor in choosing an aftermarket motorcycle seat is rider comfort, especially for long distances. Both Russell Day-Long and Corbin seats provide excellent pressure relief and postural support to reduce fatigue.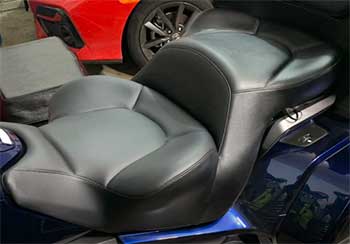 However, testimonials indicate the deep center cavity in Russell's seats offers superior tailbone and coccyx relief by avoiding all contact in this sensitive area.
Corbin's channel design still allows some pressure on the tailbone which can cause discomfort over time.
The multi-layer Russell foam technology allows for targeted cushioning in different zones.
Softer foam reduces numbness in the seating area while firmer, dense foam provides support and stability in the lumbar region.
This zoned cushioning approach optimizes comfort and support for long rides.
Corbin's open cell foam technology does allow for some contouring but doesn't offer targeted cushioning like Russell's seats. However, the Corbin's additional backrest and sides provide more overall surface area support.
So Russell Day-Long may edge out Corbin in terms of targeted tailbone relief and zoned cushioning technologies. But Corbin offers greater overall surface contact for riders who prefer that surround support feel.
Passenger Comfort
For motorcycles used with a passenger, comfort for your rider partner is another consideration when choosing seats. Both Russell and Corbin offer quality full passenger seating with ample room, padding, and lumbar support.
Corbin passenger seats feature deeper bucket styling with high bolsters on the sides to secure the passenger when braking and cornering. The surrounded feeling gives more security.
Russell Day-Long passenger seats keep a lower profile shape but use their layered cushioning technology provide targeted comfort zones. Specialized foam relieves tailbone pressure and offers lumbar support.
One advantage of Corbin is the option for an insulated passenger backrest for superior comfort on long two-up rides. So Corbin may have a slight edge for passenger accommodations.
Durability and Maintenance
You expect a quality motorcycle seat engineered for long distances to last for years. Both Russell and Corbin build their seats by hand in the USA using durable marine-grade vinyl covers and heavy-duty baseplates.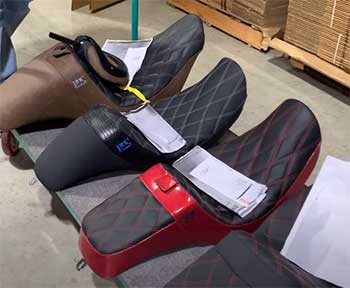 The double-stitched seams of Russell Day-Long seats are specially treated to be UV and rain resistant while Corbin uses weatherproof materials to handle the elements.
Either will provide years of rugged use.
For maintenance, Russell recommends annual conditioning with their Foamy Lube product to prevent drying and cracking.
Corbin also sells conditioners but their covers can be removed and machine washed if needed.
Overall Russell and Corbin seats are evenly matched when it comes to durable materials and construction able to handle years of touring use and exposure. Both offer top quality craftsmanship and longevity.
Cost Considerations
As high-end molded motorcycle seats built for comfort on long rides, both Russell Day-Long and Corbin seats represent a significant investment.
On average, Russell Day-Long seats cost $400 – $600 depending on the model. The top-of-the-line Performer model with dual seating runs around $800.
Corbin seats range from $500 – $800 for solo seating with dual passenger versions costing up to $1200 or more. Additional options like backrests and heaters will also add to the price.
Both Russell and Corbin seats carry premium pricing but deliver a customized, supportive seat that can transform your riding experience and allow you to ride in comfort for hours. Dedicated long distance riders find the investment worthwhile.
While similar in price, Corbin seats cost slightly more on average, especially for models with all the bells and whistles. However, their greater range of accessories and options adds value for riders wanting a fully customized seat.
Also Read: Differences Between Sargent And Corbin Seats.
FAQ About Russell And Corbin Motorcycle Seats
What is the best motorcycle seat for lower back pain?
For reducing lower back pain on long rides, experts recommend a molded contour seat like the Russell Day-Long or Corbin with targeted lumbar support. The fixed shape provides proper posture and takes pressure off the spine. Heated seats orThose with adjustable backrests can also optimize support in this sensitive region. Avoid overly soft or uneven seats that can twist the back.
Are Corbin seats hard?
Some riders note Corbin seats feel firm or hard when new before being broken in. The dense, supportive orthopedic foam is designed to soften and contour to your shape over time and use. Adding their optional Cushion Kit can make the seat feel less rigid when new.
What is the most comfortable material for motorcycle seats?
Leather looks stylish but vinyl or marine vinyl like used on Russell and Corbin seats is actually more comfortable and durable. Vinyl has some give to cushion while maintaining its shape and resisting wear and weather. Many aftermarket saddles use high quality marine vinyl for its comfort, flexibility and longevity.
How can I make my motorcycle seat more comfortable for long rides?
1. Make sure your riding position is properly aligned to avoid strain
2. Add a backrest or lumbar support
3. Use a gel pad or seat cushion for extra padding
4. Adjust the suspension for a smoother ride
5. Improve seat foam density for support and vibration dampening
6. Allow for breaks to stretch and move your body
The Best Option for All Day Comfort
Russell Day-Long and Corbin make some of the top motorcycle seats designed specifically to keep riders pain-free and comfortable over long distances.
With their ergonomic shapes, patented cushioning systems and customized molding, both brands deliver exceptional comfort and support mile after mile.
For the best pressure relief on long rides, Russell Day-Long seats may have a slight edge thanks to their deep center cavity eliminating tailbone contact. Their multi-layer foam technology also provides targeted cushioning and support zones unmatched by Corbin.
However, Corbin offers greater overall surface area contact and surround support which some riders prefer. Their additional accessories like backrests and heat further enhance comfort. So they remain a top choice as well.
Ultimately either Russell or Corbin seats represent a worthwhile investment to transform an uncomfortable stock seat into a customizable oasis engineered for all-day riding. Take the time to test different shapes and features to find your perfect fit.
With the right seat, you can say goodbye to a sore backside and discover new freedom to roam wherever the highway takes you.