Tire customization is something only car enthusiasts understand. And that's why they go for trusted brands like RimZ One and Custom Offset. RimZ One has a smaller product range, ships faster, and is pricier.
Custom Offsets has a better product range, ships slower, and is more affordable.
If you're a car enthusiast, you know how sensitive customizing tires is and why you should go with trusted brands. RimZ One and Custom Offsets- both are good options, but which one should you go with? Here is a comparison to help you out.
A Quick Summary of The Comparison
| | | |
| --- | --- | --- |
| Features | RimZ One | Custom Offsets |
| Product range | Smaller range, less detailed information | Bigger range, more detailed information |
| Shipping | Faster shipping, shipping charge can be higher | Slower shipping, charges can be lower |
| Price | Higher pricing, fewer discount options | Affordable pricing, more discount options |
Key Differences Between RimZ One and Custom Offsets
Product range, shipping, and price are the major differences between RimZ One and Custom Offsets.
Here's how the differences work in both brands.
The bigger the product range, the more the options. RimZ One is a little behind in this department.
Their product range is big but not the biggest.
Custom Offsets on the other hand has one of the biggest product ranges you'll come across.
A big product range means you have more options to choose from. It isn't always a dealbreaker, but who doesn't love having options?
RimZ One will give you options, but not a lot of them. They offer tire parts from over 60 brands. That's a pretty big number in itself.
But Custom Offset takes it a bit further. They offer products from over 90 brands on their website. It is honestly hard to find brands that have a big product range like Custom Offset. What's better is that they're very transparent about their products too. Everything detail is listed and what you see is what you get.
When it comes to online shopping of any kind, shipping is one of the most important factors. And since this is the tire we're talking about, shipping is even more important.
RimZ One has a reputation for its fast shipping and pretty reliable shipping partner. Custom Offset on the other hand is a little behind in this field.
RimZ One shipping is super fast and reliable. You won't have to stay the whole day waiting for your package to arrive. You'll get your notification and then you can either have it delivered or pick it up from a pick-up point. They also dispatch products faster.
Custom Offset on the other hand is a little slow. Their shipping process takes longer and you never know when the package will arrive. So you'll have to stay in the whole day. Plus their shipping partners mess up sometimes.
Sure, Custom Offset solves these issues pretty fast but they're issues anyways.
This is the deciding factor for a lot of people. RimZ One tire parts can be a little expensive compared to Custom Offset. And they have fewer promotional offers so chances are, you'll have to pay a few extra bucks.
Custom Offset on the other hand offers products on a lower price tag.
Plus Custom Offset also has promotional offers going on almost all year round. You'll just have to pick the right window.
Which Custom Brand Should You Go For?
This is the hard part of the equation, to be honest. Both brands are high-quality and have a lot to offer. They have their own pros and cons, but overall they're pretty close.
If fast shipping is important to you over anything else, then you're going to love RimZ One. They have one of the fastest shipping schedules and their shipping media is reliable. You won't have to deal with snail-pace shipping and everything will reach you in one piece.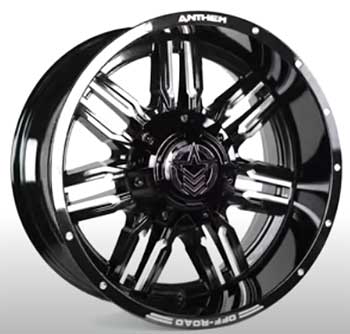 RimZ One also has a pretty big product range so you'll definitely find something to fit your car there.
The website is a little less detailed but they have all the key information listed.
One small problem with RimZ One is their pricing. It definitely isn't sky high, but it can be a little above other brands (especially Custom Offset).
If you're okay with spending the extra bucks, RimZ One is a good option.
If you're looking for a big product range, Custom Offset won't let you down.
They have one of the biggest product range overall and are very detailed about them too. What you see is what you get. Their website is also very user friendly so that's a plus.
Another good thing about Custom Offsets is their pricing. Their pricing is lower compared to RimZ One and they also have more discounts on their site. The shipping cost is lower too, overall you can get the whole package for much cheaper if you're getting it from Custom Offsets.
The only problem with Custom Offsets is their shipping. It is slow and sometimes the shipping process can mess up the products. Sure, they're very quick to solve these issues but no one really wants to see a broken or damaged part the first time they open the box.
Overall, Custom Offset is the better choice in this case. But if you're looking for faster and more secure shipping, RimZ One is a solid option.
Also Read: Differences Between Alcoa And Accuride Wheels.
Frequently Asked Questions (FAQ)
What is the difference between +1 offset and +20 offset?
Offset is what tells you how far your wheels will be towards the outside. The difference between the +1 and +20 offset is that the +20 offset will be more outside-facing than the +1 version.
What is the most common rim offset?
The most common rim offset is where the mounting surface faces the street side. It is called a positive offset.
Are fitment industries and Custom Offsets the same?
No, they aren't the same. Fitment Industries is an extended wing of Custom Offsets.
What are the disadvantages of offset rims?
The disadvantage is mostly for negative offset wheels. They can make your car parts like wheel bearings, strut perches, and ball joints wear off faster.
Are factory rims better than aftermarket?
Yes, the OEM and factory rims are usually made from higher quality materials.
Final Verdict
For all the Rimz One and Custom Offsets debates, it is still hard to decide on a clear winner because it all depends on your preference. Objectively, Custom Offset is the better choice.
But if you're specifically looking for fast shipping, RimZ One is the better choice for you.