If you're a motorcyclist looking for the best app to plan your rides, you're likely considering Calimoto and REVER. Both apps have unique features that claim to enhance the motorcycle riding experience.
But which one is really the best choice for you?
In this comprehensive guide, we'll compare the key features of Calimoto and REVER to help you decide which motorcycle route app is worth downloading. By the end, you'll have a clear understanding of the pros and cons of each platform.
A Brief Comparison Table
| | | |
| --- | --- | --- |
| Feature | Calimoto | REVER |
| Route Planning | Curvy, scenic routes optimized for motorcycles | Curated routes submitted by users worldwide |
| Navigation | Turn-by-turn voice guidance offline | On-screen route maps online only |
| Safety Features | Speed limit and hazard alerts | Crash detection alerts |
| Social Sharing | Minimal capabilities | Robust ride logging and rider connections |
| Availability | Android only, Europe focused | iOS & Android apps, worldwide use |
| Pricing | $6.99/month after 7-day trial | Free version with $4.99/month upgrade |
| Ease of Use | Steeper learning curve | Intuitive recognizable interface |
| Offline Access | Full offline maps and navigation | Limited offline map caching |
Overview of Calimoto and REVER
First, let's start with a quick rundown of each app: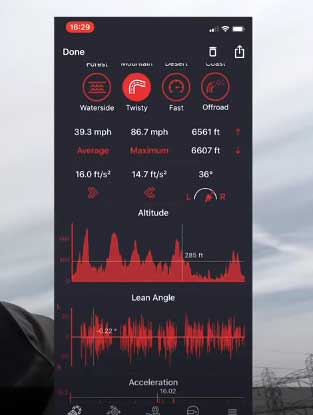 Calimoto is a motorcycle route planner app launched in 2015 by bikers in Germany.
It provides turn-by-turn voice navigation and suggests curvy, scenic routes optimized for motorcycles.
Calimoto also shows points of interest, speed limits, and gas stations along your planned route.
REVER is an American motorcycle app founded in 2017.
It allows you to discover new rides, track routes, share trip stories, and connect with other riders.
REVER provides crash detection and will alert your emergency contacts if you crash.
The app also has a unique "tread lightly" feature to find green, low-impact rides.
Now let's do a deeper comparison of the features.
Route Planning
The core functionality of both Calimoto and REVER is route planning optimized for motorcycles. But there are some key differences in how each app plans your ride:
Curated Motorcycle Routes – REVER has a database of curated routes submitted by users all around the world. With REVER, you can easily discover exciting new rides added by other bikers. Calimoto lacks curated routes from a community.
Custom Route Building – Both apps allow you to set your own start and end points and will generate a route between them. REVER has you select from curated routes or create your own route on a map. Calimoto has you search locations and then fully customizes the route for you based on your motorcycle preferences.
Scenic/Curvy Routing – A signature feature of Calimoto is its "adventurous" routing engine that seeks out small backroads and scenic spots. REVER doesn't advertise curvy routing intelligence, but users report it still finds fun motorcycle routes.
Fastest Option – REVER gives you the choices of "Fastest, Shortest or Curviest" when building a custom route. Calimoto focuses mainly on curvy scenic routes. You'll have to toggle off "avoid highways" in the settings if you want the fastest route.
Turn-by-Turn Navigation – Only Calimoto provides full turn-by-turn voice navigation to guide you along your route. REVER just shows your route on a map, but lacks voice navigation.
Route Learning Tools
Both apps provide handy tools to help you learn and review routes:
Route Preview – REVER lets you virtually preview a route using satellite imagery to get a feel for the roads before riding. Calimoto lacks this immersive route preview.
3D View – Similar to REVER, Calimoto offers a 3D route viewer so you can "fly" along your route before hitting the road. It gives you a realistic preview from a motorcyclist's perspective.
Street View – With REVER you can drop into Google Street View mode to explore roads along your route. Calimoto doesn't integrate Street View.
Simulated Test Ride – Calimoto's coolest learning feature is its simulated test ride. It uses videos of routes filmed by riders to give you a true first-person preview. REVER doesn't offer test ride videos.
Cue Sheets – Both apps allow you to export a printable cue sheet with turn-by-turn directions for your route. Helpful for navigating old school!
Sharing and Social Features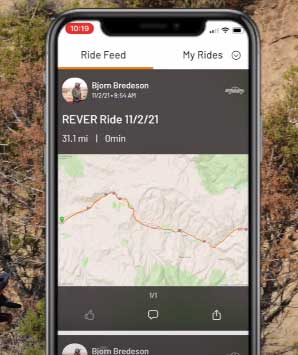 Part of the fun of motorcycling is sharing trips and connecting with other riders. Here's how the apps stack up for social features:
Route Sharing – You can easily share saved routes from both apps via text, email, social media etc. REVER also lets followers view your public profile and ride history.
Photo Sharing – REVER has a "share a story" option to post ride photos with captions visible to the community. Calimoto currently lacks photo sharing.
Rider Connections – REVER shows local riders, lets you message users, follow profiles, and post public comments. Calimoto doesn't currently offer social connections.
Reviews/Rankings – REVER users can leave reviews and rank rides they've completed. You'll see average ratings on routes. Calimoto has no review or ranking system.
Clubs/Groups – Join group rides and connect with REVER clubs based on location or bike type. No group social options exist on Calimoto.
So REVER is the clear winner for motorcycle social networking. Calimoto offers very limited sharing capabilities currently.
Safety Features
Motorcycle safety should be a top priority for any riding app. Here are some key safety features offered:
Crash Detection – REVER offers crash detection powered by your smartphone sensors. If it detects a crash, REVER can send your location to emergency contacts. This could be a lifesaver for solo riders.
Emergency contacts – Both apps allow you to input emergency contacts who can access your location. But only REVER alerts contacts automatically if you crash.
Live tracking – From the REVER app, your emergency contacts can view your real-time location and ride updates. Calimoto lacks live tracking – contacts only see your planned route.
Incident reporting – See hazards and traffic reported by other REVER users to stay alert on your route. Calimoto doesn't have crowd-sourced incident reporting.
Speed limit alerts – Calimoto shows speed limits and will alert you if you exceed them based on GPS data. REVER doesn't provide speed limit warnings.
REVER is the safer choice overall, thanks to innovative crash detection technology. But Calimoto offers useful speed limit alerts to make you more aware.
Offline Accessibility
Having offline access to maps and navigation is clutch for riders without unlimited data. Here's how Calimoto and REVER compare for offline use:
Offline Maps – REVER lets you download offline region maps so you can navigate without cell service. But saved routes require data connection.
Offline Navigation – Calimoto stores turn-by-turn guidance offline once you start navigation. You can complete a full route without data. REVER can't navigate offline.
Saving Routes Offline – You can build and save custom routes in Calimoto without a data connection. REVER requires data for route planning.
So Calimoto is the clear winner if you're riding in areas with poor cell coverage. Its offline navigation surpasses REVER.
Also Read: Differences Between Avenza And AllTrails Hiking Apps.
Costs and Plans
Pricing and subscription plans often dictate which app riders choose. Here's the breakdown:
Free Plans – REVER offers a generous free plan with core route planning features. Calimoto recently discontinued its free plan, so you must pay to use it.
Paid Plans – Calimoto's premium subscription is $6.99/month after a 7-day free trial. REVER is $4.99/month after a 30-day free trial.
Subscription Perks – With Calimoto Premium you get ad-free usage and access to all navigation features. REVER unlocks offline maps, savings on gear, and visual route enhancements.
One-time Purchases – REVER allows a one-time purchase of $24.99 to unlock all features forever. No similar lifetime option exists for Calimoto.
Considering its free plan and one-time purchase option, REVER is the more budget-friendly choice. But Calimoto packs more value into its paid plan.
Ease of Use
An easy-to-use interface can make or break a riding app. Here are some factors impacting usability: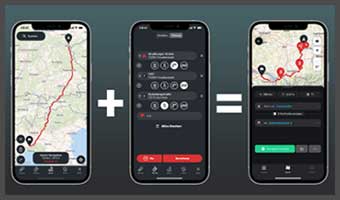 Menu Design – REVER uses recognizable navigation patterns making it intuitive to navigate. Calimoto's menu design has a steeper learning curve.
Data Entry – Entering locations is quick and easy with REVER's search-as-you-type and Google Places integration. Calimoto can be more particular about data input formats.
Settings – REVER surfaces key settings directly in the app view for easy access. With Calimoto you have to change settings from your profile only.
Account Creation – Creating an account is simple with REVER using email, Google or Facebook. Calimoto requires phone verification which can complicate signup.
Voice Navigation – Calimoto's voice guidance is a clear advantage for eyes-free navigation. REVER lacks voice support completely.
Overall, REVER's intuitive and recognizable design wins for usability. Calimoto has a more rigid interface with a learning curve.
Availability and Devices
It's important to consider what devices and regions each app supports.
Mobile Apps – REVER offers iOS and Android apps. Calimoto is currently only available for Android and lacks an iOS app.
Countries – REVER has worldwide availability. Calimoto only works in Europe currently, with Germany having the best coverage.
App Updates – REVER seems to update its apps more frequently with bug fixes and new features. Calimoto's app feels a bit more stagnant.
So REVER takes the crown for broader device and country availability. Calimoto is constrained as a Europe-only, Android-first app.
Which App Should You Choose?
With our detailed comparison complete, let's summarize which riders might prefer Calimoto or REVER:
Choose Calimoto if you want:
Curvy, scenic routes optimized for motorcycles
Voice-guided, offline turn-by-turn navigation
Speed limit and hazard alerts for safety
A clean ad-free experience after paying
Choose REVER if you want:
Social ride logging and connections with other bikers
Crash detection alerts and live location tracking
Intuitive design that's easy to navigate
Worldwide route discovery for free
Also Read: Comparison of HuntStand And HuntWise Hunting Apps.
Frequently Asked Questions About Calimoto and REVER
Here are answers to some common questions riders have about these two motorcycle GPS apps:
Is Calimoto not free anymore?
Correct, Calimoto recently discontinued their free usage tier. You now have to purchase a subscription for $6.99/month after a 7-day free trial in order to use Calimoto.
Is rever a good app?
Yes, REVER is a very good motorcycle route app, especially for discovering new rides and connecting with other bikers. It offers an intuitive interface, crash detection safety features, and a forever purchase option. The free plan is also generous.
Does calimoto show speed limit?
Yes, one of Calimoto's standout safety features is it displays the current speed limit and will alert you if you exceed it based on GPS data. This helps make you more aware of your speed while riding.
What is the best motorcycle route app?
There is no definitive "best" motorcycle GPS app. The ideal choice depends on your priorities and needs as a rider. Calimoto excels for navigation and offline use. REVER is better for social connection. Analyze the pros and cons to pick your perfect motorcycle route app.
Final Thoughts
Both motorcycle apps have strengths and weaknesses. Calimoto offers a smoother navigation experience tuned for motorcycles, but lacks REVER's social enrichment.
For serious navigation, Calimoto takes the lead with voice guidance and offline access. But REVER wins for worldwide discovery of new rides and rider community.
Hopefully this detailed comparison helps steer you toward the perfect motorcycle route app for your needs! Ride safe and remember to enjoy the journey as much as the destination.