You always have to be on you're a-game when you're hunting. This is why people use apps like HuntWise and HuntStand to help them out.
Both apps are good but some differences make them stand apart. In-app purchases, features, and accuracy levels are some of the major differences you'll notice between them.
Hunting is a winner's game. That's why you need the hunting apps for the extra push. HuntWise and HuntStand both are good apps, but how are they different and what should you choose?
Let's take a look.
A Quick Comparison Summary
If you're one of the "always-on-the-go" persons, this part is for you. If you want to know the gist of it all minus the fluff, we've got you. Here are the major differences between the two brands.
Just the gist, no fluff. Feel free to go through it for a quick summary.
| | | |
| --- | --- | --- |
| Feature | HuntWise | HuntStand |
| In-app purchase | Pricey | Cheaper |
| Features | Detailed, user-friendly | Less detailed and user-friendly |
| Accuracy level | Better | Good |
Have time to dig in? Good, let's get to the details then.
Key Differences Between HuntWise And HuntStand Apps
Hunting apps generally have pretty similar features, and the same goes for these two apps. But there are still some differences between them. The major differences between these two are in-app purchases, available features, and accuracy level.
Let's take a better look.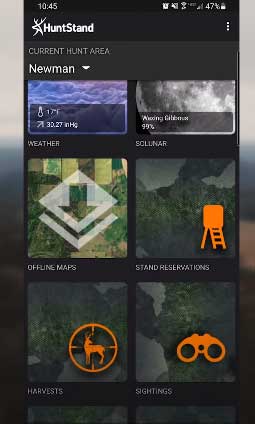 Both apps are free to download on android and iOS.
The cost starts with a Pro subscription and in-app plugin purchases.
HuntWise is a little behind in this department with a higher cost. The Pro subscription plan starts at $19.99 per month.
The subscription plans range from that $119.99 per month depending on what plan you're getting.
The other app features start cheap, but the price is comparatively higher than that of HuntStand for everything.
Cost is the strongest point for HuntStand. The app subscription plans start at $11.99 and go up to $69.99 depending on the package.
If you renew during special days like Labor Day, you can get even cheaper deals. The plugins start from $5.99 and go up to $69.99 for purchase.
Also Read: OnX Or BaseMap App For Hunting?
This is where you'll notice the real difference between these apps shows up. HuntWise is packed with more practical features.
There are 3D maps, weather forecasts, and wind speed data on the app. Another nice feature of this app is the hunting schedule.
You can schedule the best hunting time for different species based on the data on the app. The user interface is much easier but beginners might need a little time to get adjusted to it.
HuntStand on the other hand is more basic. It has fewer features than the HuntWise app and the user interface needs a little more work compared to HuntWise.
HuntWise is far more nuanced when it comes to accuracy. You'll get the proper property information, borders, and accurate GPS directions. The error rate for HuntWise is very low so you know the app won't lie.
HuntStand is a little less accurate than HuntWise. Sometimes the app doesn't show updated property information and the GPS tracking can be slightly off at times.
Which Hunting App Should You Choose?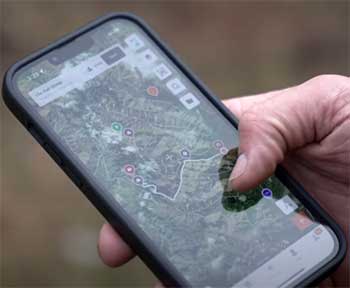 That will come down to you.
These are both hunting apps so they're very, very similar to each other. Not just that, but they're both high-quality apps with lots of features.
So your choice will depend on other factors like your comfort and personal preference.
If you're okay with spending a little extra dough and want maximum accuracy, HuntWise is the foolproof choice here.
The app comes with lots of features and the accuracy level more than makes up for the price. Plus the app has a nice user interface so you'll have fun using it.
If you don't want to splurge on your hunting app and like to trust your instincts more, HuntStand is the right choice for you. The app is even cheaper if you can renew on the right day. The accuracy and everything else is pretty good and you get to play around with the features more.
In an overall sense, HuntWise is the better choice between the two. But if you're looking to save money, go for HuntStand. Here is a little overview of it for you.
Also Read: HuntWise Or OnX Hunting App?
Frequently Asked Questions (FAQs)
It is hard to cover everything in a single article so if you have some more questions, that's understandable. Here are a bunch of questions people usually ask about HuntWise and HunStand apps for hunting. Hopefully, these can help you out more.
Is HuntWise worth the money?
Very much, yes. The HuntWise app is a little pricey but it has much more detailed features. The accuracy level is also higher than a lot of other apps and the user interface is amazing. So yes, HuntWise is worth the money.
How good is HuntWise app?
HuntWise is one of the top hunting apps in the market. You can add features, get accurate property information, and lots of other hunting information from the app. Plus the user reviews of this app match up with the hands-on experience. So you can consider this a pretty good app.
How much does HuntWise cost?
The HuntWise app is free to download for both android and iOS. But there are in-app purchases and the pro versions that drive up the cost. The HuntWise Pro is available for $19.99-$119.99 depending on your subscription plan, and the in-app purchase can go $0.99-$119.99.
What is the best hunting land app?
There are no straight answers to this. A lot of people like HuntStand especially if they're in the northern part of the USA. There are a lot of other apps for hunting like HuntWise too. So the best app for you depends on what you want from the app.
Final Verdict
HuntWise vs. HuntStand is a pretty old debate, but that doesn't mean any of them is outright bad. Both apps are well-rounded and have their own benefits. But if you have to choose one, HuntWise is the safest bet of these two.
But if you want something cheaper and don't need much detail, feel free to go with HuntStand with your eyes closed.