As a UTV lover or user, it's pretty common that you're familiar with some of the giant brands like Honda, Can-Am, Yamaha, Polaris, and many more. But everyone cannot spend a fortune as most are so costly!
So, what if I show you a mid-budget utility vehicle with a powerful engine, strong winch, and multi-gear facilities?
Yes, I'm talking about the Axis 500 4X4 UTV. Here, I'll review its jaw-dropping features, advantages, and what could have been better.  
Features of Axis 500 4X4 UTV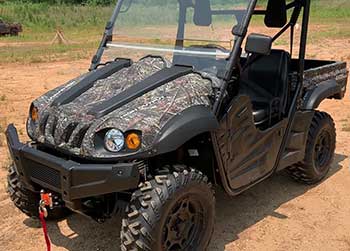 Here is where everyone focuses at first while purchasing a camouflaged vehicle.
Even I believe that engine is the first to consider because a poor engine is the main culprit behind weak performance.
On top of that, UTVs are liable to haul supplies and necessary equipment that a typical truck can't do.
As a result, it has to be powerful and capable of bearing heavy loads.
That's where the Axis 500 UTV comes into play! Unlike the cheap UTVs out there, this one comes in a 4-stroke 471cc engine, ensuring a lot of power and low-end torque.
Besides, it's able to accelerate across a variety of terrains, making it ideal for everyone. 
Also Read: Comparing Honda And Polaris ATV.
In this budget segment, I can rest assured that you'll find the Axis 500 UTV, one of the fast camouflage vehicles. When I turned it to the highest, the top speed appeared to be 40 miles per hour.
So undoubtedly, you're allowed to reach way quickly in your destination by riding over the flat terrains. But yes, you shouldn't try the max speed on rocky hills where you may have severe accidents.
Includes a Powerful Winch
When you drive over muddy terrains, there is a chance that you may get stuck inside a ditch or such places accidentally. As a result, survival will be a back-breaking task because keeping such a weighty UTV out of that place isn't child's play.
So, to help you get rid of that kind of situation, the maker of AXIS has added a specific winch to this vehicle. Its capacity is up to 3500lbs, whereas the Axis 500 weighs around 1197lbs.
Consequently, you can use it to rescue your UTV smoothly, even if your camouflage has added some extra supplies. So wave off your worries!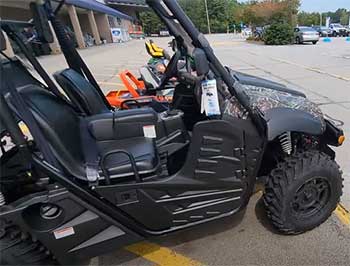 Of course, choosing a UTV that offers a decent bed capacity is necessary.
Thus, you can get the chance to transfer any equipment and supplies from one place to another.
As you can see, the AXIS 500 features a rear cargo bed, which can take a load of up to 350lbs.
I've found that range pretty decent and ideal for everyone in this price range.
Several gear options are always a plus point, especially for those who want to use their vehicle effortlessly.
Considering that Axis 500 4X4 offers high, low, reverse, and neutral gear options, making sure users get the most convenience while driving. Even when I was a newbie in the field of UTV driving, I also found it a snap to control the UTV for its multi-gear options.
Also Read: Differences Between American Landmaster And Polaris Ranger UTV.
Fuel capacity is a crucial factor. Because if your UTV doesn't have enough room to store fuel, you'll have to refill it quite often and often, which is annoying and, at the same time, really time-consuming!
But that won't be the case with the Axis 500 4X4 UTV. You'll get a total of 7.6 gallons of fuel at this budget segment right here.
This means you can smoothly run your camouflage vehicle between 150-160 miles at a go without refilling it. That was pretty much sufficient for me.
Other Striking Features:
1200lbs is the maximum towing capacity of the Axis 500 UTV. 
It features a sturdy windshield, a liquid cooling roof, and rims made of aluminum.
Front and rear bumpers are made of plastic yet withstand heavy pressure.
Unique design, build quality and features three eye-catching color options. 
The UTV comes in four-wheel drive; each wheel is 26″ and can bear heavy loads.
The A-arm independent suspension allows every wheel to move vertically. 
Here is a little demo for you.
What Could Have Been Better With Axis 500 4X4 UTV?
As the engine of the Axis 500 appears to be powerful, I noticed slight noises that it produced. It occurs when you drive your utility vehicle for a long period of time.
Not friendly with Rugged Terrains
Despite having a 4-stroke engine and four-wheel drive, experts don't recommend using it on uneven and rugged surfaces. To drive over such terrains, consider buying a little bigger UTV.
So, you better rely on it to drive over flat and even surfaces to stay in the safe zone ever.
A seat belt is essential in keeping you free from excess movements or any injuries during a drive, especially when the terrain is slippery or rough. But unfortunately, the seat belt of the Axis 500 isn't much convenient to use.
However, I considered it a minor drawback. Ask why? Because there is an option to replace the belt with a new one. So if possible, purchase a convenient strap that you find most suitable for your Axis UTV.
Also Read: Comparing RZR 1000 Supercharger With Turbo.
Frequently Asked Questions (FAQ)
Is the Axis 500 UTV any good?
Without a doubt, Axis 500 4X4 is a top-quality utility vehicle if you're looking for a mid-budget UTV. Compared to its competitors, it stands out for its affordability, powerful winch, dumb bed, and multi-gear facilities.
Who makes the engine for the Axis 500 UTV?
A Vietnam manufacturer named "Hisun" made the engine of Axis 500 and numerous other brands. It has been in the industry since 1988 and gets a reputation for offering such quality types of machinery regarding automotive.
What is the top speed of the axis 500?
As I've mentioned above, the max speed of Axis 500 UTV is about 40 miles per hour, allowing you to reach your destination within no time.
Where are Axis Utility vehicles made?
The location where each part of the Axis Utility has been made is Changshou, China. After making them, they assembled the entire unit in Dallas, Texas.
Last Words!
Hands down, Axis 500 4X4 can meet all your needs if you're searching for a mid-range utility vehicle that can do it all. From a heavy-duty 471cc engine to a 3500lbs powerful winch, it has everything to stand a place in your "priority list."
Now that you've gone through the entire Axis 500 4X4 UTV review, it becomes easier for you to decide whether you should spend on it or not. After all, it's up to you!