Vredestein, the Dutch tire manufacturer owned by the Apollo Tyres group, produces two popular all-season tire models – the Hitrac and the Quatrac. Both boast excellent wet and dry handling and braking, along with reliable traction in light snow.
But how do you choose between the Hitrac and Quatrac? Which tire will perform best for your needs? This comprehensive guide examines the key features and performance factors of each model to help you decide.
A Brief Comparison Table
| | | |
| --- | --- | --- |
| Feature | Hitrac | Quatrac |
| Wet traction | Excellent – slight edge | Excellent |
| Dry handling | Very responsive | Balanced performance |
| Light snow traction | Capable | Slight advantage |
| Noise comfort | Very low noise | Slightly quieter |
| Treadwear | Extremely long | Slightly longer still |
| Sizing options | All key sizes | All popular sizes |
| Warranty length | Up to 80,000 miles | Up to 80,000 miles |
| Price range | $130 – $270+ per tire | $150 – $300+ per tire |
Overview of Vredestein Hitrac Tires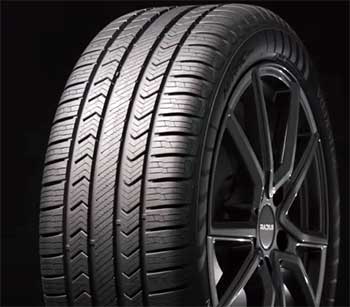 The Vredestein Hitrac tire line features an asymmetric tread pattern optimized for wet and dry performance.
Key features include:
Silica-enhanced tread compound – Silica reinforcement helps enhance grip and reduce tread wear in warm and wet conditions. The tires maintain pliability for responsive handling.
Stable shoulder blocks – The continuous lateral grooves and stable shoulder blocks promote straight-line stability and accurate steering response.
Zig-zag central grooves – The central tread area utilizes a zig-zag groove pattern to efficiently evacuate water and resist hydroplaning.
M+S marking – Hitrac tires carry the M+S (mud and snow) marking indicating suitability for light snow and mud traction.
Hitrac tires are available in a broad range of popular sizes to fit sedans, coupes, CUVs and SUVs.
They come with a treadwear warranty of up to 80,000 miles.
Overview of Vredestein Quatrac Tires
The Quatrac line features an asymmetric, non-directional tread pattern optimized for all-season traction. Key features include:
Adaptive siping technology – The 3D siping adapts to deliver grip on dry roads while providing rigidity for enhanced handling and control.
Stable handling grooves – Continuous center and shoulder grooves promote wet weather grip and stable, predictable handling.
Snow performance – The aggressive, open tread pattern with biting edges delivers traction and braking in light snow.
Quiet comfort – The tires utilize sound-dampening tech to reduce noise levels for a quiet, comfortable ride.
Quatrac tires also carry the M+S snow rating and are backed by a 60,000 to 80,000 mile treadwear warranty depending on the model.
Also Read: How Firestone Firehawk Indy 500 And Continental ExtremeContact Sport Tires Stack Up?
Key Differences Between Vredestein Hitrac And Quatrac Tires
Wet Traction and Handling
Both the Hitrac and Quatrac tires perform well on wet pavement, with responsive handling and short braking distances. However, there are some differences:
The Hitrac utilizes more lateral grooves and sipes for increased water evacuation and grip. Tests show slightly shorter braking distances on wet roads.
The Quatrac adaptive siping helps maintain rigidity for crisp steering response and control in wet conditions.
Overall, the Hitrac may have a slight performance edge in heavy rain, while the Quatrac offers balanced wet and dry handling.
For most drivers, the wet traction of both tires will be more than adequate. The Hitrac may suit drivers in very rainy regions who want maximum wet weather grip.
Dry Traction and Handling
The Hitrac and Quatrac tires deliver responsive, even wear and long tread life on dry roads. Key advantages of each model:
The Hitrac's asymmetric tread design focuses on responsive handling and stability through turns. Test drivers praise the direct steering feel.
The Quatrac's adaptive siping helps maintain grip as the tread wears, contributing to even wear and long life. The tire earns excellent marks for overall dry performance.
Both tires provide ample dry grip for enthusiastic driving while maintaining low road noise for a comfortable ride. For most drivers, their dry handling characteristics will be very similar in real-world use.
Snow and Winter Traction
The Hitrac and Quatrac both carry the 3-peak mountain snowflake symbol (3PMSF) certifying suitability for light snow conditions. Key winter features:
The Hitrac has tightly-spaced lateral sipes to grip packed snow. The tire performs well in light snow, earning a peak mountain snowflake rating.
The Quatrac has a more open, aggressive tread pattern to penetrate fresh snow. It offers slightly better snow and slush traction than the Hitrac.
While neither tire qualifies as a specialty winter tire, the Quatrac may be a bit better suited to regular winter driving in moderate climates.
The Hitrac excels on dry and wet roads but has slightly less snow bite.
For the occasional dusting, both tires will capably get you through winter – just reduce speeds and leave ample stopping distance.
Make sure to pair them with all-wheel-drive for enhanced snow traction.
Ride Comfort and Noise
The Hitrac and Quatrac tires effectively minimize noise levels and vibration for a comfortable ride:
The Hitrac utilizes sound-absorbing tech to reduce noise. It earns positive marks for quiet performance on the highway.
The Quatrac also utilizes advanced sound suppression for very low noise levels. Testers rate it among the quietest in its category.
You'll enjoy comfortable cruising and minimal vibration in either tire. The Quatrac may have a slight edge for noise reduction, while both models effectively dampen road noise for pleasant highway driving.
Treadwear and Durability
Vredestein covers both tires with generous treadwear warranties of 60,000 to 80,000 miles for a reason – these tires deliver very impressive tread life.
The Hitrac is designed for even wear. The advanced silica tread compound retains flexibility and grip as the miles add up.
The Quatrac's adaptive siping design maintains consistent grip throughout the life of the tread, resulting in long, even wear.
Owners of both tires report routinely getting 70,000 to 80,000 miles or more before replacement is required. With proper maintenance and alignment, you can rely on years of service from either model.
The Quatrac may have a slight durability advantage, but both tires earn top marks for impressive tread life.
Available Sizes
Vredestein offers the Hitrac and Quatrac in a wide spectrum of popular sizes. Both lines include fitments for:
Passenger cars – Numerous sizes fit sedans and coupes, including ultra-high-performance options.
Crossovers/SUVs – A full range of sizes accommodate small and mid-size crossover SUVs.
Light trucks – Select sizes are available for light duty pickups and commercial vans.
Before purchase, always verify precise sizing info for your vehicle – wheel size, rim width, load index and speed rating. The Hitrac and Quatrac lines offer ample size availability for most drivers.
Pricing Considerations
Both Vredestein models are considered performance tier tires priced accordingly:
Hitrac – Prices range from approximately $130 – $270+ per tire depending on size. Competes with other touring all-season category tires.
Quatrac – Ranges from about $150 – $300+ per tire based on size. Priced similarly to other grand touring all-season tires.
While not budget-priced, the performance, comfort, treadlife and warranty coverage make these tires a compelling value for the prices. Shop around for the best deals.
In terms of value, the Quatrac gets a slight edge as newer tech at similar prices to the venerable Hitrac line.
But both deliver impressive performance and durability.
Warranty Coverage
Vredestein provides strong warranty protection for both tire lines:
Hitrac – Mileage coverage ranges from 60,000 to 80,000 miles depending on the model. Also backed by workmanship and materials guarantees.
Quatrac – Warranties span 60,000 to 80,000 miles depending on specific model. Comprehensive workmanship and materials warranties.
The treadwear warranties highlight the long service life drivers experience with both models in real-world use. Make sure to keep receipts and documentation for warranty repairs.
Overall, the warranties provide assurance you're investing in quality, durable tires. The Quatrac warranty terms give it a slight advantage.
Choosing Between Hitrac and Quatrac
The Hitrac and Quatrac are both impressive tires that deliver confident year-round driving and long tread life. Which model is right for you?
For balanced, all-season performance – The Quatrac is an outstanding all-rounder if you see mostly dry weather with occasional rain and light snow. It blends responsive handling, long treadlife and a smooth, quiet ride.
For maximum wet weather grip – The Hitrac has an edge in heavy rain with its tread design that excels at water evacuation and wet traction. It's ideal in regions with frequent rainstorms.
For sporty handling – Drivers wanting crisp steering response may prefer the Hitrac. Its ultra-high-performance sizes also appeal for athletic coupes and sedans.
For the newest design – The Quatrac incorporates Vredestein's latest tech for improved snow traction, quiet comfort and longevity. It's the advanced modern tire.
As long as you choose the right size, either tire will deliver impressive performance. Consider your own driving needs and weather conditions to decide between these two standout models.
Also Read: How Firehawk Indy 500 And Nitto 555 G2 Tires Stack Up?
Frequently Asked Questions (FAQ)
Is Bridgestone Blizzak LM001 run flat?
No, the Bridgestone Blizzak LM001 is a standard tire and does not have run-flat capability. Blizzak tires are specially designed for winter driving conditions but do not incorporate run-flat technology.
How many miles do Vredestein Quatrac Pro last?
The Vredestein Quatrac Pro tires are built to deliver long tread life. Real world drivers report getting between 60,000 to 80,000 miles before the tires need replacement. With proper maintenance and alignment, some owners achieve over 80,000 miles. The treadwear warranty covers up to 80,000 miles on Quatrac Pro tires.
Are Vredestein tyres premium?
Yes, Vredestein tires are considered a premium tire brand. Key factors that make Vredestein a premium tire manufacturer include:
1. Innovative designs and compounds
2. Stringent testing and quality control
3. Precise handling and dry/wet traction
4. Low noise levels and ride comfort
5. Generous treadwear warranties
6. Availability of ultra-high performance sizes
While not the most expensive tires available, Vredestein delivers premium performance, quality and owner satisfaction.
Is Vredestein a good tire?
Yes, Vredestein makes excellent tires that perform well and last for many miles. Key strengths of Vredestein tires include:
1. Superb handling and braking in dry and wet conditions
2. Impressive treadwear resulting in long tire life
3. Quiet, comfortable ride quality
4. Very good high speed and stability characteristics
5. Reliable light snow and mud traction
6. Attractive warranty protection
Vredestein has over 100 years of tire manufacturing expertise. Models like the Quatrac and Hitrac rate very competitively against other premium all-season tires. Drivers praise the tires for their assured road handling and long-lasting durability.
What is a Quatrac tire?
Quatrac is Vredestein's all-season high performance tire line known for year-round traction. Key features of Quatrac tires:
1. All-season tread compound optimized for grip in dry, wet and wintry conditions
2. Asymmetric, non-directional tread design for balanced performance
3. Excellent handling and stability at high speeds
4. Adaptive siping maintains grip as the tread wears
5. Very good hydroplaning resistance in wet weather
6. Low noise levels for a comfortable ride
7. Snowflake-marked for light winter use
Quatrac tires provide drivers confident year-round performance, long tread life, and a comfortable driving experience. They are well-suited to regions with diverse weather and road conditions throughout the year.
Closing Remarks
Both the Vredestein Hitrac and Quatrac tire lines deliver impressive all-season performance, long treadwear, and a quiet, comfortable ride. The Hitrac prioritizes responsive handling and wet weather grip, while the Quatrac focuses on balanced traction and the latest tech.
With ample size availability, warranty coverage, and advanced designs, either Vredestein tire makes an excellent choice for drivers seeking quality and value.
Consider your own driving priorities and conditions to determine if the well-rounded Quatrac or the sporty, wet-gripping Hitrac is the best option for your needs.