If you're in the market for new tires, two of Goodyear's top all-season options are the Eagle Sport and the Exhilarate. But with similar names and features, it can be tricky to decide which tire best fits your needs.
As a long-time trusted name in tires, Goodyear has a reputation for making high-quality, durable tires that perform well across a variety of conditions. Both the Eagle Sport and Exhilarate lines reflect Goodyear's commitment to advanced technology and rigorous testing.
This comprehensive guide will compare the key features, performance, price, warranties, and more to help you determine if the Eagle Sport or Exhilarate is the best choice for your vehicle. We'll also provide an unbiased look at the pros and cons of each tire to support your decision-making.
A Brief Comparison Table
| | | |
| --- | --- | --- |
| Feature | Eagle Sport | Exhilarate |
| All-Season Performance | Capable across wet, dry, winter | Ultra high performance |
| Wet Traction | Good | Excellent |
| Dry Traction | Good | Excellent |
| Winter Traction | Decent | Good |
| Ride Comfort | Excellent | Very Good |
| Noise | Very low | Low |
| Treadwear | 65,000 miles | 65,000 miles |
Eagle Sport Overview
The Eagle Sport is one of Goodyear's most popular all-season tires, designed to provide a smooth, quiet ride with responsive handling and traction. As an upgrade from the basic Eagle RSA tire, the Eagle Sport aims to deliver better performance across wet, dry, and wintry conditions.
Key features of the Goodyear Eagle Sport include:
All-season tread compound enhances wet and dry grip
Stable tread blocks help resist hydroplaning on wet roads
Notch and groove design improves snow performance
SilentArmor technology reduces road noise
Rim protector helps guard wheels from curb damage
65,000 mile treadwear warranty
The Eagle Sport is available in a wide range of sizes to fit sedans, coupes, crossovers, SUVs and light truck models from nearly every auto manufacturer.
It comes in V, W, and Y speed ratings for vehicles with different top speed capabilities.
Overall, the Eagle Sport is designed to be a substantial upgrade over an entry-level all-season tire for drivers looking for better responsiveness and traction without paying premium prices.
Exhilarate Overview
As a newer addition to the Eagle family of tires, the Exhilarate aims to push all-season performance to the next level. Goodyear engineers set out to build an ultra-high performance tire that excels in wet and dry conditions with crisp handling, steering response, and braking.
Key features of the Goodyear Exhilarate include:
Advanced MaxGrip compound enhances grip and traction
OmniGrip tread design optimizes wet and dry handling
Staggered shoulder blocks improve snow and ice traction
SoundComfort technology absorbs noise and vibration
Reinforced bead filler enhances steering response
65,000 mile treadwear warranty
Available in V and W speed ratings, the Exhilarate fits a wide range of coupes, sedans, crossovers and SUVs. Sizes range from 17″ to 22″ rims.
The Exhilarate is engineered for drivers who want a tire that feels responsive, sporty and precise. The ultra-high performance capabilities make this a step up from the Eagle Sport for enhanced year-round driving dynamics.
All-Season Performance Comparison
Choosing between the Eagle Sport and Exhilarate really depends on your priorities for all-season performance. Here's a detailed comparison of how the tires stack up across wet, dry and winter conditions:
Wet Traction and Braking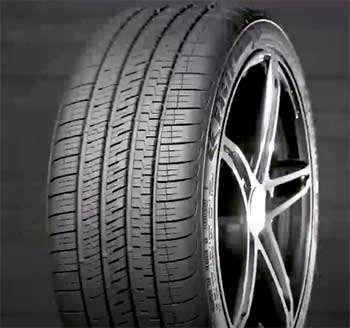 The Exhilarate's advanced MaxGrip compound provides a 6% improvement in wet braking over the Eagle Sport based on Goodyear testing. The Exhilarate stops shorter on wet pavement.
The enhanced hydroplaning resistance and tread pattern of the Exhilarate make it better suited for heavy rain and storms. Reviewers report excellent wet grip and traction.
The Eagle Sport still performs well in wet conditions, with its stable tread blocks resisting hydroplaning. But the Exhilarate has the edge.
Dry Traction and Handling
With its ultra-high performance compound, the Exhilarate again outperforms the Eagle Sport in dry conditions. The precise steering response and grip make the Exhilarate feel more agile and sporty on dry roads and in corners.
The Eagle Sport has solid dry traction and cornering abilities, but drivers report the Exhilarate feels more nimble with sharper turn-in and steering feedback.
For responsive, dynamic handling on dry pavement, the Exhilarate is the winner. The Eagle Sport lags slightly behind.
Snow and Winter Traction
Both tires use tread designs to channel water and slush away, improving snow and ice traction. The Exhilarate has more staggered shoulder blocks to boost winter performance.
While neither tire excels in heavy snow, the Exhilarate's compound and tread make it the better choice for winter driving. It earns the 3 Peak Mountain Snowflake rating.
With its standard all-season compound, the Eagle Sport has only basic snow traction abilities. Performance starts to drop in heavy snowfall.
Ride Comfort and Noise
The Eagle Sport gets high marks for providing a quiet, comfortable ride. It uses SilentArmor technology to reduce road noise from the tread pattern.
While the sportier Exhilarate transmits a bit more noise and vibration, it also employs SoundComfort tech to dampen noise. The difference is minor.
For a slightly smoother, quieter ride, the Eagle Sport is the winner. But both tires perform well in terms of comfort.
Treadwear and Durability
Goodyear covers both the Eagle Sport and Exhilarate with 65,000 mile treadwear warranties. Real-world results often exceed this.
The Exhilarate's max performance tread compound may wear slightly faster under aggressive driving. But for normal driving, both tires deliver long tread life.
Owners report getting 70,000+ miles out of the Eagle Sport. Expect comparable results from the Exhilarate barring racing conditions.
Pricing Comparison
When it comes to price, the Eagle Sport is the more affordable tire, while the Exhilarate commands a higher ultra-high performance tire price. Some sample pricing for popular sizes:
| | | |
| --- | --- | --- |
| Size | Eagle Sport | Exhilarate |
| 215/60R16 | $144 | $204 |
| 245/75R16 | $156 | $229 |
| 245/70R17 | $172 | $250 |
| 265/60R18 | $193 | $281 |
Prices can vary based on retailer, sales and promotions, but expect to pay around 20-30% more for the Exhilarate vs the Eagle Sport. The advanced technology and compounds used in the Exhilarate justify the higher cost for drivers wanting maximum performance.
Also Read: How Goodyear ComforTred And ComfortDrive Tires Stack Up?
Warranty Comparison
Both tires are backed by Goodyear's standard limited warranty:
65,000 mile treadwear warranty
6 year warranty for material and workmanship
30 day trial period
So you get the same coverage for defects and premature wear regardless of which tire you select.
Goodyear also provides 24/7 roadside assistance for the first 2 years or 24,000 miles after new tire installation. Again, the same coverage applies to both the Eagle Sport and Exhilarate.
Which Tire Is Best?
So which of these impressive all-season tires reigns supreme? Here are our recommendations based on driving needs: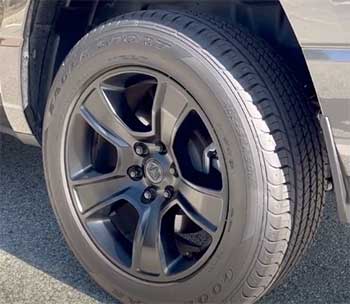 For Drivers Seeking Advanced All-Season Performance: Exhilarate
The Exhilarate is the clear choice for drivers wanting maximum wet/dry traction, sharp handling and steering response.
Its ultra-high performance abilities outshine the Eagle Sport across the board, except for ride comfort. The price premium buys you a truly high-tech tire.
For a Budget-Friendly, Smooth Ride: Eagle Sport
The Eagle Sport saves you money upfront while still delivering very capable performance, comfort, and longevity.
It's ideal for everyday use on family cars and basic commuter vehicles where extreme performance is less important.
For Winter Weather Performance: Exhilarate
While neither tire is specialized for heavy snow, the Exhilarate's compound and tread design give it notably better traction in cold, wintry conditions. Its 3 Peak Mountain Snowflake rating makes it the better 4-season option.
For the Best Ride Comfort: Eagle Sport
The Eagle Sport is praised for having a quiet, comfortable ride quality. Noise is well suppressed. It's not quite as cushy and smooth as a touring tire, but beats the Exhilarate in this regard.
In summary, the exceptional wet and dry grip of the Exhilarate make it the top choice overall for drivers wanting a premium performance tire. But the Eagle Sport remains an excellent value choice combining impressive capabilities, long tread life and affordable pricing. You really can't go wrong with either of these Goodyear all-season options.
Also Read: How Starfire Tires And Goodyear Tire Stack Up?
Frequently Asked Questions (FAQ)
Still have some lingering questions about Goodyear's Eagle Sport and Exhilarate tires? Here are answers to some common FAQs:
Is Bridgestone Blizzak LM001 run flat?
No, the Bridgestone Blizzak LM001 is not a run-flat winter tire. It has a standard tire construction that requires air pressure to support the load. However, Bridgestone does offer the Blizzak LM001 RFT as a run-flat version of this tire.
Is Goodyear Eagle Exhilarate an all-season tire?
Yes, the Goodyear Eagle Exhilarate is classified as an ultra-high performance all-season tire. It is designed to provide strong wet and dry traction throughout all four seasons. While it has some light snow capabilities, it is not specialized for severe winter conditions.
Are Goodyear Eagle sport tires good?
Yes, the Goodyear Eagle Sport is an excellent all-season touring tire that offers a quiet, comfortable ride along with capable handling and braking across wet, dry and wintry conditions. It provides a good balance of affordability, tread life and overall performance. Most drivers are highly satisfied with the Eagle Sport.
Is Goodyear Eagle sport a quiet tire?
Yes, one of the standout features of the Eagle Sport is that it delivers a quiet, comfortable ride thanks to its SilentArmor technology. This helps minimize noise from the tread pattern. While not the absolute quietest tire available, the Eagle Sport performs very well in terms of having low noise on the road.
Are Goodyear Eagle sport good in snow?
The Goodyear Eagle Sport provides decent traction and handling in light to moderate snow conditions, but does not excel in heavy snow. Its standard all-season tread compound offers basic snow capabilities, but it is not specialized for severe winter weather. For the best snow traction, a dedicated winter tire is recommended.
Closing Remarks
In conclusion, the Exhilarate is the top choice for drivers prioritizing high-level grip, response and handling. But the Eagle Sport remains an impressive all-season tire with strengths in affordability, comfort and longevity. Choosing between the two comes down to your needs and budget.
For most drivers, the Eagle Sport hits the sweet spot combining impressive capabilities with reasonable pricing. But the Exhilarate is certainly worthwhile for those wanting maximum performance and don't mind paying a premium.
Either way, you can trust Goodyear to deliver a quality, durable all-season tire.