The SPOT Trace is a popular satellite-powered tracker that lets you track assets, vehicles, and more when they're out of cell phone range. But it's not the only option out there for satellite tracking and communication.
In this guide, we'll compare the SPOT Trace to some other satellite tracker devices on the market so you can determine the best fit for your needs.
Alternatives To SPOT Trace
Here is a list of those competitors:
Garmin inReach Mini
LandAirSea 54
Somewear Global Hotspot
DeLorme inReach Explorer
ZOLEO Satellite Communicator
Bivy Stick Satellite Communicator
Ocean Signal rescueME PLB1
Let's talk about them in detail.
Garmin inReach Mini
One popular alternative is the Garmin inReach Mini. This is a handheld satellite communicator made by GPS giant Garmin.
Pros: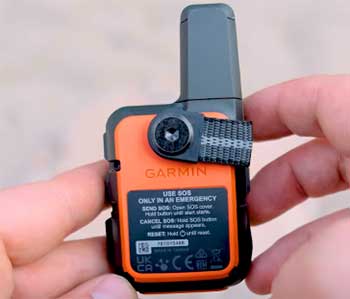 Small and ultra-portable
2-way satellite messaging via Iridium network
Built-in navigation and mapping
Emergency SOS button with GEOS 24/7 monitoring
Battery life up to 30 days in power save mode
Optional weather forecasts, satellite imagery, and custom map sharing
Cons:
More expensive upfront and monthly
Shorter battery life than SPOT Trace
No asset/vehicle tracking mode
The inReach Mini is designed more for personal use for hiking, climbing, camping, and other backcountry activities.
Using the built-in keyboard, you can send and receive text messages via satellite when outside cell range.
It also has an interactive SOS button that contacts GEOS 24/7 emergency response service.
While the inReach Mini doesn't do direct asset tracking, you can share your GPS location from the device manually or on set intervals. And Garmin offers a web-based map tracking portal.
Pricing is higher than SPOT, at $350 for the device and service plans from $15 to $65/month. Overall, the inReach Mini is best for personal satellite communications versus asset tracking.
LandAirSea 54
The LandAirSea 54 is a compact sat tracker and emergency beacon, similar to the SPOT Trace.
Pros:
Small and rugged
Affordable price
Battery life up to 21 days
Waterproof casing
GEOS 24/7 emergency monitoring
Cons:
Must purchase $20 case for full waterproofing
Interface not as user-friendly as SPOT
No 2-way messaging capabilities
Like the Trace, the LandAirSea 54 provides basic tracking via GPS and satellite updates. It has an SOS button to contact emergency services. And it is affordable, usually coming in at under $150 for the device itself.
Downsides include the need to buy a case accessory for full water and dust proofing. And the interface, using triple clicks of the power button to send messages, is not as intuitive as SPOT's. But overall, this is a comparable budget satellite tracker.
Somewear Global Hotspot
Somewear makes the Global Hotspot, a satellite communicator with a unique design.
Pros: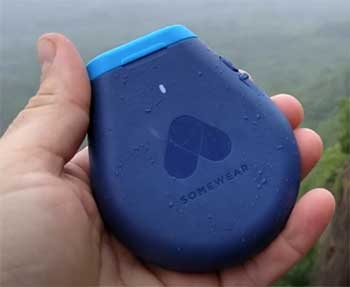 Acts as WiFi hotspot for mobile devices
Two-way messaging via satellite
Affordable data plans
Rugged, lightweight
Waterproof rating of IP68
Cons:
Shorter battery life
No built-in mapping/navigation
Less emergency monitoring services
The Global Hotspot uses the Iridium satellite network to send and receive messages well beyond the range of cell service.
It also sets up a WiFi hotspot with a 50-100 foot range to connect other devices wirelessly.
This provides connectivity for sending messages, downloading email, and basic web browsing anywhere on Earth. Emergency monitoring services are available but more limited compared to SPOT and Garmin.
Battery life is on the shorter side, at 20 hours typical operation. And it lacks built-in navigation and mapping tools. But for affordable satellite messaging and WiFi, it's a unique option.
DeLorme inReach Explorer
The DeLorme inReach Explorer is another two-way satellite communicator by Garmin (which owns the DeLorme brand).
Pros:
Rugged, waterproof design
Built-in navigation with GPS and compass
Two-way text messaging via satellite
Customizable tracking options
Affordable monthly plans
Cons:
Larger than other handheld devices
On the expensive end for upfront cost
Shorter battery compared to SPOT Trace
The inReach Explorer has a tougher, outdoor-focused design with built-in navigation features. Using the Iridium satellite network, you can send and receive messages anywhere on Earth. It has customizable tracking so you can share GPS locations manually, at set intervals, or based on motion detection.
The larger size makes it less convenient for packing than the mini version or SPOT Trace. And the upfront cost runs $450. But for backcountry adventures with family/friends, the Explorer offers helpful navigation tools and two-way messaging.
ZOLEO Satellite Communicator
ZOLEO is another compact, affordable sat communicator.
Pros: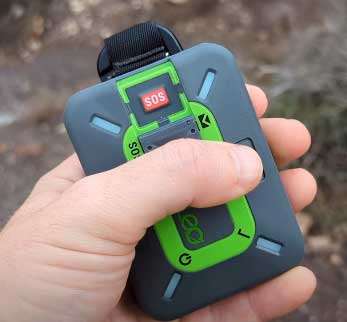 Global coverage on Iridium network
2-way messaging via app or email
Weather, SOS, and check-in messaging features
Affordable data plans
Waterproof and rugged
Cons:
No built-in GPS for navigation
No direct asset tracking mode
Battery life around 3 days max
The ZOLEO operates similar to the inReach devices, providing two-way sat messaging anywhere on the planet.
It has straightforward buttons for sending weather, SOS, and customizable check-in messages.
The battery lasts up to 3 days with typical use. And it lacks a built-in GPS for navigation. But for global messaging at a competitive price point, ZOLEO is an appealing option. Plans start at just $15/month.
Bivy Stick Satellite Communicator
The Bivy Stick from Bivy Technologies is a unique take on satellite messaging.
Pros:
Pairs with smartphones via Bluetooth
Affordable data plans
Compact, lightweight design
Robust global coverage
Waterproof and durable
Cons:
Requires phone for display and typing
No built-in GPS navigation
Battery life just 1-2 days
This device pairs via Bluetooth with your Apple or Android smartphone to send and receive messages anywhere on Earth using the Iridium satellite network. It connects to an app on your phone for composing messages.
There's no display or keyboard on the Bivy Stick itself. Battery life is also limited at 1-2 days max. But if you usually have your phone and want an affordable add-on for global messaging, it's a unique option starting at $200.
Ocean Signal rescueME PLB1
The rescueME PLB1 from Ocean Signal is a personal locator beacon for mariners and adventurers.
Pros:
Waterproof to 16ft depth
6 year battery life
Floats upright when deployed
Emergency monitoring by GEOS
Affordable price
Cons:
No two-way messaging
No GPS location sharing or mapping
Single-use beacon activation
This compact beacon uses the 406 MHz satellite network plus GPS to send your emergency position. It's designed for fast, one-button activation in marine emergencies. An internal GPS pinpoints your location to relay to rescue services monitored by GEOS.
The rescueME PLB1 is streamlined solely for emergency monitoring and response. It doesn't offer any direct messaging or routine location sharing capabilities. But if you need an affordable, reliable personal beacon for your boat or outdoor adventures, it's a proven solution.
Comparison Chart
Here's a quick summary comparing some key features and specs:
| | | | | | | |
| --- | --- | --- | --- | --- | --- | --- |
| Device | Starting Price | Battery Life | Satellite Network | GPS Tracking | 2-Way Messaging | Waterproof Rating |
| SPOT Trace | $100 | Up to 1 year | Globalstar | Yes | No | IP68 |
| Garmin inReach Mini | $350 | 30 days max | Iridium | Yes | Yes | IP68 |
| LandAirSea 54 | $150 | 21 days | Globalstar | Yes | No | IP67 (with case) |
| Somewear | $250 | 20 hours | Iridium | No | Yes | IP68 |
| DeLorme inReach Explorer | $450 | 4 days max | Iridium | Yes | Yes | IP67 |
| ZOLEO | $200 | 3 days max | Iridium | No | Yes | IP67 |
| Bivy Stick | $200 | 1-2 days | Iridium | No | Yes | IP67 |
| Ocean Signal rescueME PLB1 | $300 | 6 years | 406 MHz | No | No | 16ft depth |
Recommendations
With all these options, which satellite tracker is right for your needs? Here are some quick recommendations:
For affordable asset monitoring, the SPOT Trace and LandAirSea 54 are solid choices.
For backcountry/marine use, consider a messaging device like the Garmin inReach Mini or Somewear Global Hotspot.
If you want navigation tools, choose the DeLorme inReach Explorer.
For global coverage at low cost, look at the ZOLEO or Bivy Stick.
For an emergency-only personal beacon, the Ocean Signal rescueME PLB1 is proven and affordable.
Also Read: Why Should You Get ELO GPS?
Frequently Asked Questions (FAQ)
Can you use SPOT without a subscription?
No, a SPOT device requires an active subscription to communicate via satellite. SPOT sells annual or multi-year subscription plans to use their satellite network services. Without an active subscription, a SPOT device cannot share locations or send emergency messages.
What is the best satellite communicator?
For personal satellite communicators, top options include the Garmin inReach Mini and inReach Explorer, the Somewear Global Hotspot, and the DeLorme inReach Explorer. All provide two-way messaging via satellite networks like Iridium. The Garmin and DeLorme models also have built-in GPS navigation.
For asset trackers, the SPOT Trace and LandAirSea 54 are affordable and reliable satellite trackers. Make sure to compare satellite coverage, battery life, built-in mapping tools, and cost to pick the optimal model.
Which is better Garmin or SPOT?
This depends on your needs. SPOT is better optimized for asset tracking at an affordable price. The SPOT Trace provides updates on asset locations via satellite when out of cell range.
Garmin inReach devices are better for two-way messaging and personal use. They let you send and receive texts via satellite. Garmin inReach models also have navigation features, interactive SOS buttons, and more extensive emergency services.
So for asset monitoring, SPOT comes out ahead on price. But for personal backcountry use, Garmin inReach has more versatile messaging and mapping features.
What is the best communication device for remote areas?
For remote communication beyond cell service, satellite messengers like the Garmin inReach, DeLorme inReach, and the ZOLEO are top choices. They allow two-way text messaging anywhere on Earth using networks like Iridium. Some also offer emergency monitoring services via GEOS or other providers.
For remote areas, avoid devices that rely solely on cell networks like smartphones. Satellite communicators remain connected and usable for messaging and emergency contacts when you're fully off-grid.
Final Thoughts
Evaluate battery life, coverage, built-in maps/navigation, two-way messaging, and upfront costs to choose the best fit. And consider pairing a satellite tracker with an EPIRB or PLB for redundancy when offshore.
This gives you the flexibility of routine tracking and messaging along with an emergency-only beacon.
With the right satellite tracker or communicator, you can explore further off the grid while maintaining a critical safety net when beyond cell phone coverage. Do your research to pick the optimal mix of features, network, and pricing.