Comparing Sea Ray boats with Stingray boats is a reasonable discussion we can find on the internet. Both boats are great in working, durability, engine ability, power, and other amazing features.
But Sea Ray is a heavier-duty boat with all the amazing specifications of Stingray. In this write-up, I've chosen the 2015 models from both brands, and we'll compare them equally.
At first, the Sea Ray is not that lightweight and is built heavily, which contains more weight on the water. But Stingray 225 LR is a lightweight boat. However, the Stingray comes with better fuel capacity and runs on diesel.
At the same time, the Sea Ray works on regular fuel and has less fuel tank capacity. Their warranties also vary with their prices.
A Quick Comparison Table
| | | |
| --- | --- | --- |
| Comparison Factors | 2015 Sea Ray 220 Sundeck | 2015 Stingray 225LR |
| Portability and Weight | 1,905 kg (4,200 lbs) | 1,525 kg (3,362 lbs) |
| Pricing Comparison | $64,109 (USD) | $40,752 (USD) |
| Fuel Tank Capacity | 170 l (45 gal) | 212 l (56 gal) |
| Horse Power | Up to 300 Horsepower | 320 Horse Power |
| Fuel Requirement | It runs on the regular fuel | It needs diesel |
| Running Speed of the Engine | 4,600 rpm | 2,400 rpm |
| Water Tank | 19 l (5 gal) | 23 l (6 gal) |
| Warranty | 2 Years | 1 Year |
Key Differences Between The Sea Ray 220 Sundeck and Stingray 225 LR Boats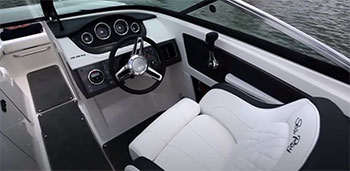 Both boats have a significant weight that tells us how much durable each one of them is and how heavier it is built.
When you consider the Sea Ray boat, it comes heavier built with a thicker and more durable haul.
On the other hand, the Stingray is a lightweight boat that is not constructed THAT heavily.
You can easily judge their portability and weight difference by looking at the above table's factors.
Also Read: Problems With NEEL Trimaran.
The budget is always important whether you are buying a boat for longer boating desires or using it on a random basis. In that case, Stingray and Sea Ray leave a difference between their prices.
The Sea Ray boat of the same size and same year is comparatively expensive, costing you more than a Stingray Boat of the same year and size.
You will have to pay a good number of bucks while buying the Sea Ray boat, which is less on the other side.
So, you can decide how much you have to spend and the need for boating depending on daily or frequent sea ventures.
It decides how much fuel you can carry with either boat and how long it can go. The Sea Ray has less fuel holding capacity as compared to the Stingray.
But that doesn't mean you will be in trouble if you choose Sea Ray over Stingray.
However, the Stingray 225 LR can keep up to 212 L diesel, whereas the Sea Ray can keep up to 170 L regular diesel.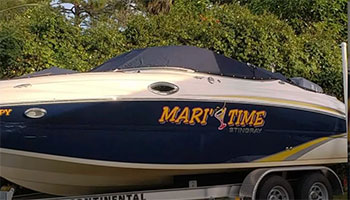 Each boat has a different power capacity but is not varyingly different from the other.
Like, As you can see that Sea Ray has the power of 300 Hp.
But the Stingray is a little ahead of that.
It gives you 20 horsepower more with a 320Hp I-5 engine installed to work faster, smoother and better on the water.
With Sea Ray, you will find the V-8 engine that makes it run even faster than Stingray with this horsepower.
Each boat is built to use a unique fuel, and in the same way, you can decide your budget that you will have to pay to buy this fuel.
Diesel is usually expensive, which is used in the Stingray LR boat. But regular fuel is a little less expensive and can be used on the Sea Ray boat.
It is another difference that might help you make your decision with the easiest fuel availability.
Running Speed of the Engine
You might be wondering to know which boat will go faster on the water. In that case, Sea Ray won the competition because the V-8 Engine runs faster with the 4,600-rpm speed.
Compared to that, the Stingray I-5 engine has a speed of 2400 rpm, which is considerably less than the Sea Ray engine. It means the Sea Ray will move faster.
The water tank on a boat helps you decide how much drinkable water you can carry on long hours of boating desires.
In that case, the Sea Ray offers you a 19 L water tank to keep water. On the other hand, the
Stingray gives you a 23 L water tank capacity to fill up and have in the long run. It means Stingray is winning in both ways, whether it is concerned with fuel-carrying or water-carrying capacities.
Warranty is also important to check how reliable that brand or product is. When you look at the Sea Ray boat, it gives you 2 year of warranty that comes unasked and non-questioned.
Conversely, you will get only a 1-year warranty with the Stingray boat. It's not that great but still good under your price.
Which Brand Boat Should I Get?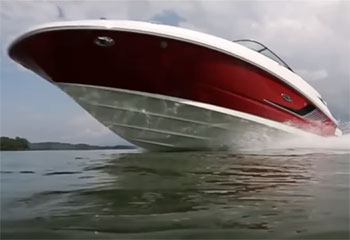 It doesn't matter, and it is never problematic to go with either brand of boat.
You will get quality and almost similar features if you compare the equivalent models of the boats.
However, the budget is the most important factor for most boat keepers.
In case you can spend more, rely on Sea Ray as it is a heavy-duty boat.
But if you have less to spend, Stingray won't disappoint you either.
Also Read: Comparing Hunter 260 With MacGregor 26 Sailboat.
Frequently Asked Questions (FAQ)
Is Stingray A Good Boat Brand?
It's a good boat brand that sells high-quality, durable boats with more fuel and water tank capacities. They are lightweight as well.
What's The Difference Between Stingray And Manta Ray?
The significant difference between both is that Stingray has a tail called Stinger which Manta Rays don't have.
Do All Rays Have Stingers?
Only Stingrays have Stingers.
Which Is Bigger, Manta-Ray Or Stingray?
Manta Rays are much larger than Stingrays. But Stingrays are aggressive on running.
Final Thoughts
You won't find anything missing whether you choose the Stingray or a Sea Ray boat because both are excellent in quality. But I'd recommend you go with Sea Rays when comparing the Sea Ray and Stingray Boats.
The boat is much faster, runs on regular fuel, and is heavily built. But if you like Stingray, there won't be any complaints about that as well.