Are you looking for your next cruiser boat on those little trips?
Then, you will have to dig into plenty of choices and come out with an excellent option. A classic choice is the Beneteau 323 vs. Catalina 320. The main difference between the two boats is the weight and the engine type.
Even though you can hardly find any differences between the two options, some things are different. You will get to know them when you dive deep into comparing the two boats.
Let's not waste any moment and get right into it.
A Quick Comparison Table
| | | |
| --- | --- | --- |
| Specifications | Beneteau 323 Cruiser Boat | Catalina 320 Cruiser Boat |
| Weight | 9325lbs | 11300lbs |
| Engine | 22HP | 27HP |
| Performance | Good | Excellent |
| Look and build   | Very good | Pretty decent |
| Cost | Low | Very expensive |
Key Differences Between Catalina 320 And Beneteau 323 Cruiser Boat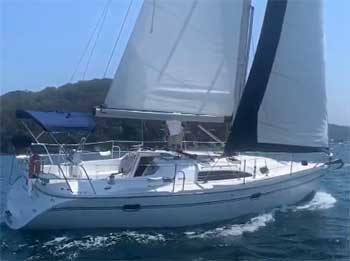 Starting with the most significant difference you see between them, the weight. It plays a massive role in cruiser boats.
Because the cruiser boat focuses a lot on the ship's speed, a higher boat weight will have a lower rate and vice versa.
So, the weight will be crucial if you plan to use the boats for racing.
Starting with the Beneteau 323, you get a weight of around 9325lbs. It's a pretty standard weight for a boat.
Compared to that, the Catalina 320 wweighs11300lbs, which is relatively higher.
Based on what I said above, Beneteau 323 will be a much faster boat than the Catalina 320. So, if you want a boat for racing or a faster one, go with the Beneteau 323. They are also better if you want to move them around in places.
Also Read: Differences Between Yamaha 425 And Mercury 450R Outboard Engines.
Another significant difference between these boats is the engines. You will see a clear difference in the performance and specifications of the engines. It is undoubtedly a factor that you have to consider with the two boats.
First of all, the Beneteau 323 features an engine with 22 horsepower. I would say that's pretty decent power to get in a boat engine. But the Catalina 320 takes this up a notch and features a motor with 27HP.
So, when you think about engine power, Catalina 320 is the perfect option for you. Also, the engine comes from Yanmar, which is a very reliable brand.
Now, the performance is something that you will always put above everything else overall. Because at the end of the day, it's the boat's performance will give you the desired results.
The only thing here is that the difference isn't that significant.
The Beneteau 323 is a perfect option with a good track record of performance. With the fin-type keel, you get great benefits that a cruiser boat should provide. It has a hull speed of 13.14 km per hour, which is quite impressive to get in a boat like this.
As for the Catalina 320, the performance is a bit better with its fin bulb keel. But the hull speed is pretty similar to the Beneteau 323. You get a hull speed of around 13.13 km per hour. So, there is not much difference that you see.
Still, if you are looking to get that extra edge on the performance factor of the two boats, then I would say Catalina 320 is a good choice. The difference is very much negligible, so I wouldn't know there is a clear winner here.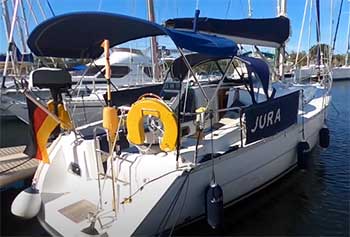 Speaking of the look and build of the two boats, I will keep the Beneteau 323 over the Catalina 320.
Even though I think the faces are all personal preferences, a pretty significant difference catches your eye.
The appearance of Beneteau 323 is as good as you can imagine. It's not bulky or too heavy for the eye.
It has a stylish and sleek appearance that makes it look very modern.
Also, the deck and cabin size are pretty decent. And obviously, the build quality is top-notch as well.
Comparing that to the Catalina 320, it's not as good. The looks on the Catalina 320 are pretty simple and outdated. You don't get that modern vibe from the boat. But the build, deck size, and cabin are a bit better.
So, I would say, if you care about the looks, then choose the Beneteau 323, especially the exterior. But if you want the cabin size and deck size with a good build, then Catalina 320 is the thing for you.
Do you care about cost and saving up money? In that case, this factor may help you decide between the two boats.
In terms of expense, Beneteau 323 is a much cheaper option than Catalina 320. You can save a lot of money with the boat if you go with Beneteau 323 over Catalina 320.
So, for anyone who wants to save money or has a limited budget on the boat, Beneteau 323 is the way to go.
Which Cruiser Boat Is A Better Option For You?
Choosing between the two boats requires you to get through the different factors in the boats. If you want the best looks, better speed, lighter weight, and overall, the best value, then Beneteau 323 is the perfect pick for you.
But if you are more about performance and durability and don't mind spending extra bucks, then you can go with Catalina 320. Is there a better option out of the two?
 I have to say yes, Beneteau 323 seems to be a bit better than Catalina 320 in many factors.
Also Read: Differences Between SeaDek And AquaTraction Boat Decking.
Frequently Asked Question (FAQ)
Is Beneteau a blue water cruiser?
Yes, Beneteau is a bluewater cruiser. It's one of the best family cruisers for blue waters.
Are Catalina sailboats good?
Yes, Catalina is a terrific company for sailboats. They are great for comfort, safety, and speed, and some have good style.
Are Beneteau Oceanis blue water boats?
Yes, Beneteau Oceanis blue water boats. They maintain all the standards of sailing on blue waters.
Are Beneteau boats seaworthy?
Yes, Beneteau has a lot of boats in its seaworthy collection.
Conclusion
In summary, it's not easy to choose between Beneteau 323 and Catalina 320. All of the discussion, debate, and comparison come down to the factor of personal preference for these two boats.
You can go through factors like the look, price, speed, weight, etc. That's where this comparison will help you decide on one of them based on your preference.