Boat lovers rely highly on AquaTraction or SeaDek to install premium padding in their boats. But most of them get confused to specify which one is the best of these.
Digging deeper, both products don't have so many differences, but AquaTraction is way better in durability than SeaDek.
Both give marine padding installation in your boats, but AquaTraction has lower chances of getting dirty and wet than SeaDek. We'll look for an in-depth comparison between these two in this guide.
A Quick Comparison Table
| | | |
| --- | --- | --- |
| Specifications | AquaTraction | SeaDek |
| Purpose | Providing premium services for boat flooring | Providing premium services for boat flooring |
| Durability | Highly durable according to many customers | Less durable according to many customers |
| Products Featuring | Fish Scales Wood Plank Teak Border Line Topography Arrow head Diamond Custom | Cleaner Coaming Bolsters Cooler Pads Dash Pockets Fish Rulers Hook-N-It Helm Pads Project Essentials Sheet Material Step Kits |
| Cleaning And Water Absorbing | High | Medium |
| Material Used In Padding | 100 % EVA Foam | PE Foam |
| Sea Safety | Excellent | Normal |
| Pricing | Varies depending on the project | Varies with the product and project base |
Key Differences Between AquaTraction And SeaDek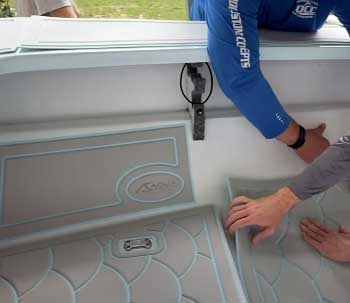 When defining AquaTraction, we are talking about a robust and highly known competitor of SeaDek in providing boat sheeting, flooring, and other products.
However, both have the same purpose. But their services vary differently.  
AquaTraction has one of the best pads in the world provided through the 3D representation before they come to your boat.
On quality and durability, it leaves behind the SeaDek because its only purpose is to provide decking.
On the other hand, SeaDek deals with multiple products you can have on your boat when you are in the seawater.
They also provide decking and flooring installation services for your boats and have a high customer satisfaction value. But against AquaTraction, they are not the monopoly.
Also Read: Differences Between Beneteau 323 And Catalina 320 Sailboat.
The reason most people appraise AquaTraction higher for boat flooring installation and decking services is their product's long time durability. I have read at several forums and many experienced boaters talking about the brand's durability.
And that's true. Because as compared with the SeaDek, they have only decked to offer. According to one boater, a decking installed by AquaTraction on his boat worked great for almost 6 to 8 years.
And I think that's huge when you want most of the money you spend on the boat.
On the other hand, you may not find such high-level durability with the SeaDek. But that's not always true. Though it will not be as rigid as AquaTraction, still, it will be worth the cost.
When providing premium boating, fishing, or sea products is concerned, SeaDek always wins. That's because they don't only provide you with those flooring sheets to install in your brand-new or old boat.
They also offer Coaming Bolsters, Cooler Pads, Dash Pockets, Fish Rulers, Hook-N-It and Helm Pads, etc.
Therefore, even if you want to buy something more for your fishing requirement, you can visit SeaDek and have it.
However, AquaTraction deals only with various types of boat flooring sheets and designs. You can have their different product configuration in decking, including the Fish Scales, Wood Plank, Teak, Border Line, Topography, Arrowhead, and more.
Cleaning And Water Absorbing
When cleaning your boat floor is a must, a customer is always more satisfied with the AquaTraction than SeaDek.
Due to their high-quality material usage, the flooring or decking sheets from AquaTraction have zero stain observing and water observing capacity.
However, installing SeaDek flooring sheets on your boat may not expect the same.
Keeping the same level of comfort and smoothness, AquaTraction padding sheets are made from 100% solid and rigid EPA foam.
This type of foam always ensures higher load bearing, best sound dampening, and wear and tear resistance. It keeps itself the same for a more extended period.
But when we compare it with the SeaDek, you will usually find the foam made from original PE(polyethylene), which is also vital. But it is not as strong as EPA is.
When decking is purchased and installed from AquaTraction, you will have lower chances of accidents on your boats. Because of their non-slip and marine flooring offers excellent traction without worrying if you are wet or dry because you will always remain safe.
However, SeaDek also ensures safety. But due to not that highly durable padding, you may have some safety risks with their flooring.
Both brands' pricing depends on what type of decking or flooring you want inside your boat and how much that installer charges you for the service.
However, AquaTraction is usually less expensive as a single boat project might go up to $1000 to $1500. Here is how you can install it.
But with SeaDek, we have seen people spending even up to $2500 for a single boat flooring installation.
Which Brand For Boat Flooring Services Is Better For You?
Coming this far and seeing many comparisons, it is hard to say that one is best and the other is worst.
Though AquaTraction has more durability than SeaDek and lowers stain or water-absorbing, you cannot neglect SeaDek as it's been famous for the previous two decades.
However, it also depends on you being a happy customer of any of these brands.
So, you can choose both, but if you are more concerned about value for money, I would suggest AquaTraction!
Also Read: Should You Get The Vexus DVX 19 Boat?
Frequently Asked Questions (FAQ)
What Is AquaTraction Made Of?
AquaTraction is made of 100% original EPA and PE material to give you the most bang for the buck for your boat flooring installation needs.
How Do You Clean AquaTraction?
Although EPA, EVA, And PE foams are easier to clean, you can use a Boat Cleaner to clean decking from AquaTraction installed on your boat. Or there can be any other cleaner you can use.
How Long Will SeaDek Last?
According to SeaDek, the expected period for lasting could be 5 to 7 years, even in those most challenging conditions.
Is SeaDek Hot In The Sun?
Due to the reason that SeaDek Material is a Closed cell, it won't get heated up in the sun quickly. The foam keeps dissipating the heat, and the surface remains normal.
Final Thoughts
Conclusively, it's all on you as between AquaTraction and SeaDek, which one do you choose? SeaDek has more products but cannot provide that durability as AquaTraction does.
And AquaTraction always keeps its customers limited only on flooring and decking. But, both brands are worth looking for. So, thanks for being a part of the discussion. Have a nice day!
Also Read: Differences Between Hydro Turf And SeaDek Boad Decking.