The world is yours for the taking, so get ready and pack your bags!
Not so fast, though!
Whether you jet off every other holiday or once in a blue moon, having the right luggage is vital for your travel game to be untouchable. Hence, I've narrowed your search to two carry-ons you can pick from.
July is lighter than Mono's luggage. However, Monos has a larger capacity than July.
Let's look at other intriguing features of these magnificent brands. Fellow travel enthusiasts, shall we begin?
A Quick Differential Table
| | | |
| --- | --- | --- |
| Item Description | July | Monos |
| Weight | Extremely light | Heavier |
| Capacity | Larger | Smaller |
| Design | Simple | Modern |
| Durability | Good | Exceptional |
| Color Options | Five | Eight standard Two limited editions |
| Cost | Approx. $245-$345 | Approx. $265-$376 |
Key Differences Between July And Monos Luggage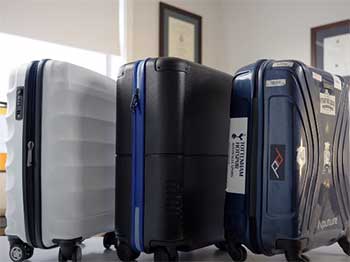 The weight factor is vital when deciding between two similar and fabulous suitcases.
Trust me; you don't want to have to drag a back-breaking bag to a busy airport.
I had that experience once, which I wouldn't wish on anyone. July manufactures the lightest double-wheel carry-ons that weigh just 3.9 pounds.
You can easily carry this bag to your destination and not worry about the handles getting stuck.
In contrast, Monos is a bit heavier, and the weight varies depending on the specific suitcase you want. The carry-on is the lightest, weighing 7 lbs, followed by plus at 7.38 lbs.
The heaviest Monos suitcase is the check-in medium, weighing 9.59 pounds. With that said, the clear victor is July if you are after a super lightweight travel companion.
Also Read: Differences Between Beis And Calpak Travel Bags.
Are you planning a short-term or a long-term trip?
Either way, I got you covered. It would be best if you had a suitcase that perfectly fits all your accessories; otherwise, you may be forced to pack your stuff in multiple bags.
And who wants that? Monos is incredibly spacious with a large capacity. The check-in large is the largest and perfect for trips lasting a month or even more! Having a total of 99.2 liters, it is the best fit if you aren't a minimalistic packer.
On the contrary, July has a much smaller internal capacity of 38 liters. If you're going for a short weekend vacation, this is your luggage.
It's not just your clothes that tell more about you but also what you carry; in this case, a suitcase! Are you into simplicity or sophistication based on appearance?
July bags have a simple look but with convenient attributes to take your experience to a whole new level. This luggage has a unique, curved structure to allow more bounce back and increased protection of your stuff.
But for the flyers that want a sleek modern design, Monos is all you can ever need. That's probably why this brand is dubbed the apple of all travel gear.
These suitcases have sophisticated features and models, each getting better and more luxurious than the next. Have you ever heard of YKK zippers?
Then you know that they are the absolute best, guaranteeing the safety of your belongings. And guess what? Monos happen to have such!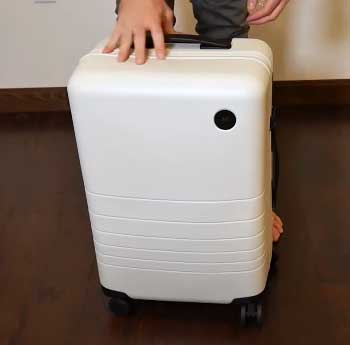 I know! You want luggage that is entirely worth the bill, which means excellent longevity.
Monos bags are thoughtfully made using aerospace-grade polycarbonate, a sturdy material well known for its superb durability and shock absorption.
They are resistant to scratches; you don't need a luggage cover.
Better still, they are lined with an anti-microbial layer that effectively deals with stains and odors.
Conversely, July carry-ons are more prone to scratches; therefore, you need a cover to fix that.
Also, the exterior is made of nylon, which is smooth to the touch but faces more risk of damage.
Are you profusely specific when it comes to colors? You are not alone! Good thing July luggage has five stunning shades: forest, nude, charcoal, navy, and burgundy.
Contrarily, Monos have eight standard colors and two limited editions: Terracotta and Terrazzo. Therefore, pick Monos if you want a suitcase that is a feast for the eyes with a wide array of dazzling color options.
There is a slight difference in the pricing of the two suitcase brands. July luggage costs between $245 and $345. On the other side, Monos cost $265 and can go to $376.
The latter is a perfected version of July, which explains the few extra bucks. The best thing about suitcases is that there is a product to fit everyone's budget, so worry not!
Which Luggage Is Better?
Wow, that's a tricky one. It solely depends on your preference. Granted, both suitcases have similarities, but they also have differences that set them apart.
Plus, given that both brands continue to have tremendous and instant success with travelers, it will be hard to go wrong with either.
Regarding weight, July carry-ons are the best as they are surprisingly easy to carry. Lest I forget, they are more affordable as well. But in terms of lifespan, capacity, and design, Monos takes the lead; no discussion on that.  
Also Read: Differences Between Briggs & Riley And Away Luggage.
Frequently Asked Questions (FAQ)
Are July bags any good?
July suitcases have an incredibly smooth rolling, sleek design, quality, light, spacious, and highly versatile.
What is comparable to Monos luggage?
Away luggage is comparable to Monos since they both have checked and carry-on baggage, plus other products such as backpacks and packing cubes.
Who makes July luggage?
Athan Didaskalou and Richard Li founded July bags.
What is an alternative to July luggage?
Some alternatives to July suitcases include Lugga, Genius Pack, and TraxPack luggage.
Final Thoughts
That's pretty much it on the July and Monos luggage conversation. Go ahead and get your favorite suitcase that fits your needs well. And the good thing is that you have 100 days to test it and decide if you like it enough.
July is slightly less expensive, so if you want to save some dollars, this is the luggage you've been looking for. Besides, it's exceptionally light.
Nevertheless, choose Monos if you want a modern, exquisite style, highly durable, large capacity, with more shades to pick from. Take your trips to new, unimaginable heights!