Sometimes you need something a little extra from your car. That's where custom tuners come in.
HP tuners and EFILive are two of the most popular engine tuners. HP tuners have fewer features and simpler UI, are easier to use, and cost less. EFILive has more features, but the UI is more complicated and it costs more.
Any car enthusiast knows how important a custom tuner is. Good tuners like HP and EFILive are always the safer bets. So which one should you pick?
Here is a comparison to help you decide.
A Quick Summary of The Comparison
| | | |
| --- | --- | --- |
| Feature | HP Tuners | EFILive |
| User features and support range | Mostly basic features support more car models | Advanced features, support fewer models |
| User interface | Simple, good for beginners | A little complicated, but good for pros |
| Price | Affordable | Less affordable |
And that's the gist of the whole thing. Keep reading below for the detailed breakdown.
Key Differences Between HP Tuners And EFILive
Custom tuners are tricky but fun. Both HP and EFILive are really good in terms of quality. So how are they different than each other? Well, in multiple ways.
The major differences between HP tuners and EFILive are their user feature and support range, user interface, and price. Their builds are also different but that's pretty much a given.
Let's see how these differences work out in both custom tuners.
User Features And Support Range
This is one of the major differentiating factors between HP and EFILive.
HP supports more car models than EFILive but has the most basic features.
EFILive supports fewer models (not by much) but has advanced user features.
HP tuners have a big car support range. They support almost every model you can think of.
But the catch is, you'll have fewer tinkering options.
You get the basic package and that's it. If you're going to tune one or two models/operating systems, HP is good for that.
EFILive doesn't support many Ford vehicle models. And with them abandoning the PCM 411 function, they're pushing 01 and 02 GM vehicles (and 03 Corvettes too) out of the list too.
But for the models it does support, EFILive is like a super device. You can easily play around with it in multiple OS platforms/models and you get more features too.
EFILive's most highlighted feature is real-time feedback. This is what makes them different than HP tuners because HP doesn't have this feature.
Also Read: Popular Tuners For LBZ Duramax.
The user interface determines how easy (or hard) using software is going to be. HP tuners come with more beginner-friendly and simple user interfaces.
EFILive on the other hand is a little more complicated in terms of UI.
HP tuners are easy to use even if you're a beginner. One of the reasons for that is the lack of advanced features.
But that's not all, the overall user interface is just easier to use. If you're new to this, HP is a good starting option.
EFILive is for more experienced people. The User interface is a little crowded, thanks to all the advanced features.
If you're new to this and starting with EFILive, you'll need some getting used to it before you get comfortable with it.
This is why most people prefer starting with HP tuners. But some people go straight for the EFILive because they don't want to buy multiple tuners multiple times.
This is a little obvious. The HP tuners come at a more decent and affordable price. Plus you can get them at even better prices because they hold sales pretty often.
EFILive is pricier than HP tuners and they rarely hold sales.
Unless you're determined to go for an EFILive, HP tuners are better for your money.
Which One Should You Go With?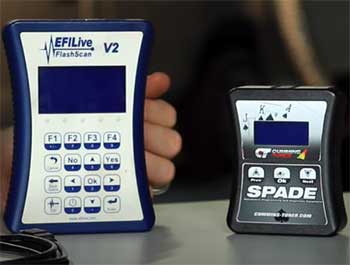 And here comes the hard part, choosing.
As you know now, both tuners are pretty good at getting the job done.
They also have a solid reputation going on for them.
Since they're pretty close overall, it is harder to compare them side-by-side.
This makes choosing one from them harder. So finding your best fit is going to be tricky.
But that's okay, you can still pick one. With how good both options are, the choice will depend on your personal preference.
And if you want a more objective approach, you'll have to do some pros and cons calculations to figure things out.
If you're new to the car enthusiast world and are looking for something to get you by, HP is a very good option. The user interface is super easy so you won't face any troubles. There will be fewer features but the price will also be lower.
If you know your way around tuners and want more detailed data, EFILive is the best choice for you. They'll show you more parameters and you'll get more features.
This is also a good option if you prefer buying an already formidable option over upgrading a basic tuner midway through.
Overall, EFILive is the better choice here, especially for pros. But if you're a beginner or want something simple to work with, HP tuners are as good as things get.
Also Read: TrailDash 2 Or TrailDash 3 Tuner To Pick?
Frequently Asked Questions (FAQ)
Here are a bunch of questions people usually ask about HP tuners, EFILive, and custom tuners in general.
Is EFILive a tuner?
Yes, EFILive is a tool for tuning.
Does EFILive have delete tunes?
Yes, EFILive has the tune delete feature. But you'll need extra tune packs to do that.
How many trucks can you tune with an AutoCal?
AutoCal is limited to 8 VIN licenses. So you can tune 8 trucks maximum with AutoCal.
What does EFILive do for Duramax?
EFILive lets you increase fuel efficiency, control the HP of your Duramax and tune pretty much every parameter you want. It also gives you real-time feedback so you know whether your tuning is good for the car or bad.
Final Verdict
Custom tuners are honestly game-changers if you pick the right one. As tough as the HP Tuners and EFILive debate gets, the winner will always depend on your preference.
Objectively speaking, EFILive is the better choice between the two options. But if you're looking for something more affordable or more basic, HP tuners are right there for you.