Have you ever found yourself in a dilemma between two insanely similar products?
Well, I know the feeling. Deciding between Hensley arrow and ProPride can be just as overwhelming.
The main difference between the two hitches is that the ProPride 3P has an adjustable hitch bar that matches any towing vehicle, while the Hensley comes with a solid component. Let's get this show on the road and explore the distinctions between these two hitches.
Shall we?
Brief Comparison Table
| | | |
| --- | --- | --- |
| Specifications | Hensley Arrow | ProPride |
| Hitch bar | Firm | Adjustable |
| Cost | Higher | Lower |
| Weight distribution jacks | On top | Outside |
| Performance | Good | Excellent |
| Flexibility | Higher | Slightly lower |
| Installation | Drilling | No drilling |
| Weight | 190 lbs | 195 lbs |
Key Differences Between ProPride And Hensley Arrow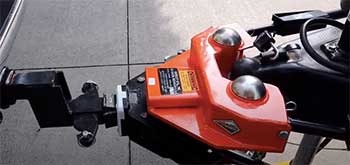 The most significant difference between the two brands is the hitch bar.
So when picking one, you can base your choice on that factor.
ProPride comes with an adjustable hitch bar.
This means that the tow vehicle and trailer heights can be matched, saving you time and money if a different offset is needed while switching tow vehicles or trailers.
On the other hand, the Hensley arrow has a firm hitch bar. This feature allows you to control trailer sway without any friction whatsoever.
However, if you're looking for zero sway, then Hensley, without a doubt, is the way to go.
Also Read: Differences Between Reese Goose Box And Gen-Y Hitch.
This is a sensitive factor to most people (me included) since it usually goes down. Is it worth the price?
Hensley arrow is a bit pricier as compared to ProPride. The hitch does the best job at eliminating sways, so definitely worth the money.
However, 3P is the significantly improved model with excellent performance, yet the cost is lower.
Having said that, if you're on a budget, you might want to opt for ProPride; it has so many upgraded and unique features.
Weight Distribution Jacks
Another not-so-prominent difference, yet the crucial difference, is the hitches' weight distribution jacks.
The weight distribution jacks hang outside the frame for the Hensley arrow. On the other hand, they sit on top of the frame regarding the 3P hitch. This provides better leverage for the spring bars by ensuring they're permanently fixed so you can control the weight distributed to the tow vehicle.
In terms of effective weight distribution, I would say go for the 3P hitch because it's better adapted.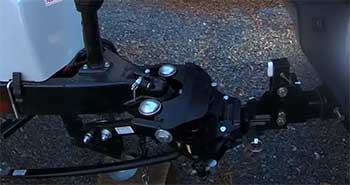 One thing for sure is that the ProPride hitch will always be a step ahead in performance. So, why I'm I saying this?
ProPride is the advanced version of Hensley that came with significant exquisite features and innovations.
For example, when it comes to weight distribution hitch location, there is more leverage and absolutely no possibility of bending the pin.
Even better, the 3P contains a one-piece yoke that holds the hitch head firmly to the front of the trailer to eradicate pivoting.
Considering all this, if you want the best out of your hitch, then ProPride should be your pick with no second thoughts.
There is a slight difference in flexibility between these two hitches, which may not be as impactful as the others.
So, are you looking for a hitch that will give you more flexibility? Worry not because Hensley has your need covered.
With Hensley, you can easily take the hitch on and off and smoothly transfer it from an old trailer to a new one.
Also, you can easily make free and easy turns with no fear. It all comes down to your personal needs.
Another comparison factor is the installation process.
When using Hensley, you must drill into the frame while setting it up. In contrast, you don't have to drill in 3P, which is so much easier and more convenient.
You have to remove any hardware attached to your trailer if any, and then move to set up the hitch bar.
If you're thinking of an easy installation technique, then a 3P hitch is the winner. Here is an in-depth installation and review video for you.
The difference in the weights of the two hitches is quite tiny.
Hensley arrow weighs 190 lbs while ProPride weighs 195 lbs.
As I said, the difference is minor, but still something you can consider again, based on your personal needs.
If you're looking for a lighter hitch and any additional weight is significant, then.
Hensley will work for you.
Which Hitch Is Better For You?
Now, let's get to the bottom of it. Which hitch should you choose?
The good news is we can solve this dilemma by considering the two most significant factors; individual needs and performance.
If you're looking for a flexible hitch that will eliminate sway with no friction whatsoever, then Hensley is ultimately the best option.
Other than that, I would say that ProPride is undoubtedly the perfect option for cost, performance, convenience, and greater weight distribution.
So now the ball is on your court. You can pick the hitch that ticks your boxes depending on your preference.
Also Read: Blue Ox Or Roadmaster Tow Bars?
Frequently Asked Question (FAQ)
How much does the Hensley arrow weigh?
The Hensley arrow weighs approximately 190 lbs.
How much does the ProPride hitch weigh?
The total weight of a ProPride hitch is 195 lbs.
How does the ProPride 3P hitch work?
The ProPride 3P works by setting a virtual pivot location close to the tow vehicle's rear axle such that the vehicle's pivot is not at the hitch ball when there is force.
What is a Hensley hitch?
Hensley arrow is the only kind of hitch that can eliminate trailer sway with absolutely no friction.
Conclusion
To wrap up the comparison between Hensley arrow and ProPride hitch, I can gladly say that the 3P is the better option based on performance. Since it comes with various innovations and magnificent features, it will yield better results.
Also, if you're on a budget, you might want to consider this hitch. But if flexibility as a factor is top in your mind, then ProPride should be your to-go-to hitch.