Global Rescue offers up to 75% of the Trip Cost Insured when you cancel the trip. On the contrary, Ripcord has a policy of giving up to 100% of the trip cost if you cancel it within a limited time. Ripcord offers more flexibility than Global Rescue in its refundable policy.  
Are you an adventure traveler who explores different beautiful places around the world? Besides having a dedicated guide and the latest equipment, travel insurance is a must for an unexpected medical emergency, especially overseas.
But how do you find a reliable service? Let's dive into Global Rescue vs. Ripcord comparison without further ado!
A Quick Comparison Table
| | | |
| --- | --- | --- |
| Specifications | Global Rescue | Ripcord |
| Plan Options | Regular plan and PLUS policy | Standard plan and comprehensive plan |
| Airline Ticket Change Fee | Up to $300 | Up to $250 |
| Travel Delay | Up to $250 per day | Up to $200 per day |
| Country Coverage | More than 90 countries worldwide | More than 50 countries worldwide |
| Trip Cancellation | Up to 75% of the Trip Cost Insured | Up to 100% of the Trip Cost |
| Refundable policy | Non-refundable after ten days | Non-refundable before two days of the departure date |
| Membership Cost | Slightly higher | Slightly lower |
Key Differences Between Ripcord And Global Rescue Travel Insurance
What benefits do you expect from travel insurance?
Usually, the more benefits you want, the higher the total cost. Global Rescue comes with both a Regular plan and PLUS policy options.
Do you travel less frequently in safer countries, like developed countries?
The Regular package of Global Rescue will be the best option. It comes at affordable pricing.
But how about tripping many developing countries several times each year? You may need a safer plan, right? So, it is no wonder to choose the Plus policy option.
Contradictorily, Ripcord also offers travelers two insurance options: Standard and comprehensive plans. Its comprehensive package includes many attractive benefits.
Also Read: Differences Between Wholesale Warranties And Good Sam.
Airline Ticket Change Fee
Sometimes, travelers need to change the airline ticket date as per the travel insurance instruction. But this may cost you to miss an important task, right?
That's why Global Rescue promises to pay Up to $300 if their customers need to reschedule their airline tickets. But, Ripcord will bear up to $250.
Many leading travel insurance companies offer travel delay benefits due to unanticipated pauses in your travel plans. The benefits include meals, transportation, lodging expenses, hotel accommodations, etc.
Simply put, it is mainly reasonable out-of-pocket expenses.
Global Rescue will cover up to $250 per day if there is a trip delay of 6 hours. In contrast, Ripcord will bear up to $200 per day after a delay of 6 hours.
But, the respective company reserves the right to change the policy. Make sure to read the policy properly.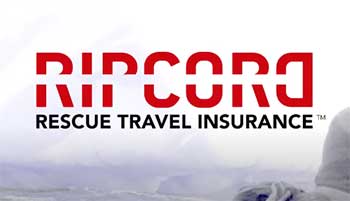 How many countries do you want to visit with single travel insurance?
Doesn't it appear a hassle to change travel insurance companies repeatedly to trip to a new country?
Global Rescue offers more than 90 countries to travel from their company.
Hence, you can use visit many developed, developing, and Asian countries using their service.
Oppositely, Ripcord provides a limited number of countries to visit. You can travel to around 50 to 60 countries as per their insurance policy.
Sometimes, you may need to change your trip schedule due to unavoidable emergencies. But does this mean you will need to apply for a new plan and lose the money? Absolutely not!
Global Rescue offers up to 75% of the trip cost insured. For example, if you have booked a $5000 plan and canceled it within a few days, you can get up to $3750.
Conversely, Ripcord has a policy to provide up to 100% of trip cost insured. But you must cancel it within 14 days after the payment. Plus, it is non-refundable. You need to book a new plan. 
Who won't love to get a full refund from travel insurance, right? The good news is that travel insurance companies provide this benefit. But, it is not as easy as it seems.
If you want to claim the payment from Global Rescue, ensure it doesn't exceed ten days after the payment. Once it passes ten days, it is Non-refundable.
In contrast, you can cancel the trip for Ripcord 2 days before the departure date. However, a proportion of fees will be charged as a cancellation fee.
Does it not look inconvenient to pay membership fees, again and again, every month? How about choosing a package for the entire year? This is especially helpful for regular travelers.
 Global Rescue offers a 7-days, 14-days, and full one-year plan. It will cost around $119 for a one-week trip and $329 for the entire year.
On the flip side, the membership fee of Ripcord is $117 for a single-week vacation and $325 for the whole year. The average insurance cost ranges from 5% to 11% of trip cost.
Which Travel Insurance Company Is The Best For You?
If you want to enjoy more benefits but don't mind paying a few extra bucks and can stick to the company policy, Global Rescue is a good choice. Though it has some strict rules and regulations, it provides reasonable compensation for the service you don't get.
On the other hand, Ripcord travel insurance appears a more realistic choice if you want more flexible refundable policies and affordable packages. Overall, Ripcord is the best option since new travelers can cope with the flexible rules and regulations of the company.
Here is a little highlight of this insurance for you.
Also Read: Differences Between Global Rescue And Medjet Travel Insurance.
Frequently Asked Questions (FAQ)
Which is better Medjet or global rescue?
Medjet is a better choice than Global Rescue as you can visit more locations from this travel insurance company. But considering your preferences and requirement is vital.
How much does Ripcord travel insurance cost?
The membership insurance cost for Ripcord is $117 for a one-week trip. You can save a lot by subscribing to their annual membership cost, which will charge only $325.
Who owns Global Rescue?
Dan Richards is the owner and CEO of Global Rescue, who founded the company in 2004.
How much is Global Rescue?
Global Rescue offers a 7-days trip for $119. But the company charges only $329 for the entire year.
Final Thought
So, you got a clear overview of Global Rescue vs. Ripcord, right? Global Rescue appears to be an excellent choice for getting different types of medical support while you are out.
But, Ripcord appears to be a far better choice for adventure travel with better flexibility. Now, it is up to you to choose either option depending on your traveling needs and preferences.