Looking to buy a new mountain bike but feeling overwhelmed by the plethora of options out there? If you're considering top performers with advanced features, the Specialized Epic Evo and Santa Cruz Blur TR are two popular choices.
In this article, we'll dive into the details of both bikes and compare their properties to help you make an informed decision.
A Quick Comparison Table
| | | |
| --- | --- | --- |
| Property | Epic Evo | Blur TR |
| Frame Material | Carbon Fiber | Carbon Fiber |
| Wheel Size | 29″ | 29″ |
| Suspension | Full suspension | Full suspension |
| Travel | Front: 120mm Rear: 110mm | Front: 120mm Rear: 115mm |
| Drivetrain | 1×12 | 1×12 |
| Brakes | Hydraulic disc | Hydraulic disc |
In-depth Comparison Between Epic EVO And Blur TR Mountain Bike
Our quick comparison table outlines the key performance and advanced features of both the Epic EVO and Blur TR.
Now it's time to dive deeper. So, get ready to shift gears as we closely examine each bike's properties, and hopefully, the article will steer you in the right direction.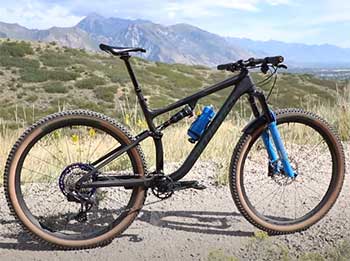 Both the Epic EVO and the Blur TR models have frames made from carbon fiber.
That news alone should get you super excited as carbon fiber is a strong and lightweight material that is commonly used in high-performance bicycles.
It is known for being stiff, responsive, and durable, which makes it a great material for mountain bike frames.
Ultimately, the carbon fiber frames will allow you to have better handling and acceleration.
However, there are some differences between the carbon frames used in these two models.
The Epic EVO models use Specialized's FACT 12m carbon fiber, which is a premium and high-end material that offers exceptional stiffness and strength.
Meanwhile, the Blur TR models use Santa Cruz's CC carbon fiber, which is also a high-quality material but not quite as premium as Specialized's FACT 12m.
Also Read: Differences Between Cleary Hedgehog And Woom 3 Bikes.
Both Epic EVO and Blur TR have a wheel size of 29 inches. While the wheel size is the same for both brands, the way they approach it in terms of geometry and suspension design may differ.
For example, Epic EVO is more focused on cross-country racing, with a more aggressive geometry and suspension design for efficient climbing and nimble handling.
Blur TR, on the other hand, has a more balanced approach, offering a versatile and capable ride for various types of mountain biking.
Nonetheless, the 29-inch wheels on both Epic Evo and Blur TR perfectly capture the sweet spot between agility and stability.
Full suspension, also known as dual suspension, means that the bike has suspension on both the front and rear of the frame. What's the point you ask?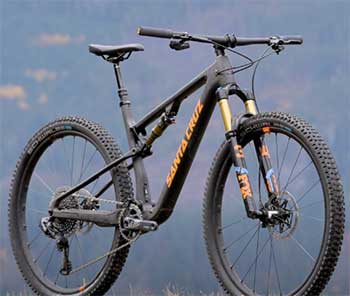 Well, the pointy point is that without full suspension, you'll feel like you've been through a blender after a rough ride!
It ensures you have improved ride quality and control of the bike, especially on rough or technical terrain.
Both Epic EVO and Blur TR offer full suspension, with specialized suspension designs tailored to the specific riding styles of each bike.
Epic EVO features a specialized suspension system called the Brain, which automatically adjusts the suspension to provide maximum efficiency during climbs and descents.
Blur TR, on the other hand, uses a custom-tuned rear shock and linkage system called VPP (Virtual Pivot Point) to deliver a balanced and responsive ride.
"Travel" in mountain biking refers to the amount of suspension movement it has. Think of it like a cushion that absorbs the impact of rough terrain so that the rider can have a smoother ride.
In the case of Epic EVO, the front suspension travel is 120mm, meaning the front suspension can compress up to 120mm when absorbing bumps.
The rear suspension travel is slightly less at 110mm. But don't think any less of it already. It is still sufficient for most cross-country riding.
On the other hand, Blur TR has slightly more rear suspension travel at 115mm, giving it a bit more cushion for more technical and rough terrain.
The front suspension travel is the same as the Epic EVO at 120mm, providing ample support for both climbing and descending.
Both the Epic EVO and Blur TR feature a 1×12 drivetrain that boasts a single chainring in the front and 12 gears in the back.
Say where do you want to ride? Uphill or downhill? Well, it doesn't matter as the 1×12 drivetrain comes with a wide range of gears to help you ride on any kind of terrain, whether it's uphill or downhill.
This is because the 12 gears in the back allow the rider to adjust the resistance of pedaling, essentially making it easier to ride uphill and faster to ride downhill.
Both the Epic EVO and Blur TR feature drivetrains from high-end manufacturers, such as Shimano and SRAM, which are known for their smooth shifting and durability.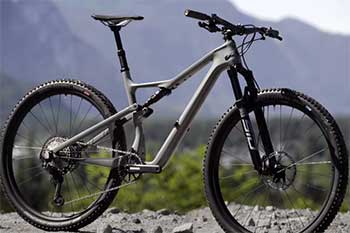 Hey, tired from gulping so much information?
How about you take a break? (Sorry, couldn't resist the pun.)
Anyway, both Epic EVO and Blur TR come with hydraulic disc brakes, which are a type of braking system that uses hydraulic fluid to help stop the bike.
Hydraulic disc brakes have several advantages over traditional mechanical brakes, including better modulation, or control, of the braking power and less hand fatigue when braking for long periods.
The hydraulic disc brakes on Epic EVO and Blur TR are both designed to provide powerful and reliable braking performance in all types of conditions, whether you're riding on steep descents or technical trails.
Also Read: Comparing Stumpjumper EVO With Enduro Bike.
Which Mountain Bike Should You Choose?
The decision to choose between the Epic EVO and the Blur TR ultimately depends on the type of riding you want to do and your personal preferences.
If you're an experienced rider who loves technical climbs and descents, you might prefer the Epic EVO with its aggressive geometry and efficient suspension design.
On the other hand, if you're looking for a versatile bike that can handle a variety of trails, the Blur TR might be a better fit for you with its balanced approach.
Ultimately, it's important to test-ride both bikes and consider factors such as your riding style, the type of terrain you plan to ride on, and your personal preferences for things like wheel size, suspension travel, and geometry.
Conclusion
When it comes to the Epic Evo or Blur TR mountain bike debate, both are exceptional cross-country mountain bikes with impressive features.
While the Epic Evo boasts a slightly more aggressive geometry and a highly adjustable suspension system, the Blur TR excels in its balanced and responsive handling, as well as its overall lightweight build.
Lastly, the choice between these two bikes will come down to personal preference and riding style.