Enlisting the CaterGator and Cambro as one of the highly appraised and used food pan carriers for comparison can really be a massive point of attention. According to many customers, Catergator stuff is a little heavier to handle and not as durable as Cambro.
Cambro has high-quality standards in the food industry, and you cannot go wrong with it. The seal quality and the hinges are perfectly suitable for the Cambro food storage pan.
But let's discuss some significant differences between these two!
A Quick Comparison Between Two Food Storage Pans
| | | |
| --- | --- | --- |
| Specifications | CaterGator | Cambro |
| Durability | Less Durable | High Durability |
| Hardware obtaining | Not easily obtainable | Easily obtainable |
| Temperature Retention Range | Maintains temperature for up to 7 hours | Maintains temperature for up to 4 hours |
| Built With | Polyethylene is being used in their construction to avoid wear and tear | Lightweight EPP material; recyclable |
| Models | Top loading, front loading, Single compartment, double compartments | Top loading and front-loading designs, |
| Weight | Less portable | Portable |
| Pricing | Expensive | Less Expensive |
Differences Between CaterGator And Cambro Food Pans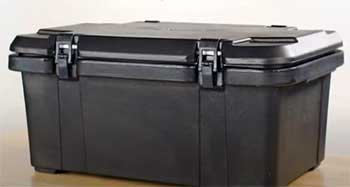 If you want to test both food storage pans, go with their durability.
Most people have more experience using the Cambro pans and are happier with them.
Because this one provides you with more durability on the hinges and seals quality.
The brand has a leading quality standard in the industry, making it a well-known brand in the eyes of many campers or day travelers.
However, you may not find such a demanded durability with the Gator stuff. It is because they are heavier to handle but not as durable as you think on the hinges plus latches' sides.
Also Read: Alternatives To Goose Gear Storages.
The best thing you can find about the Cambro pans is that their hardware is easily obtainable. You can find a missing or broken section or block to fill the space in the long run.
On the other hand, you may not find the same facility with the Catergator pans.
Temperature Retention Ranges
Keeping your food items warm and fresh for an extended period for a specific pan is always crucial. That's why when you go with the Catergator, you find a temperature retention range of up to 7 hours.
The pan can comfortably keep your food warm for 6 to 7 hours, even on a long journey, late meal, and other plans.
It is also stackable and can easily be stored at your desired place in your VAN, RV, Bus Truck, etc.
But with Cambro, this temperature range is not ensured as it only lasts almost 4 hours maximum to keep your food items warm. So, choose the one that serves you better.
Most pans from the Catergator are built with a Polyethylene exterior that provides a strong force against wear and tear. It seems to be pretty durable in this condition.
But customers have their own experiences and consider Cambro with the EPP material construction more durable. However, EPP is recyclable and considerably lightweight material.
You may not find any differences between the models provided with either food storage pan brand. Whether you go with the Catergator or Cambro, you will have top loading, front loading, and single and double panel pans.
These all ensure you provide better versatilities on your long journeys to keep your food safe and secured.
Catergator pans are considerably sturdy and less portable because they have more weight. On the other hand, the Cambro is designed with lightweight material, which is why it is portable and easy to carry.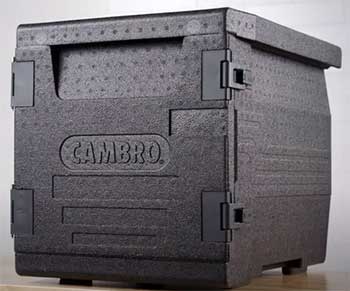 On a budget or when you need to spend money buying any of these Pans, Catergator is relatively more expensive than Cambro.
The reason is, Catergator has more features with a more extensive temperature range, more space, sturdiness, and other factors.
However, if you are limited with money, you can go with the Cambro unit because it doesn't cost you much.
Still, it provides a better place to keep your food warm for road trips.
Also Read: Dometic Or Iceco Portable Refrigerator?
Which Food Storage Pan Is Best To Store Food In?
After knowing all the features of these two branded pans, you can easily decide which one is better and which one is not.
The thing is, always go with what you can afford. If you think you can have a heavy-duty pan with more features because you have an amount of almost $400, you are good to go with the Catergator.
But if the budget is short, choosing Cambro will still be worth it. Here is a great walkthrough of it for you.
Final Thoughts
Hence, choosing between Catergator and Cambro is not that difficult thing if you know what you need. If the demand is to keep food warm and stored for longer, you can use the Catergator option. But it will be a little expensive.
However, using Cambro is also not bad because it provides you with more portability, the same compartments, and less budget. My recommendation would be to use Cambro.