The Bose QuietComfort 20 acoustic noise cancelling earbuds have long been a favorite for their excellent noise reduction and audio quality.
However, with Bose discontinuing the QC20 line, many users are now looking for alternatives that can match the performance of these venerable earbuds.
In this guide, we'll explore some of the top Bose QC20 alternatives available in 2022. We'll look at key features like noise cancellation, sound quality, comfort and fit, battery life, and price to help you find the best option for your needs and budget.
Alternatives To Bose QuietComfort 20 Noise Cancelling Earbud
Here is a list of those competitors:
Sony WF-1000XM4
Bose QuietComfort Earbuds
Apple AirPods Pro
Sennheiser Momentum True Wireless 2
Jabra Elite 7 Pro
Anker Soundcore Liberty Air 2 Pro
Let's talk about them in detail.
Sony WF-1000XM4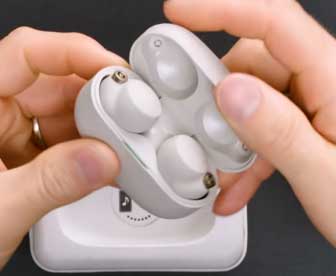 Without a doubt, the Sony WF-1000XM4 are the new gold standard for noise cancelling earbuds.
The dual microphones and Sony's proprietary HD Noise Cancelling Processor QN1 deliver exceptional noise blocking that rivals over-ear ANC headphones.
In fact, the WF-1000XM4 earbuds reduce ambient noise by a class-leading 43dB.
This allows you to truly immerse yourself in music, podcasts or calls, even on an airplane or noisy commuter train.
The foam-filled eartips also provide excellent passive isolation to complement the ANC.
Beyond the noise cancelling, the WF-1000XM4 deliver full, rich audio thanks to a new 6mm driver and other acoustic innovations like a 20-band equalizer. The sound quality shines with crystal clear highs, punchy bass and a very balanced overall profile perfect for any music genre.
Other standout features include:
Solid 8 hour battery life with ANC on (12 hours with ANC off)
Fast charging via USB-C (5 min charge = 1 hour playtime)
Great call quality with beamforming mics and bone conduction sensor
Speak-to-chat feature that pauses audio when you speak
Easy pairing with Bluetooth 5.2 and Google Fast Pair
Customizable controls via Sony Headphones Connect app
Wireless charging case included
For the closest match to the Bose QC20's noise cancelling prowess and balanced sound, the Sony WF-1000XM4 is an outstanding option well worth the $279 price. The ergonomic design also provides a secure, comfortable fit for long listening sessions.
Sony WF-1000XM4 Pros:
Industry-leading active noise cancellation
Rich, dynamic sound quality
Good battery life with fast charging
Premium features like speak-to-chat
Sony WF-1000XM4 Cons:
More expensive than Bose QC20
No 3.5mm headphone jack for wired use
Lacks awareness/ambient sound mode
Bose QuietComfort Earbuds
As the successors to the QuietComfort 20, the Bose QuietComfort Earbuds are designed to pick up right where the beloved QC20 left off. The headline feature is again that excellent Bose noise cancellation that aggressively blocks out ambient sound.
The QuietComfort Earbuds use six microphones (two in each earbud) to analyze and reduce noise across a wide range of frequencies. With the ANC turned on, these earbuds make loud environments like the subway, plane cabins or crowded restaurants significantly quieter and more peaceful.
Audio quality is also fantastic thanks to Bose's long expertise tuning earbuds and headphones. The sound delivers rich bass and a very natural timbre across vocals and instruments. An EQ in the mobile app lets you tweak the sound profile too.
Other useful aspects include:
IPX4 water resistance rating
Capacitive touch controls on each earbud
Impressive 18 hours battery life (6 hours with ANC on)
Wireless charging case supports Qi charging pads
StayHear Max tips for a secure, stable fit
Multi-function button for quickly enabling Transparency/Aware Mode
With better battery life than the WF-1000XM4 and a design dedicated to ANC, the QC Earbuds are an easy choice for Bose fans seeking a more modern replacement. They retail for $279, same as the Sonys.
Bose QuietComfort Earbuds Pros:
Signature Bose noise cancellation
Balanced, natural sound quality
Long battery life with pocketable case
More affordable than over-ear ANC models
Bose QuietComfort Earbuds Cons:
Bulky earbud design won't suit all ears
Lack some extra features like wear detection
High price compared to QC20
Apple AirPods Pro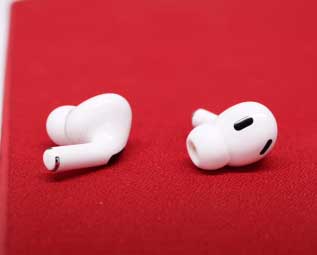 The Apple AirPods Pro demonstrate that noise cancelling earbuds don't have to break the bank.
For $249, the AirPods Pro deliver surprisingly effective ANC in a lightweight, mainstream design.
Apple uses two microphones in each AirPod, one outward facing and one inward, to continuously adapt the noise cancellation signal to the shape of your ear and environment.
This allows the AirPods Pro to noticeably reduce ambient noise, making them a great companion for commutes, office work and travel.
Beyond ANC, the AirPods Pro feature excellent comfort and fit thanks to the soft, adjustable silicone eartips. The iconic AirPod design is also sweat and water resistant with an IPX4 rating.
Some other useful highlights include:
Great connectivity and device switching with Apple H1 chip
Up to 5 hours listening time with ANC on (24 hours with charging case)
Transparency mode to amplify voices and ambient sounds
Spatial audio support for immersive music and movies
Voice-activated "Hey Siri" access to Apple's voice assistant
Wireless charging case for added convenience
For iPhone users wanting a more affordable alternative to the Bose QC20 with solid noise cancellation, the Apple AirPods Pro tick all the boxes.
Apple AirPods Pro Pros:
Impressive noise cancellation for the price
Seamless connectivity with Apple devices
Comfortable fit with customizable eartips
Convenient wireless charging case
Apple AirPods Pro Cons:
More limited noise cancellation than Bose/Sony
Sound quality isn't as rich or customizable
Shorter battery life than over-ear models
Sennheiser Momentum True Wireless 2
The Sennheiser Momentum True Wireless 2 are a great pick for audiophiles seeking exceptional sound quality with noise cancellation.
These earbuds feature large 7mm dynamic drivers that produce brilliantly clear treble and deep, punchy bass. The overall sound profile is natural and detailed, perfect for picking out subtle textures in your favorite music.
For noise cancelling, the Momentum True Wireless 2 use dual microphones in each earbud to reduce ambient noise by up to 25dB. This allows you to focus on the stellar audio performance even in noisy environments.
Additional aspects audiophiles will appreciate include:
Support for aptX and AAC high-quality Bluetooth codecs
Fully customizable controls via the mobile app
7 hour battery life with ANC enabled
Soft silicone ear tips for noise isolation and comfort
Robust IPX4 water resistance rating
Optional wireless charging case available
While more expensive at $299, the Sennheiser Momentum True Wireless 2 deliver phenomenal sound and great noise cancellation in a premium package. For sound quality that rivals the Bose QC20, they are an excellent investement.
Sennheiser Momentum True Wireless 2 Pros:
Audiophile-grade sound with richness and clarity
Solid noise cancellation performance
Customizable audio and controls
Good battery life and water resistance
Sennheiser Momentum True Wireless 2 Cons:
Very expensive
Bulkier design than other earbuds
Noise cancellation falls short of Bose/Sony
Also Read: Comparison of SoundGear And Tetra Earbuds.
Jabra Elite 7 Pro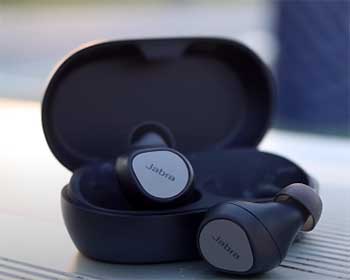 The Jabra Elite 7 Pro earbuds offer great noise cancelling and well-rounded performance at a more affordable $199 price point.
Making use of six built-in microphones, the Elite 7 Pro provide up to 40dB of adjustable noise cancellation.
This allows you to truly customize how much surrounding sound gets blocked out.
In maximum ANC mode, ambient noise is reduced significantly for immersive listening.
Beyond ANC, the Jabra Elite 7 Pro produce a lively, punchy sound profile with deep bass—perfect for modern genres like hip hop, pop, and EDM. The 6mm drivers deliver plenty of detail in the mids and treble as well.
Other useful features include:
Good battery life at 8 hours (30 hours with charging case)
Fast charging with USB-C
4-mic call technology for crystal clear calls
IP57 dust/water resistance rating
Secure fit with pressure-relieving vents
Customizable buttons via the Sound+ app
Wireless charging case available separately
For shoppers who want better value than the Sony or Bose options, the well-equipped Jabra Elite 7 Pro are an outstanding choice.
Jabra Elite 7 Pro Pros:
Excellent noise cancellation for the price
Fun, bass-forward sound quality
Reliable wireless connectivity
Better battery life than pricier models
Jabra Elite 7 Pro Cons:
Sound quality not as natural or detailed
ANC can't match Sony/Bose earbuds
Design lacks premium metal/glass materials
Anker Soundcore Liberty Air 2 Pro
On an even tighter budget? The Anker Soundcore Liberty Air 2 Pro deliver surprisingly decent noise cancelling for only $129.
Making use of two microphones in each earbud, the Liberty Air 2 Pro can reduce ambient sound by up to 35dB. This allows you to block out moderate levels of noise like bus engines or chatter in an open office. Just don't expect the more advanced ANC found in Sony and Bose's flagship earbuds.
Besides ANC, the Soundcore Liberty Air 2 Pro feature a pleasing V-shaped sound profile with impactful bass and crisp treble. The audio has nice clarity making it enjoyable for pop music and podcasts alike.
Some other handy aspects:
7 hours playtime with ANC on
Qi wireless charging support
HearID technology customizes sound to your hearing
Soft ear tips in multiple sizes for comfort
Touch controls on each earbud
IPX4 rating for sweat and water resistance
For shoppers wanting noise cancelling on a budget, the Anker Liberty Air 2 Pro pack impressive features and performance at just $129.
Anker Soundcore Liberty Air 2 Pro Pros:
Affordable price under $150
Respectable noise cancellation
Fun V-shaped sound with bass boost
Wireless charging support
Anker Soundcore Liberty Air 2 Pro Cons:
ANC weaker than premium models
Audio quality lacks detail and refinement
Plastic construction looks cheaper
Also Read: Comparison of AXIL GS Extreme And Walker's Earbuds.
Frequently Asked Questions (FAQ)
Is Bose QuietComfort 20 discontinued?
Yes, Bose has discontinued the QuietComfort 20 line, including both the QC20 and QC20i models. They were in production from 2014 through early 2021. While you may still find leftover stock available, Bose is no longer actively manufacturing these earbuds.
What is the difference between Bose QuietComfort 20 and 20i?
The Bose QC20 and QC20i are nearly identical, except the QC20i adds a dedicated microphone for improved call quality when used with iPhones and other Apple devices. The "i" stands for iOS. The standard QC20 only has a single inline microphone. Everything else about the two models is the same.
What is better than Bose noise cancelling?
Sony and Bose are currently the leaders when it comes to active noise cancellation in headphones and earbuds. Sony's WF-1000XM4 earbuds surpass even Bose's performance based on reviews and testing. Apple's AirPods Pro also come surprisingly close to Bose's noise cancellation quality despite the lower price.
What is the difference between Bose QC20 and 25?
The Bose QC20 is an in-ear headphone with noise cancelling, while the QC25 is an over-ear noise cancelling headphone. The QC25 provides a more enveloping experience with bigger drivers, but the slimmer in-ear QC20 is more portable. Both offer excellent noise reduction that blocks ambient sound very effectively.
Closing Remarks
For shoppers seeking alternatives to the now-discontinued Bose QuietComfort 20 earbuds, there are several excellent options on the market in 2022 depending on your budget and needs:
The Sony WF-1000XM4 offer the best noise cancelling with great audio quality.
Bose's own QuietComfort Earbuds provide a natural upgrade path for QC20 fans.
Apple AirPods Pro deliver solid ANC at a mainstream price point.
Sennheiser Momentum True Wireless 2 are an audiophile's dream earbuds.
More affordable picks like the Jabra Elite 7 Pro and Anker Soundcore Liberty Air 2 Pro still provide good noise cancellation on a budget.
Any of these earbuds can help drowned out distractions during your commute, travels and daily life—just like the beloved Bose QC20 did.
Be sure to consider key factors like your budget, preferred sound profile, and how heavily you value noise cancellation when deciding on the best Bose QuietComfort 20 alternative for your personal needs.