Did you know that the right hunting apparel increases your chances of shooting sharp all day (or night) long?
So, let's go ahead and change your game! I see hunters puzzled between Blizzard and Heater, so I decided to look into their features.
One distinguishing feature between the attires is the cost. Heater Body suit is pricier than Blizzard.  Blizzard Buddy is made using true suede material, while Heater uses polyester tricot.
Are we done? No, sir! Therefore, stay right where you are! 
A Quick Comparison Table
| | | |
| --- | --- | --- |
| Factors to Consider | Blizzard Buddy | Heater Body Suit |
| Materila Used | Truesuede | Polyester tricot |
| Weight | 12 pounds | 6-7 pounds |
| Design | Has zippers for each arm | 3M Thinsulate DuPont for wind protection |
| Comfort | Good | Excellent |
| Level of Quietness | Moderate | Pretty good |
| Cost | Around $360 | Around $380 |
In-depth Differences Between Blizzard Buddy And Heater Body Suits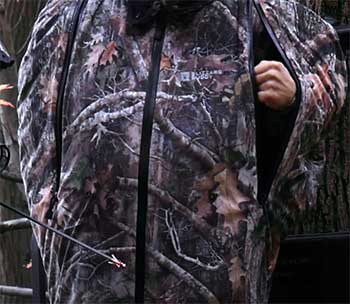 The first thing you must look at in hunting apparel is the material.
At the end of the day, you need something to keep you warm all through if you have plans for winter adventures.
But if you are a summer hunter, you obviously need something light to ensure you remain cool.
Blizzard Buddy is made using truesuede material, which has incredible insulation and is highly resistant to water.
This garment was indeed created with the hunter's needs in mind considering it contains fabric that has a heat retention mechanism that is waterproof and windproof.
Contrarily, Heater Body is made of dense layers of polyester tricot camo that is sealed with durable water repellent. Forget the layers of clothing; this apparel is perfect for cold hunting, allowing you to stay on the stand for long periods.
Also Read: Alternatives To Heater Body Suit.
Blizzard Buddy is a heavy-duty garment, weighing 12 pounds. It is a lot heavier than most brands but what's nice is the fact that it has a lining of a breathable membrane.
It has a cooling system that eliminates sweat by naturally absorbing the moisture from your skin.
On the other hand, Heater Body suit is super light, weighing only six to seven pounds. You can comfortably move around with this one without getting all sweaty.
Having to worry about what to put on when the temperature dips are sorted out by this garment.
With Blizzard Buddy, there are two zippers that help you free your arms. The zippers are made of rubber and are entirely quiet to make sure the arm slots are silent whenever you are opening and closing.
You can easily reach for your weapon without scaring your target. The only downside is that after you grab your bow and shoot your shot, your hands are left in the cold.
In contrast, Heater Body suit allows your hands and part of the weapon to be inside your unzipped apparel while waiting for your shot. Another thing, it contains DuPont to create a windproof system and 300 grams of 3M Thinsulate for insulation.
Hunting should not just be taken as a task but a fun adventure! But how can it be exciting if you are not in cozy, comfy apparel? And not just that, how will you be able to hunt for hours if are not comfortable?
The Heater garment provides remarkable comfort given that it is a sleeping bag specially structured for hunting. Plus it is designed to cover the torso and the legs.
Oppositely, Blizzard Buddy is slightly less comfortable and is mainly worn over other clothes. However, hats off to Blizzard because it comes with a hood, unlike Heater attire.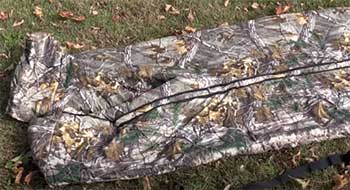 The warmth of the gear is not the only key feature to consider but also how quiet it is.
The closer you get to your prey, the greater the thrill, and the possibility of success increases by far.
The Heater Body suit happens to be the quieter of the two garments all thanks to the polyester fabric.
The material is incredibly soft and suppresses noise to a large extent.
Oppositely, Blizzard Buddy is moderately quiet. The suit does utilize the most silent YKK zippers but still, Heater gets the award for this.
The difference in the prices of the two apparels is less but it still counts. Blizzard Buddy is cheaper off the rack, going for $360.
On the flip side, the price of the Heater suit is set at $380. It is one of the quietest and the ultimate cold weather gear, thus worth the price tag. Nonetheless, Blizzard is a good pick if you want to spare some bucks.
Which Body Suit Is The Best Option?
From the debate, it's obvious that there is no one winner since both clothes have so much to offer.  Blizzard Buddy is more of a snow gear, worn with other attires, and has a hood.  Additionally, it's a more cost-friendly choice.
Heater Body suit is exceptionally warm, lightweight, and ultra-quiet, and you don't need to wear multiple layers underneath.
Also Read: How Sitka Marsh Is Different Timber Hunting Gear?
Frequently Asked Questions (FAQ)
Is the Heater Body suit worth it?
The Heater Body suit is worth every penny in more ways than you might imagine. First, it is great hunting gear as it ensures you stay warm all through. Also, they are light, soft, and incredibly quiet.
How does Heater Body suit work?
Gone are the days when heated battery packs and leg warmers were a must to keep you warm and comfortable. With the Heater clothing, the heat produced by your body is trapped inside, producing warm air to protect you from extreme cold conditions.
How do you dry a Heater Body suit?
One thing you should always remember to do is to turn the apparel inside out. Once that's done, line-dry the suit without putting it inside the dryer. Ensure you don't dry it near hot objects to avoid damage or distortions.
What to wear in Heater Body suit?
You need several layers of clothing that absorb moisture rather than bulky attire that is made of cotton. Oh, and don't forget your head, neck, and face.
Last Remarks
I hope the Blizzard Buddy and Heater Body suit detailed comparison clears things up for you. No more dilemma! No more doubt! You already know what to pick based on the specifications.
Blizzard Buddy is an incredible choice since it costs less and has a hood. Besides, you can wear your normal clothes inside and not overheat. 
However, Heater Body suit is extremely light, allowing you to move freely. Moreover, it's super warm, comfortable, and surprisingly quiet. Fruitful hunting ya'll!