Moving a trailer needs substantial effort and strength. Most of the time, handling them manually is a two-person job, and this is where trailer dollies come in.
TRAX power dolly and Parkit360 have their strengths but there is a huge difference in their maximum weight capacities.
Backed up by strong brand names, the trailer dollies from these brands are some of the best in the market. If you want to know which reigns supreme, keep reading.
A Quick Comparison Table
Want to know briefly about the comparison between the two trailer dollies? Check out this table.
| | | |
| --- | --- | --- |
| Specifications | TRAX Power Dolly | Parkit360 |
| Material | High quality construction | High quality construction |
| Capacity | 6,000 lbs | 3,000 to 15,000 lbs |
| Adjustable Speed | High-low speed toggle switch with variable speed thumb control | Speed and power control  |
| Tires | Standard: 12.5" x 4.25" | Standard: 6.5" wide |
| Battery | Battery included | Not all models include battery |
| Motor | 36V DC electric motor | 12V Interstate and 2 motors |
Key Differences Between TRAX Power Dolly And Parkit360 Trailer Dollies
Here are a few differences between the two.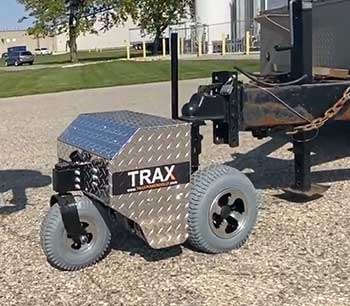 An electric trailer dolly's quality depends strongly on the material used in its construction.
The quality of the electric trailer dolly depends very much on the material it uses.
This element represents durability, cost, performance, and capacity.
Steel is the most often commonly used material in trailer dolly production because of its extraordinary hardness and high weight capacity.
Another frequent dolly material is aluminum alloy. It is less dense and less durable than steel. Nonetheless, producers have discovered a technique to strengthen aluminum over time by mixing in harder metals.
Trailer dollies are frequently zinc-plated or powder-coated. It shields against severe outside environments, reducing the likelihood of corrosion and rust. This helps protect the material's structural integrity against sun, rain, and snow.
In comparison to TRAX Power Dollies, Parkit360 trailer dollies feature better construction and materials.
Also Read: Worst Enclosed Trailer Brands.
Begin by measuring the weight of the item you want to pull before finding the best weight capacity. We suggest choosing one with a higher weight capacity in case you want to tow heavier items in the future.
The most weight a Parkit360 trailer dolly can pull is 15,000 lbs gross whereas the highest weight capacity of a TRAX power dolly stands at 6,000 lbs. Exceeding the recommended limit is discouraged as it will only result in premature wear. The worst-case scenario is property damage.
For added versatility, the best trailer dollies offer adjustable speed. This factor will allow you to pull your item at your own pace and helps the dolly tow a wider variety of items.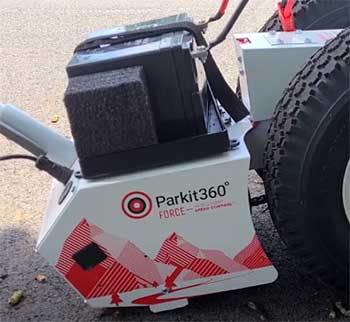 Many of the TRAX power dollies feature a high-low speed toggle switch with a power on/off toggle switch.
You also get a variable speed thumb control. Low speed works at 46 feet per minute and high speed operates at 222 feet each minute.
All of TRAX's trailer dollies are equipped with precision control settings to help you reach your parking zone safely.
For Parkit360 trailer dollies, only the high-powered, more expensive models – ones that can pull over 5,000 lbs come with speed and power control.
Good trailer dollies feature non-flat tires. That way, you can skip the extra maintenance step of worrying about inflating the tires. We also counted the traction and tread patterns. 
Some trailer dollies work on different surfaces but most will only function on packed lands such as gravel and asphalt.
On TRAX power dollies, the wheels are a standard aluminum mag construction of dimensions 12.5" x 4.25". You can also upgrade to wider tires.
According to the company, these tires fit easily under any trailer chassis, letting you turn the frame without scrubbing its tires.
The cheapest trailer dolly from Parkit360's tires measures 10" x 3 ½". Their Transformer 15K, on the other hand, impresses with its 6.5" wide tires. We appreciate how the 6.5" wide tires can be found in other models as well and not just the priciest.
Electric trailer dollies tend to be battery-powered to make them more portable. Lithium-ion is often seen in these machines. Much like with any product, consider how long it takes for the battery to be fully charged and how long it lasts.
A battery indicator is also another cool feature that can be found on high-end models from both TRAX and Parkit360. Keep in mind that not all of these trailer dollies come with batteries.
For instance, Parkit360 Transformer 15K includes two U1 sealed batteries, an amenity you don't get with the Force Base from the same brand.
The TRAX TX6000 features a powerful 36 V DC electric motor.  It comes with three UB12350 Type battery kits. It takes 8 hours for the machine to be fully charged with the onboard battery charger.
The motor is the core of any motorized trailer dolly, so it's important to put extra emphasis on this facet. It must be strong enough to accommodate heavy weights and move bulky items such as trailers even in the smallest incline.
And despite the power of the motor, it needs to operate quietly.
Parkit360 Transformer 15K is equipped with two motors. Despite the heavy motors used in their machines, Parkit360's trailer dollies are known for their noiseless operations. 
On the other hand, TRAX electrical trailer dolly motors are made to operate all day and have superior cooling capabilities coupled with assistance systems to cool down the motor faster.
Which Trailer Dolly Is Better For You?
There is no one right answer to this as the specifications of these trailer dollies vary vastly. The more high-tech, state-of-the-art models are much more expensive than their simple, no-frills counterparts.
While one may argue that the highest weight capacity of a Parkit360 power dolly is double that of a TRAX, it can also be mentioned that there is a significant price difference.
Thus, we recommend you keep your budget and requirements in mind and align them while buying the gadget. Here is a little Parkit360 power dolly preview for you!
Also Read: Differences Between Trailer Valet And ParkIt360.
Frequently Asked Questions (FAQs)
Do trailer dollies work?
Yes, they do. When buying, keep in mind the trailer's weight as well as the carrying capacity of the dolly, although dollies nearly always make hauling a trailer in small locations considerably easier than driving a car or doing it manually.
Do trailer dollies work on grass?
Some of them do so if you plan on moving one on grass, consider that.
Can I move a camper with a trailer dolly?
Most typical manual dollies simply cannot support sufficient weight to drive a camper van; however, certain manual dollies can carry lightweight tent trailers, and there are many specialist trailer dollies that can readily move bigger trailers.
Can you move a boat with a trailer dolly?
If you want to transport your boat into storage or hook it to your vehicle, a trailer dolly is among the most useful items you can have.
Conclusion
That was all on TRAX power dolly vs. Parkit360. Now that you know the relevant information on these machines, we hope you make the right buying decision.
Skim through the article once again before finalizing the purchase to ensure you are getting the right thing.