Winter is here! I'm sure many of you are taking preparation for outdoor camping. But are all your supplies ready? You must need a large pan for cooking if you plan on a large group camping. Oris Skottle is one of the most popular cooking plow discs among campers.
You'll find many alternatives to Skottle, some of which are cheaper but work as well as the Skottle. Here in this write-up, I'll introduce you to some of the best alternatives to Skottle so that you have no confusion while making your choice.
Skottle Plow Discs Substitutes                                                                   
Apart from Oris Skottle, many other brands also make and sell portable cooking pan kits for camping and outdoor cooking. They are excellent alternatives to outdoor grills as well.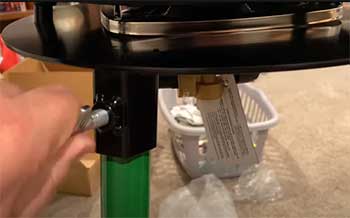 Here is a list of alternatives to Skottle
Discada Plow Disc Cooking
Tembo Tusk Skottle Kit
King Kooker Portable Propane Cooker with Wok
Machika Tabaraca Paella Pan With Burner
Eastman Outdoors Carbon Steel Wok Kit
Oris Skottle is a common name in the camper community, but some people think they are somewhat expensive.
These alternative cooking plow discs will be an excellent choice for them. Let's dive deeper and learn about them in detail.
Discada Plow Disc Cooking
Discada plow disc cooker is a popular outdoor cooking kit for campers. Discada discs come in various sizes, including 22 inches diameter and 24 inches diameter discs.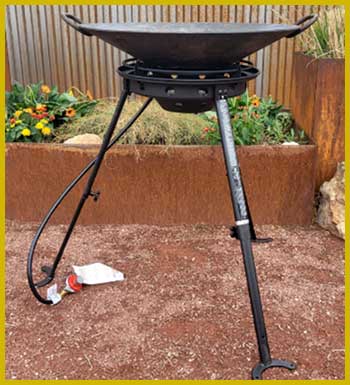 So, you can cook and hold a lot of food together. Besides, you will get handles on both sides to maneuver during cooking.
Burners with Discada Plow discs are sold separately.
You will get three types of burners: Discada Heavy Duty Burner, Discada Portable Height Adjustable Burner, and Discada Plow Disc Burner.
You can use any of the Discada discs with these three burners.
You can adjust the leg heights of Discada burners except for the Disc Burner.
The portable one has removable legs, but the others have fixed legs. All three of them have high-pressure regulators. They are only made for outdoor use.
Another good outdoor cooking kit is the Tembo Tusk Skottle Kit. It comes with a disc, a 10,000 BTU Coleman single burner, removable legs, and carrying bags. The 18 inches disc is made from ally steel, and the burner is gas-powered with liquefied petroleum gas.
The total height of the whole cooking unit will be 28 inches after assembly. You will have to use propane bottled gas with the burner. You can cook anything from steak to bacon and eggs on this disc. You can cook for up to 20 people on it at a time.
Tembo Tusk Skottle disc is easy to clean; you will need a spatula, water, and coarse salt. You can carry the kit anywhere because of its lightweight.
King Kooker Portable Propane Cooker with Wok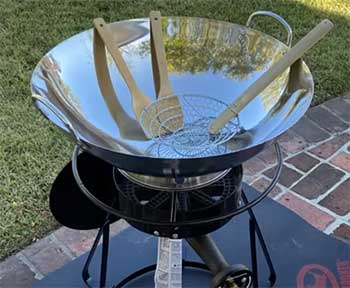 For people planning camping or hiking, King Kooker Portable Outdoor Cooker will be a great addition to your supply list.
This 12 inches portable cooker kit comes with a wok that is 18.5 inches in diameter and made from steel.
You will also get recessed handles for maneuvering the wok while cooking.
The kit comes with a 54,000 BTU cast burner which is CSA-certified and run by propane gas bottles.
You will get an LP hose and a regulator with a Type-1 connecter. The kit also has a deep-fry thermometer and a flame protection wind guard. 
You can cook a variety of foods with this cooking kit. It also comes with many recipes, including Fried Fish, BBQ Shrimp, Boiled Crawfish, etc. In addition, you will also get wooden utensils with King Kooker portable cooking kit.
Machika Tabaraca Paella Pan With Burner
Machika Tabaraca pan set with burner has many pan size options based on how many people you will serve. You will get 16 inches to 28 inches carbon steel outdoor pan options with this kit.
The pans come with comfortable red handles so you can hold them while cooking.
Besides, the pans have non-stick coatings. You will get 16 inches gas burner with the cooking kit with two independent handles.
Plus, the 30 inches-tall red-colored legs will make cooking convenient for anyone. Depending on their sizes, you can serve 10 to 24 people together on these pans.
Cleaning the Machika Tabaraca Paella Pan set is very easy as well. Since the pan is non-stick, you will need a soft sponge and water to clean any food residue from the surface.
Eastman Outdoors Carbon Steel Wok Kit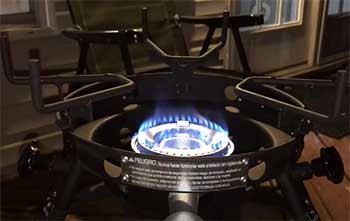 Last but not least, the Eastman Outdoors Carbon Steel Wok kit is a worthy alternative to Skottle.
It comes with 22 inches deep carbon steel wok, a big Kahuna propane burner, adjustable legs, a propane gas regulator, a hose, a 12-inches thermometer, a stainless steel spoon, and a spatula. 
With the deep dish wok, you can cook any food, including deep fry, stir fry, or boil. The 65,000 BTU burner is stable, safe, and efficient. It burns 75% cleaner than most burners.
Plus, the burner uses less propane gas than others. The legs of the burner are height adjustable.
You can use this carbon steel wok kit in your backyard for camping, tailgating, or other outdoor cooking activities. Because of the carbon steel material, the whole kit is very sturdy, stable, and easy to clean.
Is Oris Skottle Disc Worth It?
Oris Skottle is the go-to brand for outdoor cooking kit. You will get multiple Skottle kits from Oris with discs and burners.
All of them are perfectly portable and easy to use. With these Skottle kits, you will find cooking convenient and fun while camping or hiking.
These kits can cook any dish, so you won't have to worry about the variation in food. The cast iron material makes the disk very high-quality and easy to clean.
Plus, the height-adjustable propane burner will cook your food fast. You will also get carry bags with the kits.
So, Oris Skottle kits are worth every penny. You can take them with you camping and hiking without a second thought.
Frequently Asked Questions (FAQ)
Is a Skottle cast iron?
Yes, Skottle discs are made of cast iron. Plus, they are powder-coated for durability. The removable and height-adjustable legs are made from heavy-duty steel. That's why Skottle kits are very durable and long-lasting.
What can you cook on a Skottle?
You can cook any kind of dish on a Skottle. From scrambled eggs and bacon to fried rice and grills, the cast iron disc of Skottle lets you cook any food you want.
How does a Skottle work?
The latest Skottle kits come with everything you need for cooking outside. They include cast iron or high-quality metal discs, propane burners based on the disc sizes, thermometers, regulators, hoses, etc., for cooking.
How do you season a Tembo tusk?
It's easy to season a Tembo tusk. Just pour some cooking oil on the pan and rub it with a clean paper towel to make a light coat. Then turn on the burner and let the oil evaporate.
Final Thoughts
As you can see, many Skottle alternative kits are available in the market. Some of them have bigger burners and discs or pans. Again, some of them are cheaper than Skottle. But Skottle has tall height-adjustable all-steel legs.
Besides, the cast iron construction makes it distinct from others. However, you have the best choices in front of you. Now you can choose either Skottle or its alternatives.