Tumblers have become a popular way to keep drinks hot or cold on the go. Two of the most well-known tumbler brands are PURE Drinkware and YETI.
But which one is better? This comprehensive guide compares PURE and YETI tumblers across key factors like insulation, durability, design, price, and more.
A Brief Comparison Table
| | | |
| --- | --- | --- |
| Factor | PURE | YETI |
| Insulation | Excellent 6hr+ hot/24hr+ cold | Slightly better than PURE for long-term cold |
| Durability | Decent, not indestructible | Extremely durable, nearly indestructible |
| Design Aesthetics | More variety and customization | More minimalist, less customization |
| Lid Design | Flip top or slide top | MagSlider or Stronghold hinge lock |
| Size Options | Good range | Broader range, especially under 40oz |
| Price | $$ Budget-friendly | $$$ Premium priced |
| Warranty | 1 year | 5 years |
Overview of PURE Drinkware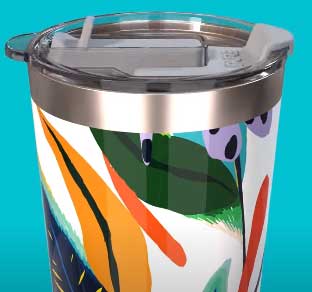 PURE Drinkware is a relatively new brand that launched in 2019.
They are best known for their stainless steel tumblers that come in various sizes ranging from 12oz to 64oz.
Some key features of PURE Drinkware tumblers:
Double wall vacuum insulation to keep drinks hot or cold for hours
Stainless steel construction with copper coating for durability
Leakproof lids with different opening mechanisms like flip top or sliding top
Various color and finish options like matte, glossy, or hydro dipped graphics
Made in China
PURE positions itself as an affordable alternative to premium tumbler brands with similar insulation performance. Their tumblers retail for $15 to $50 depending on size and design.
Overview of YETI Tumblers
YETI is arguably the most recognizable premium tumbler brand on the market. Founded in 2006, YETI pioneered the high-end insulated tumbler space.
Some standout features of YETI tumblers include:
DuraCoat color coating for scratch resistance
Double wall vacuum insulation keeps ice for 24+ hours
Food grade 18/8 stainless steel body
Leakproof lids with MagSlider or Stronghold mechanisms
Tapered design fits in holders and cars
Made in the Philippines and China
Retails between $25 to $50 for most sizes
YETI is known for its durability and insulation power. Their tumblers command a premium price but have a reputation for keeping drinks ice cold for days.
Key Differences Between PURE Drinkware And YETI Tumblers
Insulation Ability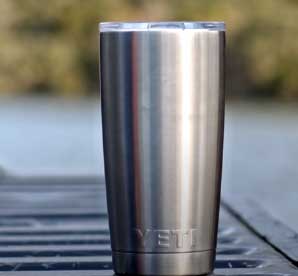 The most important factor for any tumbler is insulation ability.
How well does it retain temperature and keep drinks hot or cold?
Both PURE and YETI use double wall vacuum insulation in their tumblers.
This creates an air gap between the inner and outer stainless steel walls, preventing temperature transfer.
In independent tests, PURE and YETI generally perform very similarly at maintaining the internal temperature.
Both can keep hot drinks hot for 6+ hours and iced drinks cold for 24+ hours under normal conditions.
A few differences:
YETI's extra thick steel walls tend to provide slightly better insulation, but not always.
PURE has a copper coating on their inner walls to improve insulation, which helps close the gap.
Larger PURE and YETI tumblers (64oz) may lose some insulation power compared to smaller sizes.
Improper lid seals can impact insulation on both brands.
For most people's needs, PURE and YETI offer comparable insulation and temperature retention. But YETI does edge out PURE slightly in extreme, long-term cold retention tests.
Durability
Tumblers take a lot of wear and tear during everyday use. Which brand holds up better?
YETI tumblers have a well-earned reputation for being nearly indestructible. The thick 18/8 food grade stainless steel feels sturdy. YETI also coats their tumblers in a DuraCoat color finish that resists scratches and chips.
PURE uses decent 20 gauge stainless steel but it can dent if dropped from a high distance onto a hard surface. The thin paint coating is also prone to scratching and chipping over time.
For roughness in the outdoors, YETI is the clear durability winner. PURE tumblers should hold up fine to everyday use but won't take abuse nearly as well.
Design Aesthetics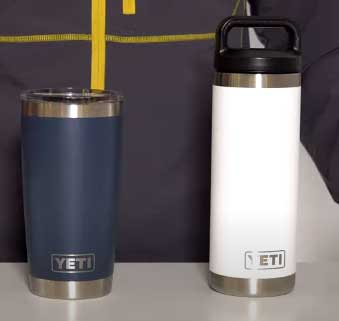 Beyond function, tumbler design matters too. Which brand offers better looks and style?
This category is highly subjective as it comes down to personal preferences.
However, PURE generally offers more variety and customization in their designs.
Some differences:
PURE has glossy, matte, and hydro dipped graphics in tons of colors; YETI is mostly matte.
PURE has unique patterns and visual styles; YETI is more simple and minimalist.
PURE offers engravings; most YETI models do not.
YETI has more consistent, coherent branding between models.
YETI offers limited special edition colors and patterns.
For customization, PURE is likely the better option. But YETI's designs are consistent and minimalist.
Lid Design
The lid mechanism is one of the most important parts of a tumbler. It must keep drinks sealed while allowing easy access.
YETI and PURE both offer well-designed, leakproof lids. YETI lids have two main options:
MagSlider: A magnetic sliding opening for complete access.
Stronghold: A hinge lock with a smaller drinking hole.
PURE mainly uses a flip-top opening mechanism with a metal clasp to keep it securely closed when not in use.
Both work well for sealing and drinking. The choice comes down to personal preferences on accessing your drink. Slide lids allow quicker access at the cost of potentially more leaks. Hinge lock lids seal better but can be trickier to open and close.
Sizing Options
YETI and PURE offer tumblers in a wide range of sizes:
YETI: 10oz, 14oz, 18oz, 26oz, 30oz, 36oz, 46oz
PURE: 12oz, 20oz, 30oz, 40oz, 64oz
YETI has a wider selection of sizes under 40oz. PURE has a larger mega 64oz tumbler.
Both brands give you multiple size options to choose the capacity you need.
Consider how much liquid you want to carry when deciding.
Bigger tumblers can keep drinks cold longer but are bulkier.
Smaller tumblers are more portable but hold less drink volume.
Price Considerations
As expected, YETI commands a higher price tag than PURE across comparable tumbler sizes and models.
On average, a PURE tumbler will cost $5 to $20+ less than a similar YETI tumbler. However, PURE's largest 64oz size nears the price of some YETI models.
Here are some sample prices:
| | | |
| --- | --- | --- |
| Size | PURE Price | YETI Price |
| 12-14oz | $15-$20 | $25-$30 |
| 18-20oz | $20-$25 | $35-$45 |
| 30oz | $25-$30 | $40-$50 |
| 40oz+ | $35-$50 | $50-$70 |
YETI also holds its resell value very well if you ever wanted to sell a used tumbler. PURE resell values are less predictable given the newer brand.
So you'll pay more upfront for YETI, but the durability and reputation command that premium price. PURE is the budget-friendly alternative.
Warranties
The warranty coverage also differs between the two brands:
YETI: 5 year limited warranty covering defects. Does not cover normal wear and tear.
PURE: 1 year limited warranty covering manufacturer defects.
YETI provides much longer coverage, but as a premium brand they can afford to stand behind their products confidently.
So Which Should You Buy?
For the average user, PURE and YETI will both perform extremely well at keeping drinks hot or cold. PURE gives you great insulation at a more affordable price point. YETI costs more but outperforms on extreme durability.
Here are some quick recommendations based on user profiles:
Outdoor adventurers -> YETI. Maximum toughness to withstand the elements.
Budget shoppers -> PURE. Great insulation without the premium cost.
Customization lovers -> PURE. Way more design personalization options.
Minimalists -> YETI. Understated, durable designs.
Frequent travelers -> Toss up. Both are great to toss in bags and suitcases.
At the end of the day, it comes down to your priorities. If you want maximum durability or love YETI brand cachet, pay up for a YETI. If you want great insulation without a premium price, PURE is a fantastic choice. Either way, you really can't go wrong.
Also Read: How Coho And YETI Coolers Stack Up?
Frequently Asked Questions (FAQ)
Here are answers to some common questions about PURE and YETI tumblers:
Is Finex made by Lodge?
No, Finex and Lodge are separate brands not affiliated with each other. Finex is an American company established in 2012 that manufacturers cast iron cookware. Lodge is an older and much larger cast iron company founded in 1896. While both make quality cast iron products, they are competing brands.
What cup is as good as a YETI?
Some tumbler brands that offer similar insulation and performance to YETI include Ozark Trail, RTIC, Pelican, Takeya, and Hydro Flask. They range from budget to premium prices but can keep up with YETI for temperature retention. PURE Drinkware is also excellent at a lower price point than YETI.
Who owns PURE Drinkware?
PURE Drinkware is owned by PURE Products LLC, which is a privately held company based in the United States. They market PURE as an affordable and stylish alternative to premium tumbler brands.
What brand is the best tumbler?
It depends on your priorities, but some of the best tumbler brands overall are YETI, Hydro Flask, RTIC, Takeya, and Stanley. For a budget brand, Ozark Trail makes great inexpensive tumblers. PURE Drinkware competes well with far more customization. There are lots of excellent tumblers, so focus on your needs and price point.
What tumbler keeps ice the longest in 2023?
Based on various tests and reviews, some of the tumblers that retain ice the longest into 2023 are the YETI Colster Slim, YETI Colster, RTIC 65, Otterbox Elevation 20, and Hydro Flask 32 Oz Wide Mouth. Yet even budget brands like Ozark Trail and PURE keep ice over 24 hours. Focus on size, lid seal, and personal use over chasing the longest ice retention.
Closing Remarks
When it comes to PURE Drinkware and YETI tumblers, both brands make excellent insulated products that will keep your drinks hot or cold for hours on end. YETI remains the premium option with its reputation for indestructible durability and cooling power.
But PURE has closed the gap with better customization and a budget-friendly price while still delivering fantastic insulation. For most people's needs, you can feel confident with either brand.
Do your research to decide if the extra cost is worth it for your preferences and usage. Whichever you choose, staying hydrated on the go has never been easier thanks to tumbler technology from brands like PURE and YETI.