Mad Rock Safeguard doesn't have an internal camming spring that makes it lightweight. In contrast, GriGri Belay Device has an internal spring. This makes the unit slightly heavier. Plus, GriGri offers a higher rope range than Mad Rock.
Brake assist devices come in handy for climbing, rigging, and rescue work. But so many options are there. How do you choose a particular option?
Here, we come up with two most popular options: Mad Rock Safeguard and GriGri Belay Device. Let's learn about everything in detail!
A Quick Comparison Table
| | | |
| --- | --- | --- |
| Specifications | Mad Rock Safeguard | GriGri Belay Device |
| Material | Hot  forged aircraft grade aluminum and  Stainless Steel construction | DurableAluminum and  Stainless Steel construction |
| Spring | No camming spring | One Spring |
| Complexity | Slightly easier to understand | Requires understanding of basic systems |
| Rope Range | 8.9 mm  to 11.0 mm | 8.5 to 11.0 mm |
| Weight | 154grams | 175 grams |
| Ideal Usage | Rigging and various rope access tasks | Climbing, Belaying, and Rappelling |
| Certification | CE EN 15151-1 | CE EN 15151-1, UKCA, and UIAA standards |
| Warranty | Limited Lifetime Warranty | 3-Year Warranty |
| Price | Slightly higher | More affordable |
Key Differences Between Mad Rock Safeguard And GriGri Belay Device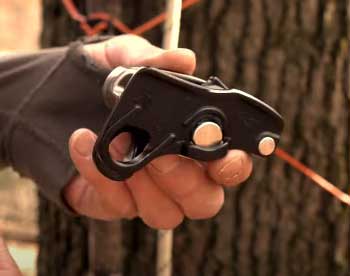 Mad Rock Safeguard has hot-forged aircraft-grade aluminum and stainless steel construction.
This ensures increased toughness and longevity.
Its shape has improved metallurgy because creating a precise form is not as easy as using regular other aluminum.
Another advantage is its corrosion-resistant properties. Hence, moisture will not affect its physical properties easily.
On the contrary as an alternative to Mad Rock Safeguard, GriGri Belay Device is made from durable aluminum and stainless steel. It ensures smooth functionality and low-impact force.
Mad Rock Safeguard doesn't come with any camming spring. Hence, the cam works continuously.
You don't need to worry about the brake. The climber will always stay in a safe position from unwanted extreme force.
But, GriGri Belay Device has a camming spring that will become automatically active if you fall.
The device will pivot—the rope will be tighter and blocked once the cam is pinched.
It follows a standard belay technique to ensure better descent control when it is in an inclined position.
Belaying devices with an auto-blocking system require a proper understanding to keep belayers balanced in different height positions.
Both units are not as simple as tube-based belayers. But Mad Rock Safeguard is slightly easier to understand than GriGri Belay Device.
The springless design and continuous auto-blocking system of Mad Rock make it easier to understand. Hence, the learning curve will take less time than GriGri.
That's why experts recommend GriGri Belay Device for experienced belayers.
Both products offer single based belaying. But their rope range slightly varies.
Choosing an ideal rope range based on your climbing task is crucial.
Mad Rock Safeguard comes with an 8.9 mm to 11.0 mm rope range, whereas the GriGri Belay Device covers 8.5 to 11mm.
Both assisted braking devices can provide a decent result for single climbing.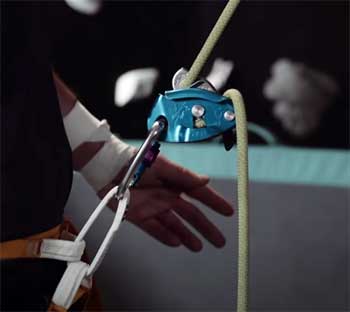 Wondering whether the weight of the assisted braking device can affect its functionality?
Both products can generate increased impact forces.
Mad Rock Safeguard is slightly lightweight, weighing only 154 grams.
This gives you a more convenient feeling when you carry several gears.
On the other hand, GriGri Belay Device is a little bit heavy, weighing 175 grams.
Its camming spring makes it slightly weighty. Once you get used to it after a few practice sessions, it will not affect your performance notably.
For which task you prefer to use an assisted braking device? Not all are suitable for all tasks.
For instance, you can't use Mad Rock Safeguard for lead climbing. The device is ideal for rigging, climbing, and rescue work.
Arborists, camera operators, and route setters can use this product.
But you can use GriGri Belay Device for climbing gyms, belaying, rappelling, catching falls, feeding slacks, guide climbing, etc.
Users are expected to get unparallel comfort for belaying, especially for the gym and crag.
Both assisted braking devices have CE EN 15151-1 certification.
They meet the safety standard to protect users from falling while climbing, mountaineering or belaying.
But, GriGri Belay Device has additional UKCA and UIAA standards.
This makes the climbing equipment more reliable due to their growing safety standard.
It is internationally approved for climbing and mountaineering.
One of the main advantages of Mad Rock Safeguard is its limited lifetime warranty.
You merely have to worry about the product warranty. But any modification or repair will not cover it.
Consumers will get a new device if the current one has any defects. But, the manufacturer will not change it if it occurs from regular wear and tear.
Contradictorily, GriGri Belay Device offers a 3-Year Warranty.
But you can extend the warranty period by paying a certain fee.
The price of a brake-assisted device can be anywhere from $30 to $150, depending on the type, construction, brand, material, and many other factors.
Mad Rock Safeguard is slightly more expensive than GriGri Belay Device.
But you might be wondering why right? One of the main reasons for the higher cost is its high-quality materials.
The manufacturer needs to develop a complicated procedure to design the unit without a camming spring.
It is worth the money due to its extreme durability and lifetime warranty. 
Also Read: Differences Between Tethrd And Trophyline.
Which Brake-assisted Device Is Better For You?
Choosing a particular brake-assisted device requires you first determine what types of tasks you want to achieve using it
If you prefer to use the self-locking device mainly for rigging and different rope access tasks, Mad Rock Safeguard appears to be a good choice.
It is made from rigid materials but lightweight to ensure exceptional durability and comfort.
But, GriGri Belay Device is overall a better choice due to its affordability and flexibility.
You can use the product for climbing, belaying, and rappelling for a long time without feeling tired.
Wrapping Up
Still, wondering which one to pick between Mad Rock Safeguard and GriGri?
You can go for either option if it fulfills your climbing requirements. But, both products are an excellent choice for sport climbing indoors and outdoors.
Mad Rock Safeguard is a good choice for its increased durability and lightweight construction. Its mechanism is slightly easier to understand. But GriGri Belay Device is a better choice for experienced belaying due to overall flexibility.