When it comes to protecting your head during tactical operations, having the right helmet is crucial. Two of the most popular brands for tactical and ballistic helmets are Hard Head Veterans (HHV) and OPS-CORE.
But with so many models and features to consider, how do you know which helmet is right for your needs?
This comprehensive guide will compare HHV and OPS-CORE helmets, analyzing the key factors like design, materials, testing and certification, pricing, and more.
We'll also answer some frequently asked questions about these two helmet brands to help you make an informed decision when purchasing your next lid.
A Brief Comparison Table
| | | |
| --- | --- | --- |
| Feature | HHV Helmets | OPS-CORE Helmets |
| Cost | $300 – $500 | $1,200 – $1,800+ |
| Shell Materials | Proprietary composite | Carbon fiber, aramid, polyethylene, glass composite |
| Ballistic Protection | NIJ Level IIIA (.44 Magnum) | Up to NIJ Level III (7.62mm) |
| Weight | 2.5 – 3.2 lbs | 2.3 – 3.1 lbs |
| Sizing Options | Medium, Large | XS-XL with custom fitting available |
| Retention System | CAM FIT (limited adjustment) | CAM FIT (highly adjustable) |
| Helmet Styles | Mid-cut, High-cut | Mid-cut, High-cut, Full-cut |
| Accessory Mounts | Integrated NVG shroud, Accessory rails | Extensive proprietary mounts and accessories |
| NIJ Certified Models | Some models | All models |
| Mil-Spec Compliant | No | Select models |
| Made In | USA Designed, China Manufactured | USA |
Overview of Hard Head Veterans (HHV) Helmets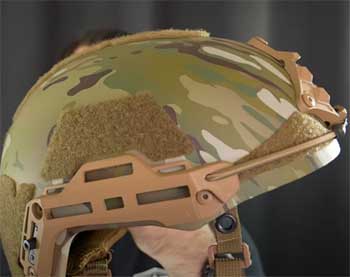 Founded in 2013, Hard Head Veterans (HHV) designs tactical helmets and other headborne systems for military, law enforcement, security contractors, and civilian shooters.
The company was started by veterans who saw a need for more affordable high-cut ballistic helmets on the market.
HHV helmets feature a simple, slim high-cut design with an integrated Wilcox shroud for mounting night vision goggles and other accessories.
The shells are made from a proprietary composite material that is durable and lightweight.
Some key features of HHV helmets include:
High-cut design for clear field of vision and hearing
Integrated Wilcox shroud and accessory rails
Composite shell materials
Modular boltless CAM FIT retention system
Multiple color and camo options
Offered in mid-cut and high-cut styles
NIJ Level IIIA ballistic protection
HHV helmets start at around $300, making them very competitively priced compared to similar models from other major brands. They offer frequent sales and discounts, especially for military, law enforcement, and first responder personnel.
Overview of OPS-CORE Helmets
OPS-CORE is a subdivision of Avon Protection and a leading maker of tactical and ballistic helmets for military special operations and law enforcement teams. They are known for using cutting-edge materials and technology in their helmet designs.
OPS-CORE helmets feature proprietary composite shells made from a mix of aramid, carbon, and glass laminates. This provides low weight, durability, and structural integrity. The bolted CAM FIT retention system offers a secure and customizable fit.
Some key features of OPS-CORE helmets include:
High-cut or mid-cut styles available
Modular bolt-on CAM FIT retention system
Proprietary composite shell materials
Multiple rail and shroud options
Offered with high-performance ballistic protection up to NIJ Level III
More sizing adjustability than HHV
Accessory ecosystem including heardsets and helmet covers
Used by US SOCOM and many elite global special ops teams
OPS-CORE helmets range in price from around $1,200 to over $1,800 depending on the model and accessories. They are significantly more expensive than HHV but offer more robust technology and ballistic protection capabilities.
Key Differences Between Hard Head Veterans And OPS-CORE Tactical Helmets
Design and Build Quality
When it comes to design and build quality, both HHV and OPS-CORE make durable and functional helmets, but there are some differences.
Shell Construction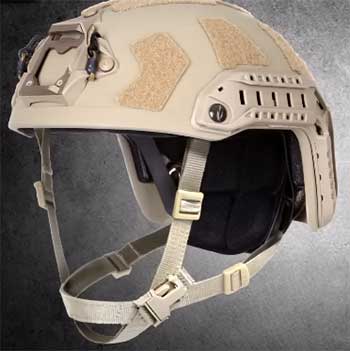 HHV uses a proprietary composite shell material made from various laminates. The exact composition is proprietary but it provides NIJ IIIA protection up to .44 magnum rounds.
OPS-CORE uses a patented composite shell blend featuring carbon fiber, aramid, polyethylene, and glass layers. This provides structural integrity while remaining lightweight. OPS-CORE offers NIJ III protection on some models, stopping up to 7.62mm rifle rounds.
Weight
HHV helmet weights range from 2.5 lbs to 3.2 lbs depending on model and size.
OPS-CORE helmets weight from 2.3 lbs to 3.1 lbs depending on accessories and ballistic protection level. Overall they are slightly lighter than HHV helmets.
Comfort and Stability
The HHV CAM FIT retention system is simple and modular but has limited size adjustability. Some users with very large or very small heads report fit issues.
OPS-CORE's bolt-on CAM FIT band offers more incremental sizing adjustment for an ultra-custom and secure fit. This provides comfort and stability during active movement.
Aesthetics
HHV helmets feature a streamlined high-cut or mid-cut design in a variety of colors. They have a clean, low-profile look.
OPS-CORE models have a similar style but offer more accessory mount and rail options for attaching tools and gear. This can result in a slightly bulkier profile.
Both brands produce rugged and functional helmets, but OPS-CORE takes the edge when it comes to advanced materials, comprehensive sizing/fit, and modularity. HHV still provides good protection and performance at a budget-friendly price point.
Ballistic Testing and Certification
Proper ballistic testing and certification provides confidence that a helmet will stop specified projectiles and protect your head. Here's how HHV and OPS-CORE stack up when it comes to compliance standards:
HHV Ballistic Protection
NIJ Level IIIA certified, stopping up to .44 Magnum rounds
Tested to meet or exceed ACH, FAST, and MICH helmet standards
Meets US military ballistic standards but most models are not mil-spec certified
OPS-CORE Ballistic Protection
NIJ Level IIIA standard on all helmets
Select models available with Level III (stops 7.62mm rifle rounds) or SPEAR III+ protection
Fully compliant with US MIL-STD-662F ballistic testing standards
Authorized for use by elite US military groups including SOCOM
While both brands meet key impact standards, OPS-CORE goes beyond with advanced SPEAR ballistics for maximum protection from high-power ammunition.
Their helmets are authorized for the most demanding military and law enforcement applications. HHV helmets provide good Level IIIA protection for civilian and entry-level tactical use.
Helmet Shapes and Sizing
Finding the right fit is critical for comfort, protection, and stability when wearing a ballistic helmet. Here is how the shapes and sizing options compare between brands:
HHV Shapes and Sizes
Available in mid-cut and high-cut styles
Medium and large shell sizes
Limited adjustability in the CAM FIT retention system
Best suited for average sized heads
OPS-CORE Shapes and Sizes
Mid-cut, high-cut, and full-cut helmet styles
Offered in more shell sizes from extra small to extra large
CAM FIT retention system has extensive size adjustments
Can accommodate nearly any head size and shape
Custom sizing and molding services available
OPS-CORE again is the winner when it comes to dialing in the perfect customized fit for proper comfort and safety. The HHV helmets work fine for average heads, but those with very large or very small sizes may struggle finding a good fit.
Helmet Accessories and Configuration
Having the ability to customize your helmet with accessories is key for integrating essential gear. Here is an overview of mounting options:
HHV Accessories
Integrated Wilcox-style NVG shroud is standard on most models
Accessory rails along brim for attaching tools and gear
No proprietary accessory ecosystem, but standard mounts allow flexibility
Optional accessories include storage bags, pads, retention parts
OPS-CORE Accessories
Multiple shroud, rail, bungee, and other mounting options
COMPLETE configuration tool allows fully customized setups
Proprietary accessory ecosystem including headsets and helmet covers
Options include night vision mounts, visors, mandible guards, communications
The open nature of HHV helmets allows you to create your own configuration, while OPS-CORE offers more proprietary "all-in-one" solutions. This accessory ecosystem does lend more seamless integration for those who choose to fully outfit their lid with OPS-CORE gear.
Cost and Value Comparison
When it comes to price, HHV helmets are the clear value leaders: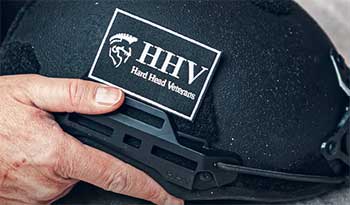 HHV Pricing
Base models start around $300
Max models with accessories around $500
Frequent sales with discount codes available
OPS-CORE Pricing
Base models start around $1,200
Max models with accessories over $1,800
Rare sales or discounts available
However, OPS-CORE does deliver more features and capabilities for the increased cost. You'll get cutting-edge materials, advanced ballistic protection, and a fully customizable configuration. So the extra expense may be justified for helmet users with the most demanding operational requirements.
For those on a budget or with more casual needs, HHV provides very solid quality and protection at an affordable cost point. It all comes down to matching the helmet performance with your intended uses and financial means.
Also Read: Comparison of Team Wendy And Hard Head Veterans Helmets.
Frequently Asked Questions (FAQ)
Where are Hard Head Veteran helmets made?
HHV helmets are designed in the United States and manufactured in China. The company sources raw materials and parts globally but conducts prototyping, testing, and assembly of helmets in the US.
Does Hard Headed Veterans offer military discounts?
Yes, HHV provides discounted pricing for active US military, veterans, law enforcement, first responders, and government personnel when buying through their website. Just verify your affiliation at checkout.
Are HHV helmets NIJ certified?
All HHV helmets meet NIJ Level IIIA standards for ballistic protection. However, most models are not NIJ "certified" meaning they don't have an official stamp of certification from the NIJ. Some HHV models, like the ATE high cut, are submitted to NIJ for formal certification testing.
Are there Level 3 helmets?
Level 3 refers to NIJ certification that the helmet can stop up to 7.62mm rifle rounds. HHV helmets max out at the Level IIIA protection level, stopping up to .44 magnum rounds.
OPS-CORE does offer helmets like the FAST XP that meet the NIJ Level 3 certification, in addition to models with even higher SPEAR III+ ratings. So if you need Level 3 protection, you'll want to look at OPS-CORE or other manufacturers that produce true Level 3 ballistic helmets.
The Bottom Line
When choosing between Hard Head Veterans and OPS-CORE helmets, it comes down to your budget and performance needs.
For solid ballistic protection at an affordable price point, Hard Head Veterans delivers good value for your money. Their streamlined, lightweight helmets start around $300.
If you need the most advanced materials, ballistic ratings, and a fully customizable accessory system, then OPS-CORE is the leader. But be prepared to pay over $1,000 for these premium features.
Whichever brand you choose, investing in a quality tactical helmet is essential to protecting yourself in the field while increasing effectiveness and mission success. With proper gear like a helmet, plate carrier, rifle, and accessories, you gain a significant tactical advantage.
So research both Hard Head Veterans and OPS-CORE models to find the best helmet for your head, your missions, and your wallet. A reliable lid provides the safety and confidence to successfully execute the most demanding operations.
Gear up properly so you can focus on the mission ahead.