It is hard to blindly choose all-season tires. No one wants tires that will slip easily in winter. Continental SRS and DWS06 are the two most popular all-season tire choices.
SRS is better for sports cars, is lighter, does better in wet conditions, and is affordable. DWS06 is better for regular cars, is heavier, less good in wet conditions, and pricier.
All-season tires are good investments, but you have to choose good ones like Continental SRS or DWS06. Which one should you choose? Here is a comparison to help you out.
A Quick Summary of the Comparison
| | | |
| --- | --- | --- |
| Feature | Control Contact Sport SRS | Extreme Contact DWS06 |
| Build | Better for sports cars, lighter, have stronger sidewalls | not suited for sports cars, heavier, weaker sidewall |
| Performance and durability | Good wet grip and brake, wears faster | Better wet grip and brakes wears slower |
| Price and availability | Affordable, Discount Tires exclusive | Pricier, easily available |
And that's the gist of the whole thing. Keep reading below for the detailed breakdown.
Key Differences Between Continental SRS And DWS06
DWS06 and SRS are both made from high-quality material and they perform like that too. But the thing is, they're really close when it comes to that.
You can find multiple differences but only if you look closely.
Build, performance and durability, price and availability- these are the major differences between Continental's SRS and DWS06 tires.
Here's how the differences work for both tire types.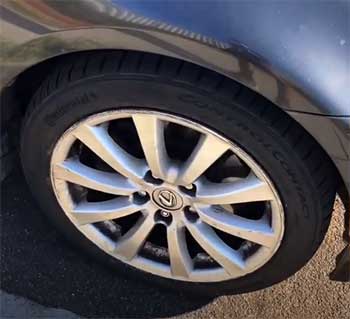 Both tires have the same load capacity, maximum pressure capacity, and tread depth.
This is why most people these tires are the same except for the tread pattern.
But the difference is in something else.
SRS tires are lighter and have stronger sidewalls.
These tires work well for sports and luxury cars.
DWS06 tires are heavier and have weaker sidewalls. They're also better suited for regular cars.
SRS tires are lighter. But that doesn't mean they're weak in any way. In fact, they have stronger sidewalls compared to DWS06 which makes turning easier for them.
These tires are made to take the heavy-duty load of sports cars, and the rim diameter range makes them a good fit for a number of models.
DWS06 on the other hand is better fitted for regular car models. These tires are heavier and have weaker sidewalls.
Turning might be a little tough business for them, but DWS06 is hard to beat when it comes to durability.
Performance And Durability
This is where you can see the actual differences between the tires. SRS tires have a pretty good wet grip, but they wear off faster. DWS06 have better-wet grip compared to SRS tires and they also wear slower.
The whole point of all-season tires is to be able to operate in all conditions. While RSS tires do fulfill that, their performance isn't exactly the best.
They do well in dry conditions but when the pitch gets wet, their performance falls a little.
SRS tires can work pretty well if the snow isn't piling up much, but the overall grip of the tires loosens up. So they aren't exactly the best tires for winter (or heavy rain days).
Another problem is that these tires wear off pretty fast.
DWS06 is almost the opposite. These tires have a pretty strong grip in wet conditions compared to SRS tires. DWS06 can work pretty well in 2"-10" snow.
The sidewalls make turning corners are little hard but other than that, DWS06 beats SRS tires in wet condition performance. Plus DWS06 tires last surprisingly longer than SRS tires.
SRS tires are on the expensive side of the spectrum. Compared to DWS06, they'll cost you more. SRS tires are also a little harder to find.
Since they're Discount Tires exclusive products, you can only get these tires through Discount Tires' website or physical shop.
DWS06 is much easier to find, you can get them in almost any tire shop.
Which One Should You Go For?
Both tires are good, sturdy, and high-quality. They're also really close in terms of performance. So comparing them is hard enough, choosing one of them is even harder. As you can guess, the answer will depend.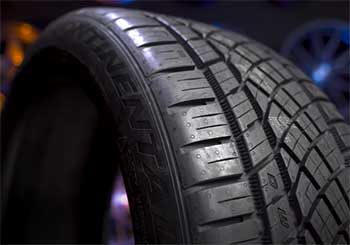 SRS and DWS both are pretty good overall.
So when you're choosing one, you'll have to look at the smaller details.
Of course, the final answer will ultimately depend on your preference.
But if you're looking for an objective approach, you'll have to look at the small things to do the pros and cons calculation.
If you're looking for sports car-specific all-season tires, SRS is the better choice. These tires are pretty much made for sports and luxury cars. So you'll be getting the best output from them.
The rim diameter range makes them pretty versatile too. Plus they're on the affordable side, which is a bonus for any car tire really.
The problem is, SRS tires don't have a very good grip in wet conditions. Plus the tires wear off pretty quickly even though the sidewalls are stronger than DWS06.
If you're looking for durable all-season tires, DWS06 is the better choice. These tires are heavier but they're also sturdier. They have better performance in wet conditions whether it is snow or rain.
DWS06 has better-wet grip and the wet brake on them is better too. The price is on the higher side but it is very much worth the money.
The only problem with DWS06 is that they have weaker sidewalls. This sometimes makes the corner areas tough for them in general. But compared to SRS, their performance is better in every way.
Overall, Extreme Contact SRS is the better choice in this case. But if you're looking for sports car-specific options or want something affordable, SRS is a solid option too.
Also Read: Comparing Pirelli SOTTOZERO 3 With Michelin X-Ice Snow Tires.
Frequently Asked Questions (FAQ)
What does SRS mean on Continental tires?
SRS stands for sun, rain, and snow. These are the condition the tires can operate in.
Is DWS06 discontinued?
No, DWS06 tires are discontinued yet.
What does DWS mean on Continental tires?
DWS means dry, wet, and snow. The tires can continue operating in these conditions.
How long does Continental DWS06 last?
DWS06 has a treadlife rating of 50,000 miles.
Final Verdict
With how high-quality Continental's all-season tires are, the Continental Control Contact Sport SRS or DWS06 debate only gets longer. But in the end, the choice depends on you.
If you're looking for something durable, go for DWS06 tires. If you're looking for sports car specific options or affordable ones, go for the SRS tires.