Bulletproof and Gen-Y hitches are famous in the market and highly used by most truck owners. But Bulletproof hitches come in more variety than Gen-Y hitches.
The former brand hitches can bear up to 36K Lbs. of weight than the latter. On top of that, both are made with heavy-duty stainless-steel construction to ensure lifetime usage.
You can spend money on any of these hitches because both are great. But if you want budget options and still reliable ones, Gen-Y is the best place for you.
Yet, let's compare both brands' hitches with their prominent differences.
A Brief Comparison Table
| | | |
| --- | --- | --- |
| Specifications | Bulletproof Hitch | Gen-Y Hitch |
| Shank Specs | 2.0 Shank Hitches, 2.5 Shank Hitches, 3.0 Shank Hitches | 2.0 Shank Hitches, 2.5 Shank Hitches |
| Load Bearing Capacity | From 10k to 36k Lbs. | From 14k to 32k Lbs. |
| Material Used In the Construction of Hitches | Hitches Made of Stainless Steel | Made with heavy-duty stainless steel |
| Warranty Period | Lifetime Construction warranty with 1 year cosmetic and powder coating warranty | Up to 5 years of the limited warranty |
| Pricing | Price ranges from $200 to $450+ | Price ranges from $150 to $420 |
| Customer's Recommendation | Higher | Lower |
| Versatility | Lower | Higher |
Key Differences Between The Bulletproof And Gen-Y Hitches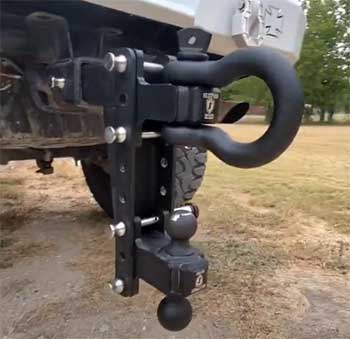 Shank is a hole in the ball mount where the trailer ball goes.
The hitches from both brands can be measured on the shanks these products have.
The bulletproof hitches come from 2 to 3 shanks, ensuring that you will have more rigidity and affirmed joint of your trailer with the truck.
On the other hand, the Gen-Y hitches have 2 or 2.5 shanks.
They are good to consider but not as trusted as the hitches with 3 shanks because it is a matter of a solid joint or connection.
Also Read: Differences Between Mevotech And Delphi Ball Joints.
The Bulletproof and Gen-Y make hitches with various configurations regardless of the brands you buy your hitch from.
They are designed to meet your varying load capacity needs. When you consider buying a Hitch from Bulletproof, they offer you these products that can hold up to 36000 lbs. of weight. It means you can always drop more on a hitch like that, and it will still stand out as great.
In contrast, the Gen-Y hitches offer a load-bearing capacity of almost 32000 lbs. Using a hitch from Gen-Y will not be wrong. But it might not provide you with such a load-bearing capacity as the Bulletproof hitches do.
Material Used In the Construction of Hitches
One of the most remarkable similarities between hitches from the Bulletproof or Gen-Y is that they are made with heavy-duty stainless steel. Such construction and material are durable and stand for a more extended period.
But there is, again, a difference because Bulletproof will provide you more strength, load bearing, and greater durability in the longer run. One can have these hitches for any application, like off-roaders, boaters, cargo racks, motorcycle carriers, and more.
In addition, you can attach RVs, Toy Haulers, Trailers, and long-road vehicles without any problems.
The Bulletproof hitches ensure an excellent limited lifetime warranty. They provide up to 1 year cosmetic and powder coating repair warranty on their hitches.
Compared to this, the Gen-Y hitches offer up to 5 years of a lifetime warranty, making your life easier. From the date of purchase, you will be happier because you'll have bought a worthwhile product.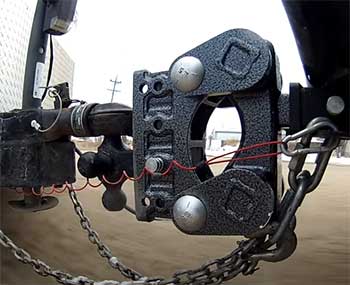 Gen-Y hitches are a little less expensive than Bulletproof hitches.
They do not offer 3 shank hitches and cannot go for the load bearing for more than 32K lbs.
But when you look at the Bulletproof hitches, they are pretty expensive as they offer more load-bearing capacity.
Hence, one can enjoy the best rides and stay safe on the road.
But for budget people, Gen-Y would be a great option to consider.
Customer's Recommendation
You'll find more reviews and ratings for the Bulletproof hitches when you look at the internet. They are highly reviewed and recommended by most individuals.
But Gen-Y is also not staying behind in the line. Because they are pretty worth the price and are often recommended by a good number of individuals, yet, they are not famous as Bulletproof hitches are.
On the versatility and usage side, I would say that Gen-Y hitches are more versatile and easier to install than Bulletproof hitches. However, if you are an expert, you will have no problem utilizing your truck and other long-road vehicles.
Which Hitch Is Best To Consider?
You can buy any hitch from these brands, and they will perform the best jobs for you. For offering the safest rides, more control over your carrying luggage, and excellent towing of your trailer, a hitch from Gen-Y or Bulletproof brands is a great choice.
However, you need to decide your requirements, the budget, and the weight you are about to carry behind the truck.
If you have considered more, Bulletproof hitches are a great option. But for medium and standard duty purposes, Gen-Y won't disappoint you!
Also Read: Differences Between Prusik And Blake Hitches.
Frequently Asked Questions (FAQ)
Are Gen-Y Hitches Worth It?
It's an absolute thing that buying a Gen-Y hitch is an excellent investment because they offer complete safety to your trailer and vehicle. Also, enjoy the most comfortable and easier towing on the road.
What Is The Strongest Receiver Hitch?
The class 5 trailer hitches have the highest weight rating.
What Is The Best Hitch On The Market?
One of the best hitches on the market is the Curt Fusion Trailer Hitch mount.
What Are The 4 Types Of Hitches?
The four types of hitches include Bumper, 5th wheel, Pintle, Weight Distribution, and Gooseneck.
Final Thoughts
It doesn't matter which hitch brand you'd spend your money on. But if you are comparing Bulletproof with Gen-Y Hitches, you must decide wisely.
I'll say again that both are good to consider. But Bulletproof has more ratings and recommendations, and their hitches can bear more load in the long run.
In addition, the brand is highly famous for its remarkable customer service. But you might have to spend a few more bucks to get a hitch from Bulletproof.
Don't worry, even though that would be a worthwhile investment!