When it comes to high quality handcrafted cowboy boots, two brands stand out from the herd – Alvies and Tecovas. Both offer premium materials and old-school construction techniques at relatively affordable prices compared to other artisan bootmakers.
But with distinct strengths and differences, how do you choose between these promising upstarts?
In this in-depth boot breakdown, we'll compare Alvies and Tecovas across the key categories that matter most: fit and sizing, leathers and exotic materials, construction, customization, style selection, ordering, production timelines, break-in period, price, and overall value.
Read on to see which handcrafted boot brand ultimately comes out on top.
A Brief Comparison Table
| | | |
| --- | --- | --- |
| Category | Alvies | Tecovas |
| Fit and Sizing | Runs true to size; wide width available; custom calf sizing | Runs true to size; three calf widths; no wide width option |
| Leathers and Materials | Wide selection of premium American & French hides; diverse exotic options | Quality American hides; classic exotics like ostrich & snakeskin |
| Construction | Goodyear welt; triple stitched; Vibram soles; anti-slip available | Goodyear welt; combination stitched soles; layered leather heels |
| Customization | Full customization of fit, materials, design, sole, details | Limited to leather color and calf width |
| Style Selection | Wide range from classic to modern cowboy plus equestrian and work boots | Focused on traditional cowboy boot silhouettes |
| Ordering Experience | Direct sales; option to order through retailers; guidance for custom designs | Mainly online direct sales; in-person boutiques; style recommendations |
| Production Timeline | 1-3 days for in-stock; 10-14 weeks custom | 21 days standard; 6-8 weeks custom |
| Break-In Period | 1-2 weeks moderate break-in | 2+ weeks for tapered toe box |
| Pricing | $219 – $899; custom starts at $579 | $195 – $495; custom $345 |
| Overall Value | Excellent value with quality, customization, and fair pricing | Good value with lower cost focus and quick turnaround |
Key Differences Between Alvies And Tecovas Boots
A proper fit is essential for any cowboy boot to look sharp and feel comfortable. Here's how Alvies and Tecovas boots compare when it comes to fit and sizing:
Alvies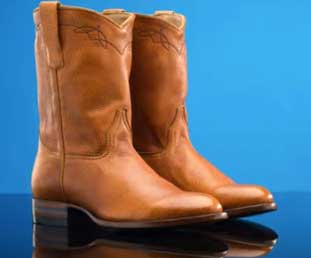 Alvies boots run true to size and fit as expected based on your normal shoe size.
They offer boots in sizes 6-15, including half sizes.
The fit has a roomy toe box to allow your feet to spread out naturally when walking.
Some users report the calf opening runs slightly narrow, so you may need a wider calf model if you have more muscular legs.
There are also wide width options available upon request for those needing extra room through the forefoot and ball of the foot.
Tecovas
Tecovas boots also run true to size in most cases. They come in standard men's sizes 7-15, including half sizes. The fit has a tapered but comfortable toe box. Those with high arches/insteps may find Tecovas last a bit tight through the midfoot.
Tecovas offers three calf sizes (slim, classic, wide), providing more built-in options for getting an optimal calf fit. But some users still find the calves run narrow, especially in exotic leathers which have less give. Wide width models are not available.
Verdict
While both brands aim for accessible sizing and a comfortable broken-in feel, Alvies gets the edge for providing more measurement options with its wide width and custom calf models.
The roomier toe box also suits more foot shapes. Those with high arches or muscular legs may prefer the fit of Alvies over Tecovas out of the box.
Leathers and Exotic Materials
The leather and materials used in construction plays a big role in the look, feel, and durability of any cowboy boot. Here's how Alvies and Tecovas source their hides:
Alvies
Alvies hand-selects premium American and French hides with tight grain patterns and flawless finishing. They use full-grain leathers from tanneries like CF Stead, SB Foot, and Herman Oak. Standard boots utilize a diverse range of cow and bison leathers in colors like chestnut, black cherry, chocolate, and black.
For exotics, Alvies offers ostrich, alligator, snakeskin, and caiman in eye-catching or classic styles. Their slabs and belly cuts deliver beautiful depth and variation. Customers can send in their own hides for construction as well.
Tecovas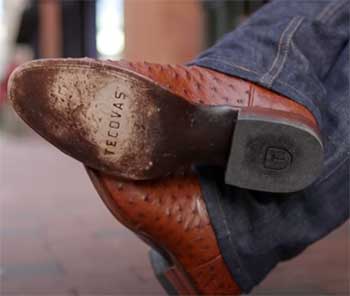 Tecovas uses high-quality hides from respected American tanneries like Hermann Oak, Yeager, and CF Stead.
Their classic boots showcase full-grain cowhide leathers in hues like bourbon, cigar, and black.
For exotics, Tecovas has integrated American alligator, ostrich leg, python, lizard, and rattlesnake into many boot models.
Their belly-cut alligator has rich color depth and crocodile pattern.
Snakeskins display intricately scaled patterns.
Verdict
Both brands craft boots using top-shelf American hides, so you can expect supple feel and natural grain character. However, Alvies has access to a wider selection of exotic materials, including rare options like ostrich head and caiman. The diversity of leathers and unique customization gives Alvies the edge.
The construction methods and stitching details differentiate well-made cowboy boots from cheap imitations. Here's how Alvies and Tecovas boots are crafted:
Alvies
Alvies uses premium Goodyear welt construction, considered the gold standard for durability and craftsmanship. It features a welt stitch hand-sewn around the perimeter of the boot's sole. If the outsole ever wears out, a fresh layer can be stitched on for easy resoling.
Triple stitched joints where the upper and sole meet add strength. Alvies applies Vibramrubber half soles and leather heel stacks with nail-and-peg reinforcement for shock absorption. An anti-slip sole option is also available.
Tecovas
Tecovas also employs a high-quality 360° Goodyear welt construction. Their welted soles allow for re-soling down the road. Using special Wicket & Craig English Bridle leather, Tecovas' soles are flexible and shock-absorbent.
The soles have a combination cement/stitch attachment to the welt for flexibility but with sturdy seam strength. The heels utilize a layered leather stack with Vibram rubber bottoms. Internal components are stained for extra polish.
Verdict
With shared Goodyear welt construction and obsessive detail, both Alvies and Tecovas make an exceptionally crafted boot. However, the triple stitching and anti-slip options give Alvies the construction edge. Their weatherproofing treatments also help the boots hold up across seasons.
Having your boots made-to-order opens up wider design possibilities. Here are the custom tweaks Alvies and Tecovas allow:
Alvies
Alvies prides itself on accommodating true custom orders. Clients can select the leather types, colors, toe shape, heel height and shape, stitching patterns, outsole color, and optional embellishments.
You provide your foot outlines and calf circumference for an ideal personal fit. Custom boots can even incorporate your own unique designs or logos. Turnaround time is 10-14 weeks.
Tecovas
Tecovas offers more limited made-to-order customization for now. You can choose your leather color and calf width – slim, classic, or wide. Custom sizing or fit adjustments are not available.
There are standard style and sole options only. Tecovas aims to deliver custom boots in 6-8 weeks. Full custom designs are planned further down the road.
Verdict
Alvies is the clear winner for offering true custom-made boots tailored to your creative vision or unique foot specs. The 10-14 week turnaround is reasonable for full custom construction. Tecovas offers a quicker timeline but fewer options beyond set parameters.
The variety of boot silhouettes and designs represents each brand's aesthetic vision. Here are the style choices offered by Alvies and Tecovas:
Alvies
Alvies footwear includes both classic and modern cowboy boots along with riding and work styles. For men, bestselling designs include the square toe Gladiator, pointy Corral, and versatile Tower boots.
Women's boots range from vintage-inspired models like the Rosebud and Cameo to edgy options like the rhinestone-adorned Nashville. There are also committee, harness, logger, Chelsea, and field boot styles.
Tecovas
Tecovas specializes in more traditional cowboy boots for men and women. Top men's models include the pointy Cartwright, the wide square toe Bandera, and sleek Earp.
For women, favorites include the floral-stitched Matilda, intricate tooled Willa, and snip toe Sophia. The selection focuses on heritage western styles.
Verdict
Those seeking cowboy classics will appreciate Tecovas' well-executed fundamentals. But for more variety, Alvies takes the win with its mix of traditional boots plus modern silhouettes, work styles, and equestrian pairs branching beyond just western looks.
Ordering and Buying Experience
Convenience and customer service when purchasing boots also impacts the overall brand experience. Here's how Alvies and Tecovas compare:
Alvies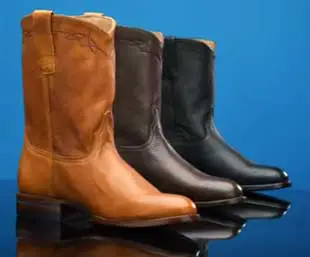 Alvies sells its boots direct-to-consumer through its own site, allowing them to offer fair pricing by cutting out retail markups.
Customers can DIY their designs online or order through an affiliated local retailer for a more personalized fitting.
Their customer service team offers guidance picking leathers and construction options for your custom boots.
Exchanges and returns are possible within 30 days in new condition.
Alvies' site provides helpful boot resources too.
Tecovas
Tecovas operates primarily direct-to-consumer through its ecommerce store for cost savings. Local Tecovas boutiques in select cities allow shoppers to try on styles in person before ordering online.
Fit specialists can answer sizing questions and style recommendations via chat, email, phone, or in their stores. Exchanges and returns are possible within 30 days in new condition. Tecovas' blog has style spotlights and boot care tips.
Verdict
With shared direct sales models and strong customer service, both brands aim to make quality boots more accessible. The boutique approach of Tecovas stores sets them apart slightly, but Alvies counters with deeper expertise guiding custom orders. Overall purchasing experience is excellent but Tecovas has the edge.
How long you wait for your handmade boots also factors into the ordering experience. Here are the production timelines for Alvies and Tecovas:
Alvies
For in-stock boot styles in popular leathers, Alvies ships within 1-3 business days. Custom-designed boots take 10-14 weeks to accommodate the made-to-order production process. Exotic leathers may add 1-2 weeks to the timeline as well.
Rush orders can be completed within 5 business days for an additional fee. Alvies keeps customers updated on their order status and delivery estimates.
Tecovas
Tecovas touts 21-day production for all regular stock boots. Custom boots built within their set parameters take 6-8 weeks. Special collaborations and limited runs often have pre-order periods before they ship out.
The brand keeps online customers informed through order tracking and delivery updates by text or email. Rush shipping is not advertised as an option currently.
Verdict
Thanks to their expansive in-stock selection, Tecovas can get most standard boot orders out the door in just three weeks. Alvies offers more customization yet still delivers in a reasonable 10-14 weeks. So Tecovas' quicker fulfillment time gives them the advantage here.
The time it takes cowboy boots to feel broken-in and comfortable right out of the box can vary. Here's how Alvies and Tecovas compare:
Alvies
Alvies boots typically have a moderate break-in period. Their leather selection along with a snug but roomy toe box provides prime comfort potential. Allow 1-2 weeks of regular wear to soften the materials.
Antique finishing softens the exterior leathers to minimize discomfort from overly stiff materials. Custom calf sizing also reduces potential rubbing. Alvies boots should mold to your feet for custom-made feel after break-in.
Tecovas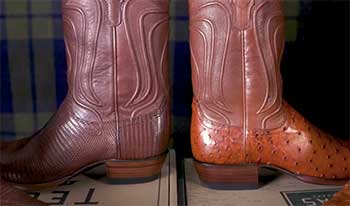 Expect a slightly longer break-in time for Tecovas boots.
The tapered toe box means materials need more wearing time to stretch to your foot shape.
Plan on 2+ weeks of regular rotation to soften the leather.
Using their sizer tool for an ideal calf fit helps reduce rubbing issues.
Tecovas leathers have a waxy finish that holds its structure during break-in.
But once molded, they provide a personalized fit.
Verdict
With roomier toe boxes and pre-softened leathers, Alvies pulls ahead here too. The overall construction seems geared toward a quick break-in period while still using high quality hides. For maximum comfort sooner, Alvies has the advantage.
A final major consideration – how do Alvies and Tecovas boots compare in terms of pricing and overall value?
Alvies
Alvies boots range from $219 for basic leather models up to $899 for more intricate exotic skin pairs. Custom-designed boots start at $579. Considering the quality leathers, construction, custom options, and reasonable minimum prices, Alvies provides an excellent value.
The brand's direct-to-consumer model allows passing significant savings onto shoppers too. At 30-50% below traditional retail, Alvies makes top-notch boots more affordable.
Tecovas
Tecovas boot prices span $195 to $495 for standard in-stock models. Custom boots fall around the middle of that range at $345. While not the cheapest options, Tecovas' pricing stays lower than typical western boot brands.
The savings come from the direct-to-consumer distribution approach. Many designs cost 20-40% less than comparable department store brands. Solid quality combined with lower prices makes Tecovas a strong value buy.
Verdict
Both Alvies and Tecovas Boots deliver premium construction and materials at hundreds below traditional retail pricing, thanks to their direct-to-consumer business models. Tecovas wins on sheer minimum cost, but Alvies provides greater value through more customizable options to get your dream boots at reasonable prices.
Overall advantage goes to Alvies for maximizing value.
Also Read: How Caiman And Ostrich Boots Stack Up?
Frequently Asked Questions (FAQ)
For those still debating between Alvies and Tecovas, here are answers to some frequently asked questions:
Is Alvies a good brand?
Yes, Alvies is considered among the top quality cowboy boot brands thanks to their meticulous custom-build process, premium American leathers, expert craftsmanship, and competitive pricing. They deliver custom-caliber boots without the 6+ month wait or $1000+ price tag.
What is the alternative to Tecovas?
Some top alternatives to Tecovas are Alvies, Lucchese, Anderson Bean, Rios of Mercedes, and Crazy Horse Boots. All offer handcrafted construction, premium leathers, Goodyear welts, and comfortable fits often for lower prices by selling direct-to-consumer.
Of these, Lucchese and Anderson Bean have the most brand recognition, while Alvies and Rios of Mercedes provide the greatest value and options for the price.
Where are Alvies boots made?
Alvies boots are handcrafted by expert bootmakers in Leon, Mexico. Their 50+ years of shoemaking expertise results in meticulously constructed cowboy boots made from start to finish in Alvies' own manufacturing facility. This allows them to closely oversee quality.
What sets Tecovas apart from other high quality boot brands?
A few things that differentiate Tecovas are their direct-to-consumer business model for competitive pricing, fast 3 week turnaround time, incorporation of technology in the fitting process, growing omni-channel presence, and focus on classic western styles reimagined.
The Verdict: Alvies Delivers Better Overall Value
Based on our in-depth evaluation across all the key metrics, Alvies emerges as the winner when stacking their boots head-to-head against Tecovas.
While Tecovas takes the prize for purchasing experience and production speed, Alvies ultimately provides better sizing options, leather diversity, customizable construction, expansive style selection, quicker break-in comfort, and excellent value from a price-to-quality ratio.
Those wanting a quicker turnaround on more classic cowboy designs may lean Tecovas. But the overall edge goes to Alvies for bringing bespoke boot quality to the masses through custom construction and premium materials made affordable.